Jump to Winery List
Karridale Wine District
The Karridale District includes wineries near the townships of Karridale, Alexandra Bridge and Kudardup, east of the Bussell Highway. Karridale is a small tourist and service town with a rich history linked with the timber industry. Boasting the Boranup Forest and the stunning Hamelin Bay on its doorstep the area is very popular with tourists. Just a short distance along Brockman Highway is a wonderful collection of local art and craft galleries, wood artisans and wineries, set amongst the majestic karri trees on Caves Road. Close by is the Boranup Maze that is very popular with the whole family, especially children. Hamelin Bay is a fascinating place to visit with the remains of the wooden jetty that once were the port for sailing ships that loaded timber cut from the forests. Hamelin Bay showcases the timber export heritage of the area. Hamelin Bay also has one of the most spectacular beaches in the area framed with stunning limestone cliffs. Karridale is also the gateway to the majestic Boranup Forest. The huge trees that line the roadside are not old-growth trees but 100-year regrowth. The forest was originally milled during the late 1800s timber boom.

The Margaret River Wine Region includes nineteen districts: Dunsburough ; Busselton ; Yallingup West ; Yallingup East ; Abbeys ; Metricup West ; Wilyabrup ; Caves Road West ; Carbunup River ; Metricup East ; Harmans ; Cowaramup West ; Ellensbrook ; Cowaramup East ; Central East ; Central West ; Forest Grove ; Karridale; Augusta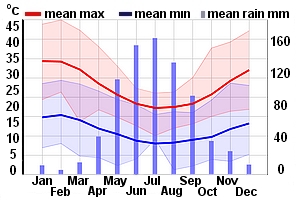 Winery Tour Map
Wineries
Alexandra Bridge, WA RMB 123, Lot 101, Brockman Hwy, Karridale, WA 6282
Commissioned in February 2000 the Alexandra Bridge winery was the first built in the Karridale area at the southern edge of the Margaret River wine-growing region. The modern 800 tonne capacity winery is designed to meet the requirements of super-premium wine production. Senior winemaker, Phil Tubb, spent 17 years as a winemaker with Leeuwin Estate prior to designing and commissioning the Alexandr...
Blackwood Meadery, WA Brockman Highway, Alexander Bridge, WA
Blackwood Meadery is a new boutique winery specialising in Mead - Mead is wine made from honey rather than grapes and is the oldest fermented beverage known to man. It can be traced back at least 5,000 years dating back through antiquity to Nordic legends and non-mythological history. During these times the bee was held in high regard as honey was considered `the giver of life`, courage, strength ...
Five Ashes, WA RMB 116 McDonald Rd., Karridale WA 6288
Hamelin Bay`s vineyard and winery is located within a few kilometres of Karridale, at the intersection of the Brockman and Bussell Highways. Hamelin Bay is the first in a wave of vineyards to be developed in the Karridale district as winemakers seek out the more refined flavours available in Margaret River`s far south. The 25 hectare Five Ashes Vineyard overlooks a picturesque valley hidden from M...
Glenarty Road, WA 70 Glenarty Rd, Karridale WA 6288
Glenarty Road is a boutique farm and vineyard based in Karridale, Margaret River, Australia. We focus on making world-class wine, growing fresh seasonal produce & raising grass-fed lamb.
Hamelin Bay Wines, WA RMB 116 McDonald Rd., Karridale WA 6288
Hamelin Bay Vineyard comprises 25.4-ha over 4 stages of planted from 1992 including Shiraz, Cabernet Sauvignon, Merlot, Sauvignon Blanc, Semillon and Chardonnay. The soils are well drained brown sandy loam gravels, fully drip irrigated, spaced for maximum sunlight penetration and largely netted to protect the fruit from the ever-present threat of birds. Former Leeuwin Estate winemaker, Philip Tubb...
KarriBindi Wines, WA 96 Scott Road, Karridale, WA 6288
The KarriBindi vineyard is located in Karridale, a premium growing area in the southern part of Margaret River. Surrounded by Karri forests, the vineyard lies on fertile Karri loam and gravel soils. Our southerly location, close to Cape Leeuwin, provides ideal growing conditions, allowing our grapes to benefit from slightly cooler weather than the growing areas to the north and also from the breezes blowing in from both the Indian and Southern Oceans. At KarriBindi our aim has always been to produce premium quality wine grapes. From this fruit, our objective is to produce limited quantities of premium estate grown wines. Please click here to view our wines or click here to order our wines