Jump to Winery List
Metricup West Wine District
The Metricup West district lies between Caves Road and Johnson Road, West of Metricup and North-West of Cowaramup. Metricup is home to the renowned Metricup Bird Park that has a wonderful collection of Australian Native Parrots. Mots of the birds have been hand-raised and you can see the birds close-up when walking through the large walk through aviaries. Set in a peaceful farm setting with displays of farm implements, old machinery and farm memorabilia, all in a farm setting. There is a cafe for refreshments. Situated in the heart of the Margaret River wine-growing region and just 5 km from the Indian Ocean is Woody Nook Winery, that typifies the wineries in the area. Woody Nook is a 25 year old, family-owned boutique winery, producing just 6,000 cases of wine a year. Its 17 acre vineyard at Metricup is unirrigated, producing intense, full fruit flavours. The name is derived from the setting of the property amongst of beautiful marri and jarrah forest. Its Nookery Cafe serves light refreshments such as coffees, teas and cakes, and lunches daily from 11:30am to 3pm. Woody Nook is known not only for its wonderful wines, friendly staff, its delicious food, unique gifts and great value. The main varieties are: Cabernet Sauvignon, Shiraz, Merlot, Sauvignon Blanc and Chenin Blanc.

The Margaret River Wine Region includes nineteen districts: Dunsburough ; Busselton ; Yallingup West ; Yallingup East ; Abbeys ; Metricup West ; Wilyabrup ; Caves Road West ; Carbunup River ; Metricup East ; Harmans ; Cowaramup West ; Ellensbrook ; Cowaramup East ; Central East ; Central West ; Forest Grove ; Karridale; Augusta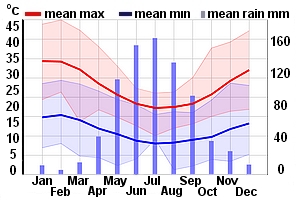 Winery Tour Map
Wineries
Fermoy Estate, WA Metricup Rd, Willyabrup, WA 6280
Fermoy Estate takes its name from the town of Fermoy in County Cork, Ireland, which was founded by an ancestor of one of the original owners. Situated in Metricup Road in in 1985 in the heart of the Willyabrup valley, the winery incorporates the latest winemaking technology while preserving traditional styles and practices under the direction of winemaker Michael Kelly. The vines are hand-pruned a...
Fraser Gallop Estate, WA 547 Metricup Road, Wilyabrup, WA 6280
Fraser Gallop Estate is set upon 165 acres of undulating land on Metricup Road, Wilyabrup, in the Margaret River region. It is a marvellous location close to other premium producers. Although Fraser Gallop is 6km from the coast, its location at the highest point in the Wilyabrup sub-region means that it is affected by many an ocean breeze. All vines are dry-grown. The dominant variety is Cabernet Sauvignon (17 acres), supplemented by other red Bordeaux varieties and 17 acres of Chardonnay. Our philosophy is to allow the fruit to speak for itself. Through minimal intervention and the use of traditional techniques, as well as the latest technology, we strive to create wines that show balance and finesse upon release and have the structure and pedigree to thrive with careful cellaring.
Lenton Brae, WA 3887 Caves Road Wilyabrup WA 6285
The name `Lenton Brae` comes from the chapel district of Lenton in Nottingham, England. It is from here that the first Tomlinsons migrated to Australia. Brae is a Scottish term for a small hill, which is what our Willyabrup vineyard is situated on. The beautiful rammed earth winery complex with it`s distinctive bell tower was designed by owner Bruce Tomlinson, a former Architect and Town Planner, ...
Moss Brothers, WA Caves Road (1km north of Metricup Road), Wilyabrup, WA, 6285
Established in 1984, Moss Brothers is family owned and run - with parents, Jeff and Fay and sons Peter and David and Roseworthy graduate daughter Jane all involved. Moss Brothers produce a premium range of classic wines and others for those consumers who look for easy drinking wines at budget prices. Moss Brothers vineyard and winery lies in the heart of the Wilyabrup Valley. The Margaret River re...
Moss Wood, WA Metricup Rd, Willyabrup, WA 6280
Moss Wood is a small estate located at Wilyabrup. Owners Keith and Clare Mugford, are driven by their belief that everything done affects the quality of the wine. The 8 hectare vineyard is situated on a gentle, north-east facing slope, where the soils vary from sandy loam to a gravelly, red-brown loam, over a clay subsoil. It is unirrigated and is wide spaced with 3.0 metres between rows and 1.8 m...
The Grove, WA Cnr Metricup Road and Carter Road, WILLYABRUP WA, PO Box 1025 BUSSELTON WA 6280
The Grove Vineyard is located twenty kilometres north from Margaret River and south from Busselton, turn into Metricup Road (4.2 kilometres) to the Carter Road turnoff. The Grove Vineyard is ideally located in the heart of the Margaret River wine-growing region. The Grove offers an excellent blend of accommodation that ensures a fantastic Margaret River winery experience. Every now and then a wine...