Jump to Winery List
Caves Road West Wine District
This district lies south of Yallingup and north of Gracetown in the Margaret River Wine Region. There are some wonderful places to stay in this district including: Caves Road Chalets that provides the perfect base from which to see and enjoy the many delights and natural wonders that this unique part of Western Australia's South West. They are located on about 65 acres of beautiful natural bushland, only a few minutes drive from beautiful swimming beaches and surfing spots, fabulous wineries, restaurants, delightful caves, art and craft galleries. There are many activities in the area such as golfing, bushwalking, boating, mountain bike tracks, fishing, sight seeing and lots more! The property abounds in wildlife with a large array of birdlife, wildlife and seasonal wildflowers. You can watch the kangaroos grazing in the paddocks at dawn and dusk. This is a great base for wine tours in the Margaret River Wine Region.

The Margaret River Wine Region includes nineteen districts: Dunsburough ; Busselton ; Yallingup West ; Yallingup East ; Abbeys ; Metricup West ; Wilyabrup ; Caves Road West ; Carbunup River ; Metricup East ; Harmans ; Cowaramup West ; Ellensbrook ; Cowaramup East ; Central East ; Central West ; Forest Grove ; Karridale; Augusta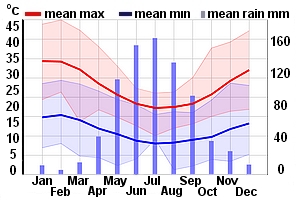 Winery Tour Map
Wineries
Brookland Valley, WA Caves Road, Willyabrup, WA 6280
Established in 1984 by Malcolm Jones and his wife Deirdre, Brookland Valley has gained a reputation as a boutique premium wine producer and successful wine show exhibitor across the country. Brookland Valley estate wines are grown on the sunny ridge of an ancient landform through which a small brook, known as the Wilyabrup, flows to the nearby sea. The vineyard is established over 20ha and is very...
House of Cards, WA Lot 1, 3220 Caves Road, Yallingup, WA 6282
We established House of Cards in 2011 after we returned to Yallingup from travelling overseas where Travis completed vintages in New Zealand and Canada. Ever since then we have thrown everything into creating a brand which reflects our passion for creating single vineyard wines of exceptional quality. We produce about 50 tonnes of our own fruit each year from our 12 hectare vineyard in Yallingup. We grow sauvignon blanc, chardonnay, merlot, shiraz, malbec, petit verdot and cabernet sauvignon. We already grow 3 different clones of cabernet sauvignon and are looking at experimenting with clones of different varieties in the future. We believe that to create beautiful wine you must first start with fruit of outstanding quality. We use organic sprays, cover crops and mushroom compost throughout the vineyard to helps us produce the best fruit possible while also focussing on environmental sustainability. We are currently in the process of becoming a certified organic vineyard.
Swings & Roundabouts, WA 2807 Caves Road, Yallingup, WA 6282
Yallingup and Margaret River are home to some of the finest wineries and restaurants in WA. Driving along the incredibly scenic Caves Road, you'll find many of these wineries, including ours – Swings & Roundabouts. It all begins in our cellar door, where you can relax overlooking our beautiful Yallingup winery. Try our sensational wines with a bite to eat from our restaurant's locally sourced menu. Whatever the occasion, the stunning views over our WA winery are perfect. Located in the heart of Margaret River, our Taphouse is an inviting, airy space that's perfect for your next gathering. Be it a family event or a romantic dinner, our restaurant's seasonal menu, eclectic drinks list and wrap around balcony creates a place of pure relaxation.
Windance Estate Wines , WA 2764 Caves Road, Yallingup, WA 6862
Windance Estate Winery is a family owned and operated vineyard, established by Drew and Rosemary Brent-White in 1998. It is located 5 kilometres south of the beautiful Yallingup beach and situated in the northern part of the famous Margaret River wine region; an area which is highly regarded and well known for having some of the best fruit in the region. The focus is on producing quality wines, whilst incorporating sustainable land management and environmentally friendly viticultural practices. The family estate is in its third generation of farming and second generation of viticulture, with their daughter Billie and husband Michael operating the estate.
Windows Estate , WA 4 Quininup Road (Corner Caves Road) Yallingup, WA 6282
It was in 1999 that Chris started what was later to become Windows Estate. Given the chance to expand on a tiny three year old vineyard with only a hectare each of Cabernet Sauvignon and Chenin Blanc under vine, and located in the heart of Margaret River's celebrated wine region, he established a total of nine varieties, thereby increasing the total size of the vineyard to just a little over six hectares. From the onset the ultimate goal was to produce truly unique wines of outstanding quality. We are firm believers in growing good wine, rather than making it in the winery. A formally trained viticulturist, the vineyard has always been Chris' true passion. Not willing to compromise the health of the vineyard, the state of his treasured vines and ultimately the quality of the fruit they give us, he decided at a very young age never to cut corners in the vineyard. Consequently, Chris has worked the vineyard completely on his own from day one, which is the only way to meet the high standards he sets for himself. Our little vineyard is where he spends the vast majority of his time; he knows it like the back of his own hand. No stranger to hard physical labour he hand-prunes every single one of the vines himself, year after year. Apart from the very day the grapes are harvested no one else is ever allowed to touch his vines.