Jump to Winery List
Dunsborough Wine District
The Dunsborough Wine District in the Margaret River Wine Region includes vineyards and wineries on Cape Naturalist, in the South West corner of Western Australia, west of Dunsborough and south of Perth. Dunsborough is a popular and exciting waterfront town that overlooks the clean, clear and pristine waters of Geographe Bay. It is a very popular family holiday destination and tourist hotspot, and many Perth residents flock to the area over summer for their annual holidays. The area boasts many attrctions and great facilities for a wide range of activities. Cape Naturalist and the area around Dunsborough has coastal tracks for bushwalking and mountain bike riding and many delightful secluded coves for fishing and swimming. There are many excellent look-outs where you can watch dolphins at play in the turquoise waters and see Whales pass by on their annual migration. It is just a short drive along the coast to some fabulous swimming and surfing beaches, such as the sheltered - Eagle Bay, Meelup, and Bunker Bay. The HMAS Swan, which was sunk for wreck diving is located off Dunsborough. It is an excellent spot for diving being renowned as the biggest easily accessible dive wreck in all of the Southern Hemisphere. Dunsborough has a thriving community focused on entertainment, arts, crafts, live music shows and market days in summer. It has a number of well-respected art galleries and award-winning restaurants that have coastal views. Nearby are more than 225 vineyards and 85 wineries in the famous Margaret River Wine Region. Use Dunsborough as a base and enjoy wine tours of the area tasting the renowned local varieties such as delightful Chardonnay, Semillon, Cabernets, Merlot. You can also taste locally brewed beers at boutique breweries, and sample local foods including a chocolate factory. Other activities include photography, kayaking, fishing, boating, sailing, canoeing, camel rides and cave tours. Y ou can drive to Cape Naturaliste Lighthouse and learn about the maritime history of the area at the intriguing museum and watch whales cruising along the coast. There is a wide variety of accommodation to choose from choose from including luxury resorts and hotels, motels and bed and breakfasts, backpackers and caravan parks.

The Margaret River Wine Region includes nineteen districts: Dunsburough ; Busselton ; Yallingup West ; Yallingup East ; Abbeys ; Metricup West ; Wilyabrup ; Caves Road West ; Carbunup River ; Metricup East ; Harmans ; Cowaramup West ; Ellensbrook ; Cowaramup East ; Central East ; Central West ; Forest Grove ; Karridale; Augusta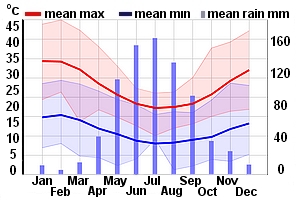 Winery Tour Map
Wineries
Bussell Vineyards, WA 11 Jones Rd, Dunsborough WA 6281
Established in 1997, Bussell Vineyards is owned and operated by the Bussell Family and is located in the horticultural area of Jindong, the northern aspect of the Margaret River Wine Region. The Bussell Family have been producing grapes for local wineries including McWilliams, Evans and Tate, Amberley Estate, Jane Brook, Boars Rock, and Goundry Estate. We have recently completed our Producers Licence and now also produce small amounts of hand crafted boutique wine.
Hutton Wines, WA PO Box 1214, Dunsborough, WA 6281
"I love wine. I love making it, drinking it, buying it and selling it. I love the crisp crack of a screwcap being twisted off a bottle, and the gurgling sound it makes being poured. Most of all I love the sweet anticipation of what lies before you in the glass. Thinking about it, it's not hard to understand how this came to be. In 1975 when I was 6 years old, my parents planted vines on the family cattle farm in Margaret River, and in 1978 made their first wines. School holidays and weekends were often spent helping out in the vineyard and winery, and sampling the finished product when no one was looking. After studying architecture in Perth and many years away, I returned to the area in 2005 and made 2 barrels of Cabernet Sauvignon in 2006, which was the birth of Hutton Wines. The rest as they say, is history.
Palmer Wines, WA PO Box 720, Dunsborough, WA 6281
Our wines have featured strongly again in James Halliday's 2018 Wine Companion. Our 2015 Purebred Chardonnay by Clive Otto and the Purebred Cabernet Merlot by Bruce Dukes both were awarded 96 points. In addition to this, eight wines were awarded 95 points, three wines 94 points, one wine 93 points and three were awarded 91 points. We are extremely proud of our wine makers, Mark Warren, Clive Otto and Bruce Dukes and the Team for producing such excellent wines for everyone to enjoy. We invite you to visit our Cellar Door for tastings of these award winning wines, open daily form 10 am to 5 pm.
Palmers Winery, WA 1271 Caves Rd, Dunsborough WA 6281
Established in 1977, the Palmer Winery & Restaurant is one of the pioneer vineyards of Margaret River. From humble beginnings to being the proud owners of over 50 national and international wine awards Palmer winery has come a long way. Winemaker Mark Warren, oversees the vineyards selection, which prominently features chardonnay, semillon, sauvignon blanc, cabernet sauvignon, shiraz, malbec, cabernet franc and merlot . But wine alone, isn't Palmers only claim to fame. Their Tuscan-style restaurant, which is designed also for alfresco dining, is one of the most eye-catching eating establishments in the Margaret River wine region.
Vintners Ridge Estate, WA 8 Veraison Pl, Quindalup WA 6281
As a boutique winemaker, Vintners Ridge Estate bottles only 250 cases of premium Cabernet Sauvignon each year. From vine to wine our aim is to create a great quality cabernet and to showcase the exceptional winemaking the Margaret River wine region is world famous for. Every vintage of our Cabernet Sauvignon is award winning and we are especially proud of our Sydney International Wine Show Blue-Gold Medal, the Scoop Magazine Judges Best Pick Red award and the recent rating of 94 pts, 5 Glasses and Value for Money awards given by James Halliday for our 2013 Cabernet Sauvignon. We are excited to now announce the release of our 2015 Cabernet Sauvignon for your enjoyment which was recently in the James Halliday Wine Companion 2018 being awarded 90 pts and "highly recommended"!
Wise Wine, WA Lot 4 Eagle Bay Road, Dunsborough WA 6281
This 60-hectare vineyard is one of the most northern vineyards in the Margaret River region. Wise Vineyards is a sixty-hectare estate located on the Cape Naturaliste Peninsula overlooking the beautiful spring-fed Meelup Valley. With ocean on two sides, the Maritime climate and North Easterly aspect provide ideal growing conditions unique to this locality. Wise Vineyards also has other properties i...