Jump to Winery List
Forest Grove Wine District
The Forest Grove Wine District includes wineries near Witchcliffe and Forest Grove townships - on either side of the Bussell Highway in he Margaret River Wine Region. One of the outstanding wineries in the area is Tintagel Estate. There is delightful accommodation available in a two storey limestone and cedar house. From the house you can enjoy magnificent views of the vineyard and a tall stand of soaring Karri trees.

The Margaret River Wine Region includes nineteen districts: Dunsburough ; Busselton ; Yallingup West ; Yallingup East ; Abbeys ; Metricup West ; Wilyabrup ; Caves Road West ; Carbunup River ; Metricup East ; Harmans ; Cowaramup West ; Ellensbrook ; Cowaramup East ; Central East ; Central West ; Forest Grove ; Karridale; Augusta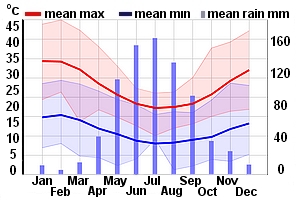 Winery Tour Map
Wineries
Arlewood Estate, WA 679 Calgardup Rd, Forest Grove WA 6286
Arlewood Estate is a 90-hectare property situated in the Willyabrup Valley in the heart of the Margaret River wine region. The Heydon and Gosatti families, in partnership, established a small vineyard in Cowaramup in 1995, and subsequently acquired Arlewood Estate in October 1999. George Heydon is a Perth dentist whose passion for wine has led him to Arlewood, and the study of viticulture and oeno...
Chapman Grove, WA Lot 2779 Brooks Road, Rosa Glen
Chapman Grove is a 260 acre property located twenty minutes south of Margaret River outside the town of Witchcliffe. This is a lovely part of the region that the locals refer to as the Chapman Valley because this family of hills and valleys is bordered by the Chapman Brook. Chapman Grove operates a vineyard, goat farm and poultry breeding operation and offers secluded, quality accommodation for th...
Devils Lair, WA Rocky Rd, Forest Grove via Margaret River, WA 6286
Located on the southern end of the Leeuwin Peninsular, 10 kilometres from the coast in deep draining ironstone gravel, Devils Lair vineyard lies on the 34.25 degrees S parallel and enjoys frost free but very cool growing and ripening seasons from the nearby Cape Leeuwin. The winery takes it name from the nearby Devil`s Lair cave, hidden amongst the hills of Margaret River - an ancient, mysterious ...
Eagle Vale Estate, WA Caves Road, Witchcliffe WA; PO BOX 810, Margaret River WA 6285
Situated just south of the Margaret River Township, quite central on the Cape, in the SW corner of Western Australia. Only 3 kms from the coast of the Indian Ocean creates a temperate maritime climate. With this and the protective surrounding Marri and Karri trees of the National Parks, spring is frost-free and the summers are long and mild. A long ripening season allows the grapes to develop more...
Flinders Bay Wines, WA Five Ashes Vineyard, Lot 116 Mcdonald Rd, Karridale, WA 6288
Flinders Bay Winery is the result of the purchase of a 200-acre dairy farm at Karridale by the Gillespie and Ireland families in 1994. In 1995 and 1996, 50 acres were planted with Sauvignon Blanc, Chardonnay, Semillon and Shiraz. In 1997 a further 50 acres was planted with more Shiraz and Semillon and with Cabernet Sauvignon and Merlot. A further 20 acres is to be planted in the next couple of yea...
Green Valley, WA Lot 3137 Sebbes Road, Forest Grove WA 6286
Green Valley, founded by Ed and Eleanor Green in 1980, has been a labour of love for this delightful couple on weekends whilst pursuing their respective careers, Ed as a Meteorologist and Eleanor in Dentistry. The couple have both `retired` to take on full time pursuit at Green valley. The vineyard was never going to be a rush job. Starting in 1980, it was planted at an average of one hectare ever...
Green Valley Vineyard, WA Sebbes Rd, Forest Grove WA 6286
The Margaret River region brings you some of the best boutique wines, with Green Valley Vineyard leading the way. Green Valley Vineyard works on a philosophy of lower yielding vines producing fruit with intense varietal flavours. The vineyard produces a boutique range of award-winning wines, including Chardonnay, Shiraz and Cabernet Sauvignon. The Margaret River 'Boutique' wine industry is comprised mostly of small estate wineries that are run by families who have years of experience making the best quality wines and developing the most worthy blends. Our boutique winemakers' unique recipes ensure that you won't find a similar wine anywhere else in the region (or in the world).
Higher Plane, WA 165 Warner Glen Rd, Forest Grove WA 6286
Higher Plane is a new vineyard located South of Witchcliffe within the Margaret River area. The vineyard is next to Devils Lair vineyard. The land has north facing slopes with gravely loamy sandy soil of Willyabrup Forest Grove duplex soil. The site is considered to be exceptional with ideal soil and aspect suitable for producing some of the best wine from the Margaret River area and indeed within...
Serventy Wine, WA Valley Home Vineyard, Rocky Road,Witchcliffe WA 6286
Peter and Lyn Serventy established their organic vineyard in 1984 in a peaceful garden setting. Each Autumn, hundreds of tonnes of homemade compost and mulch are spread through the vineyard, with good measures of organic manure and earthworms turned in. Over winter, seaweed and fish fertilisers are produced from the resources of the nearby ocean to provide supplementary Spring feeds. No herbicides...
Tintagel Wines, WA Lot 4, Sebbes Road, Forest Grove WA
Tintagel Wines was established by the Westphal family in 1996 with the first plantings on the 100 acre property on Sebbes road 20km south of the Margaret River Town. The vineyard is in the southern region of Margaret River with nearby vineyards including Devils Lair, Green Valley and Leeuwin Estate. One of the great things about the Tintagel Vineyard is the stands of Karri and Marri trees that sur...