Jump to Winery List
Central-East Margaret River Wine District
The Central-East Margaret River Wine District includes wineries near the Margaret River township and West of the Bussell Highway to the coast. Local townships include: Margaret River, Prevelley Park, Witchcliffe. Located about 12 km from the central township of Margaret River, Prevelly is located at the mouth of the Margaret River and close to the magnificent beach and surfing conditions at Gnarabup. Prevelly is internationally renowned for its spectacular surfing conditons and localities. Nearby is the famous Gnarabup Beach that provides ideal swimming conditions with clear blue waters and white sandy beaches. The coastline around Prevelly offers wonderful scuba diving, snorkeling and fishing conditions because of the spectacular reefs and coral formations just off the coast. Many of the wineries in this district are located between Prevelly and the township of Margaret River. What better way to finish a fabulous day than sitting in a restaurant overlooking the ocean, enjoying the catch of the day with a local wine.

The Margaret River Wine Region includes nineteen districts: Dunsburough ; Busselton ; Yallingup West ; Yallingup East ; Abbeys ; Metricup West ; Wilyabrup ; Caves Road West ; Carbunup River ; Metricup East ; Harmans ; Cowaramup West ; Ellensbrook ; Cowaramup East ; Central East ; Central West ; Forest Grove ; Karridale; Augusta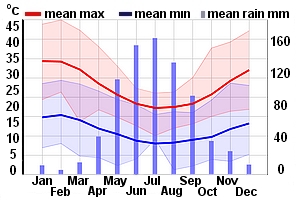 Winery Tour Map
Wineries
Bluemanna Wines, WA PO Box 478, Margaret River 6285
BlueManna wines are named after the delicious ocean swimming crab found around the coastal shores of South Western Australia. Realising the great potential of the cool Western Australian wine growing regions, BlueManna produce recognisably consistent, elegant wines from their own vineyards in the Pemberton, Margaret River, Great Southern and Geographe areas. The word `manna` means `from heaven`, g...
Cape Mentelle, WA 331 Wallcliffe Rd, Margaret River, WA 6285
Cape Mentelle Vineyards is considered the benchmark for the Margaret River region. Cape Mentelle`s founder and winemaker, David Hohnen, was among the first to identify the potential for premium wines in the Margaret River area of Western Australia, a point proved early on when he walked off with his nation`s most coveted red wine prize, the Jimmy Watson Trophy. And, as if to underscore the fact, h...
Evoi Wines, WA 529 Osmington Rd Bramley 6285 Margaret River, WA
Located in the heart of Margaret River, the quality fruit is a result of proximity of ocean, incredible soil types and a perfect climate. "I started EVOI Wines in 2007 with 2 barrels of Chardonnay. Since then it has gained a reputation as being one of the finest boutique wineries. EVOI is a 5 Red Star Rated Halliday winery (Top 10% of Australian wineries) and was awarded "Western Australian winery of the Year" at the 2015 Melbourne International Wine Show. The core values remain the same and I continue to be the hands on winemaker, passionate about producing wines with regionality and character. Ever since I arrived in this region, I have been amazed at the consistency of quality."
Harmans Ridge, WA P.O. Box 281, Cowaramup W.A. 6284
Harmans Ridge is a 1600 tonne contract winery so making wine for other people is their core business, but they also produce some wine under their own label mainly with contracted fruit. The winery currently processes fruit for 16 growers, as well as selecting particularly good parcels of fruit for the Harman`s Ridge label. The winery processes 1,500 tonnes of fruit per annum with over 15,000 cases...
Jarvis Estate, WA 790 Wirring Road, Bramley, Margaret River, WA 6285
At Jarvis Estate we offer you the full range of Margaret River's famous wine blends. Our red wine range includes Cabernet Sauvignon, Merlot, Shiraz and Malbec. We also produce one of Margaret River's best Cabernet Francs – a traditional French variety that excels when grown in the sub-region of Bramley, where Jarvis Estate is located.
Leeuwin Estate, WA Stevens Rd, Margaret River, WA 6285
Leeuwin Estate is a boutique; family owned and operated winery located in the picturesque Margaret River district, 360km south of Perth, Western Australia. One of the icon wineries of Australia, it has earned an international reputation for making wines that rank alongside the world`s finest. The guiding philosophy of Leeuwin Estate is simple. Create wines of distinctive character and supreme qual...
Redgate Wines, WA Boodjidup Road, Margaret River, WA 6285
Redgate Wines is a boutique winery set in the heart of the Margaret River region. Established in 1977 by the Ullinger family, it is still very much a family concern. As one of the original wineries in the area, Redgate has established a reputation for consistent, premium quality wines. Situated only 3km from the Indian Ocean and its namesake Redgate Beach, the vineyard thrives in the mild maritime...
Saracen Estates, WA Bussell Hwy, Margaret River, WA 6284
Saracen Estates is located in the picturesque, premium wine growing area of Margaret River. The land was selected to ensure that Saracen Estates wines offer the best from the earth and the wonderful clean air, cool nights and warm days of the unique microclimate of the Margaret River region. Saracen Estates draws its premium grapes from the older vines of Margaret River and is looking towards the ...
Stella Bella Wines , WA 205 Rosabrook Road, Margaret River, WA 6285
We believe one of life's great pleasures is sharing the experience of beautiful wine. All of our wines aim to capture the essence of Margaret River, from our signature regional wine styles, to something for the more adventurous. We make these wines to complement your lifestyle and create a memorable wine experience
Voyager Estate, WA Stevens Rd, Margaret River, WA
Of all the wineries in the Margaret River region, none has been talked about as much as Voyager Estate. Formerly Freycinet, which was established by the Gheradi family in 1978 the winery was purchased by Michael Wright in 1991. The manicured gardens and striking Cape Dutch style of the magnificent tasting rooms together with the biggest flag pole this side of Canberra set the scene for this winery...
Xanadu Wines, WA Boodjidup Road, Margaret River, WA 6285
Xanadu Wines is a West Australian winery established shortly after the first commercial wine production in Margaret River. It makes wine at various price points from a number of varieties but is most often associated with Chardonnay and Cabernet Sauvignon. It was founded in 1977 by John Lagan and, in 2005, was bought by the Rathbone family, which owns a handful of other Australian wine estates.