Jump to Winery List
Central-West Margaret River Wine District
The Central-West Margaret River Wine District includes wineries west of the Margaret River and Witchcliffe townships - East of the Bussell Highway. The townships located in this District include: Margaret River, Witchcliffe, Rosa Brook, Rosa Glen. Witchcliffe is a small town in the South West region of Western Australia, located south of the township of Margaret River on the Bussell Highway. The town originated to support the timber industry and recently the focus has shifted to wineries and tourism. One of the outstanding local wineries is Rosabrook Winery which as one of the first vineyards planted in the Margaret River wine region. Rosabrook's winemaking philosophy is to allow the natural characteristics of the fruit to drive the wine.

The Margaret River Wine Region includes nineteen districts: Dunsburough ; Busselton ; Yallingup West ; Yallingup East ; Abbeys ; Metricup West ; Wilyabrup ; Caves Road West ; Carbunup River ; Metricup East ; Harmans ; Cowaramup West ; Ellensbrook ; Cowaramup East ; Central East ; Central West ; Forest Grove ; Karridale; Augusta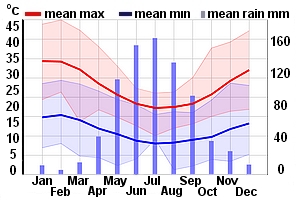 Winery Tour Map
Wineries
Blue Poles Vineyard, WA 636 Bramley River Road, Osmington, WA 6285
Developed in 2001 from an empty paddock in the picturesque Rosa Brook, Blue Poles Vineyard has now become recognised as one of the premier vineyards and wines in Margaret River. Growing world class Merlot and Cabernet Franc, the estate has forged a reputation of excellence with these varieties both as varietal wines and as a blend (Allouran) – the terroir, the reduced yields and the care and attention along every step in these grapes and wines production has meant more and more acclaim.
Brownhill Estate, WA Rosa Brook Road, Rosa Brook, WA
Welcome to to Brown Hill Estate (and to Summer!). Our mission in life all year round is to bring you Margaret River wines you are proud to pour. As a small family-owned boutique winery in one of Australia`s most popular wine regions, we`ve got a lot to live up to. And we do! The wines are dry-grown, made and bottled on the estate and then every dozen is delivered anywhere in Australia absolutely f...
Chalice Bridge, WA 796 Rosa Glen Road, Margaret River WA 6285
Chalice Bridge Estate located 16 kms south east of the Margaret River township among rolling hills and valleys, which are home to the beautiful Jarrah and Marri trees. It is now well recognised that the best grapes are grown in the gravelly loam /deeply drained soils where these magnificent trees grow. With 300 acres under vines, Chalice Bridge is proud to boast the second largest single planting ...
Rockfield Estate, WA Rosa Glen Rd, Margaret River WA 6285
Located in picturesque Rosa Glen approximately 16km south of the Margaret River townsite, Rockfield Estate Vineyard is proud to be one of a small number of family owned and operated boutique vineyards/wineries remaining in the Margaret River region. The 80-acre property, originally part of a long-running dairy farm, was acquired by the family in 1996, with the first vines planted in 1997. The vine...
Rosabrook Estate, WA Rosa Brook Road, PO Box 1485 , Margaret River, WA 6285
John and Richard Cooper established Rosabrook vineyard in the 1980 when vines were first planted. There were further plantings in 1985 and 1989 totalling about 7 hectares. Rosabrook was upgraded when the Perth radiologist-oncologist John Shepherd purchased the vineyard in February 1993 and Dan Pannell, son of Moss Wood founders Bill and Sandra Pannell, was appointed as the winemaker in December of...
The Berry Farm, WA RMB 222 Bessel Rd, Margaret River, WA 6285
In 1986 current owners Eion and Andrea Lindsay established The Berry Farm. Their dream was to manufacture and sell quality food products created using fresh fruit and vegetables from their own farm. Armed with enthusiasm and well-practised jam-making skills the business was born with Andrea making 20 jars of strawberry jam each night in the kitchen. However, once this delicious fruit-packed jam hi...
Umamu Estate, WA 132 Blain Road, Rosa Brook, WA 6285
UMAMU is inspired by Balance & Contentment. These values reflect the balance we seek on the journey from vine to wine to enrich the celebration of your life. UMAMU is rated a 5 red Star producer by Australia's most respected wine critic, James Halliday and has been twice awarded Gold Medals at the Decanter World Wine Awards, with reviews from Julia Harding MW of Jancis Robinson and Lisa Perrotti-Brown MW of The Wine Advocate.