Jump to Winery List
Wilyabrup Wine District
The Wilyabrup district lies near Wilyabrup township in the Margaret River Wine Region. it is home to some of Margaret River's earliest (and most respected) wineries. Moss Wood, Vasse Felix and Cullen are the most famous of these. Many wineries were founded in the 1960s and 1970s. Wilyabrup itself is charming township situated 12 miles (20km) north of the Margaret river, with its vineyards dotting each side of Caves Road, which winds gently between Capes Naturaliste and Leeuwin. The proximity to the coast means that the district enjoys a particularly moderate but warm Mediterranean climate, without extremes of temperature. The karri trees which dominate the landscape here provide some shelter from the prevailing westerly and south-westerly winds that blow in from the Indian Ocean.

The Margaret River Wine Region includes nineteen districts: Dunsburough ; Busselton ; Yallingup West ; Yallingup East ; Abbeys ; Metricup West ; Wilyabrup ; Caves Road West ; Carbunup River ; Metricup East ; Harmans ; Cowaramup West ; Ellensbrook ; Cowaramup East ; Central East ; Central West ; Forest Grove ; Karridale; Augusta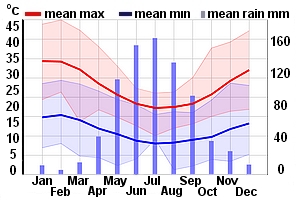 Winery Tour Map
Wineries
Amarok Estate, WA Caves Road, Wilyabrup, WA 6230
John and Libby Staley planted 20 hectares of vines on their Margaret River property with the help of their children in 1999 and established Amarok Estate. The Staley family controls every aspect of producing Amarok Estate fine wines, from tending to the vines through to marketing their wines internationally. The family approach was rewarded when every wine from Amarok Estate`s inaugural vintage re...
Arimia Margaret River Winery, WA 269 Quininup Road, Wilyabrup, WA 6280
Arimia, operating entirely off the grid, is the quintessential Margaret River winery, unpretentious with exceptional quality wine and food in a spectacular bushland setting. With a passionate team, we strive to create some of the region's most innovative, delicious wines and grow our own produce using organic principles and sustainable practises, and we invite you to come and experience this special place for yourself.
Bettenays Margaret River, WA Cnr Harmans South Road & Miamup Road, Wilyabrup, WA 6284
This site was planted in 1989 to Cabernet Sauvignon, Merlot, Semillon, Sauvignon Blanc and Chardonnay. Later plantings of Shiraz and Cabernet Sauvignon were established in 1997. The property now boasts 25 acres under vine with the excess grapes being highly sought after by neighbouring wineries. In recent years as vines have matured and fruit has increased in intensity, the awards and accolades have been mounting up. The 2002 Chardonnay won a trophy for the best chardonnay at the Sydney boutique wine awards, the 2008 Shiraz won a gold medal at the Great Australian Shiraz Challenge and the 2008 Chardonnay won Gold at the Margaret River Wine Show Awards, against some of the biggest names in WA. In the past 10 years Bettenay Wines has received over 40 medals around Australia. In 2012 the new extension was built onto the existing building. The extension includes a nougat kitchen and full nougat and wine tasting area maximising the experience for visitors to the premises.
Cape Lavender, WA Lot 4 Carter Road, Willyabrup WA; PO Box 35 Vasse WA 6280
Nestled between Cape Leeuwin and Cape Naturaliste, in the heart of the Margaret River wine region, is the original home of Cape Lavender. The enchanting combination of lavender and vineyard surrounded by natural bushland makes us a welcome break from the traditional wineries of the region, and a truly unique tourist attraction. A 75 acre wonderland of colour and fragrance, where visitors can still...
Cullen Wines, WA Caves Rd, PO Box 17, Willyabrup, WA 6280
The Cullen family were one of the first to produce wine in the Margaret River region. Medico, the late Kevin Cullen and his wife Di produced their first vintage in 1974 and over the years have gained a reputation for their Chardonnay and more recently their Cabernet Merlot. Di Cullen assumed the mantle of winemaker in 1981 making wine great distinction and innovation until she handed over duties t...
Domaine Naturaliste, WA 160 Johnson Road, Wilyabrup, WA 6280
After nearly three decades working closely with producers in Margaret River, Western Australia, renowned winemaker Bruce Dukes launched Domaine Naturaliste – his own range of highly acclaimed wines. An homage to the region where he honed his craft, Domaine Naturaliste is a space for Bruce to demonstrate his mastery of the classic Margaret River varietals. Applying decades of international and local knowledge spanning terroir, fruit selection, palate and aroma, Domaine Naturaliste wines are balanced, complex and delicious.
Evans and Tate, WA Cnr Caves and Metricup Roads, Wilyabrup, WA 6284
Founded in 1971 by John and Toni Tate and John Evans, the winery was one of the first Western Australian wineries to be publicly listed. Franklin Tate is now the current Chairman and Chief Executive of Evans and Tate. The Jindong vineyard of some 86 hectares is coupled with the Margaret River vineyards, -Redbrook at 26 hectares and Lionels at 107 ha. In addition Evans and Tate source fruit under c...
Flying Fish Cove, WA Lot 125, Caves Road, Wilyabrup, WA 6280
Flying Fish Cove is a producer of premium quality, great value, passionately Margaret River wines. Located 25km north of Margaret River township, along the renowned Caves road in the Wilyabrup sub-regional area.
Gralyn Estate Winery, WA Caves Rd, Willyabrup, c/o Cowaramup Post Office, WA 6280
Gralyn Estate is situated in the Willyabrup sub region of Margaret River, Western Australia....
Heydon Estate, WA 325 Tom Cullity Drive, Wilyabrup, WA 6284
Heydon Estate is a boutique, family owned and operated wine producer. Owners George and Mary Heydon have been actively involved since 1995, when they became part owners of the current vineyard. In 2002 George completed viticulture and winemaking studies at the University of Western Australia, leading to his current role as vigneron. In 2004, following the outright purchase of the vineyard, George and Mary moved to the property, together with sons Michael and Conor, and have lived and worked there to the present day. George, also a practicing dentist in the Margaret River township, continues to oversee all vineyard and wine production. Nowadays he also relies on the expertise of viticulturalist Tim Quinlan and winemaker Mark Messenger, both extremely well regarded in their respective fields. Mary is hands-on when it comes to the sales and administration of Heydon Estate and she personally hosts guests at the Cellar Door – it must be said, with the enthusiasm of an Irish-born owner!
Killerby Vineyards, WA Caves Road, Willyabrup, Margaret River Western Australia, PO Box 46,Margaret Riv
Killerby Vineyards is a boutique winery with vineyards in Geographe and Margaret River in the South West of Western Australia. The Killerby family were original settlers in the Margaret River region, and still own and operate the vineyards. At the turn of the century, Benjamin George Lee Killerby established general stores in the South-West of WA to supply the early pioneers. In this fine traditio...
Knotting Hill Estate Vineyard, WA 247 Carter Road, Wilyabrup, WA 6280
Knotting Hill Estate is located in the heart of Margaret River, just 300km South of Perth in a location renowned for world-class wines. Our wines are no exception, having won numerous awards and industry accolades.
Peacetree Estate, WA 239 Tom Cullity Drive, Wilyabrup, WA 6280
Peacetree is nestled in the heart of Wilyabrup (Margaret River) with almost 11 acres under vine. Boutique in style we produce low preservative wines practising a strong organic and artisan philosophy. Family owned and run we pride ourselves in producing aged Cabernets, Fumé Blanc, tantalisingly dry Rose, stunning Tempranillo and our mouth-watering brandy liqueur. We are situated on 239 Tom Cullity Drive, Wilyabrup. Conveniently located between Vasse Felix Winery and the Chocolate Company. Come in and enjoy a personalised and intimate wine tasting experience.
Pierro, WA Caves Rd, Willyabrup, WA 6280
The Pierro Chardonnay is the flagship wine of this innovative winery, at Willyabrup, run by medico Michael Peterkin. This wine has won many awards over the years and is well entrenched in the top 10 Chardonnays of Australia. Owner/winemaker Dr Michael Peterkin`s methods and experimentation in the vineyard and winery have sometimes been controversial, but the end product is invariably outstanding. ...
Ribbon Vale Estate, WA Lot 5, Location 653 Caves Road, Willyabrup WA 6284
Situated on Caves Rd in the Willyabrup Valley, Ribbon Vale is a producer of premium wines from the classic Bordeaux varieties. Ribbon Vale Estate offers a selection of excellent wines with their very own distinctive character. The bird on the wine label is the beautiful Splendid Wren. Ribbon Vale gets its name from its shape - just 185m wide and 1.3km long allowing for virtually every one of its 1...
Stormflower Vineyard, WA 3503 Caves Road, Wilyabrup, WA 6280
A wine adventure from the incredible dirt in the Wilyabrup pocket of the Margaret River region. Stormflower is all about producing the best wine we can from our small block, with all fruit from the vineyard. The vineyard was planted in the mid 1990's and has Cabernet Sauvignon, Shiraz, Chardonnay, Sauvignon Blanc, Semillon and Chenin Blanc vines. Stormflower took over the vineyard in 2007, and the vines were lovingly restored by our vine guys, with increased use of composts and natural vineyard management, before we were happy to produce our first vintage in 2009. The vineyard achieved full organic certification by NASAA in 2016 and all of Stormflower's wines from the 2016 vintage onwards are certified organic, or made with certified organic grapes.
Vasse Felix, WA Cnr Caves Rd and Harmans South Road, Willyabrup, WA 6280
Vasse Felix was the first commercial vineyard and winery to be established in the Margaret River region. It was founded 1967, by Dr Tom Cullity, with the aim of making the best possible wine. In 1965 Dr John S Gladstones emphasised the region`s suitability on his report `The Climate and Soils of Southern WA in relation to Vine Growing`. Two years later Dr Tom Cullity planted vines and Vasse Felix ...