Jump to Winery List
Light Pass Wine District
The Light Pass District in the Barossa Valley includes wineries in the vicinity of Light Pass, Stockwell and Neukirch. The charming village of Light Pass lies amidst lush vineyards on the flat plains east of Nuriootpa. Light Pass boasts some of the best-preserved and well-restored historic buildings remaining in the Barossa region. Visitors can see the straw and mud schoolhouse built in 1846 along with thatched-roofed barns and various wattle and daub farm buildings dating from the 1860s. In the centre of town is the famous Luhrs Cottage, which is an original German settler's home built in 1848. The delightful historic cottage has been restored as a local museum and visitors can see it during opening hours seven days a week. Gibson Wines hosts the popular `Sunday Funday` that includes entertainment, games of petanque, and lots of delicious local food and wines.

The Barossa Valley Wine Region includes sixteen districts : Marananga ; West Nuriootpa ; East Nuriootpa ; Dorrien ; Tanunda ; Vine Vale ; Bethany ; Rowland ; Lyndoch North ; Lyndoch South ; Williamstown ; Gawler ; Koonunga ; Truro ; Angaston ; Light Pass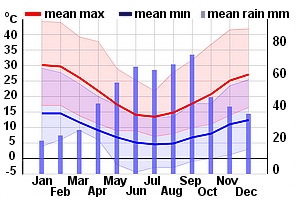 Winery Tour Map
Wineries
Gibson's Wines, SA 190 Willows Road, Light Pass, Barossa, SA 5355
Gibson's Wines is a small family owned winery nestled at the high northern end of the Barossa Valley in South Australia. A specialist producer of limited quantities of premium table wines, basket pressed and hand plunged, is fast garnering a reputation as a reliable producer of richly flavoured and complex wine. Rob, Anne and family produce approximately 5000 cases of wine each year, depending on the vintage. Fruit is sourced from predominately estate grown fruit with small selections coming from contracted grower fruit for added diversity come blending time.
Harbord Wines, SA PO Box 41 Stockwell SA 5355
Roger Harbord`s Winemaking goes back over 22 years and does everything possible to bring out the best of the soil to make unique wines that are both soft and well-structured. To date, Roger has been awarded over 520 awards ands trophies for Premium wines he has produced, both in Australia and Overseas. Major awards have included: Wine of the Year - Winestate magazine, Australia; SA Hyatt and Inter...
Willows Vineyard, SA Light Pass Road, 310, Light Pass, Barossa, SA 5355
Set in the northern pocket of the beautiful Barossa Valley, one hour from Adelaide, lies The Willows Vineyard, a 200-acre property meandering alongside the North Para River; settled by the Scholz family in 1845 and home to the Willows hospital until 1960. Two interwoven threads run through the generations of Scholz families who have lived there - healing and grape growing, making our winery and vineyard quite unique. Our wines are 100% Barossan and sourced entirely from our own single vineyard at Light Pass.
Wolf Blass, SA 97 Sturt Highway, Nuriootpa SA 5355
Paying homage to Wolf Blass Black Label, the most iconic red blend in the Wolf Blass stable, the Cellar Door showcases the world's only collection of every Black Label vintage since the winery's inception in 1973. The wall is a tribute to the Black Label's unprecedented Jimmy Watson success, Australia's most prestigious and sought after wine award. Visitors can taste 'Black from the Barrel', two individual components directly from the barrels, alongside the current vintage Black Label Cabernet Shiraz. Adding to the Cellar Door's charm, visitors can marvel over a life size artwork, titled 'Wolfie', oil and acrylic on canvas, 2014, by one of Australia's most recognised artists and fellow South Australian, David Bromley. The painting was created as a celebration of Wolfgang Blass 80th birthday.