Jump to Winery List
Vine Vale Wine District
The Vine Vale District in the Barossa Valey includes wineries between Dorrien, Vine Vale and Bethany in the Barossa Valley. Bethany and Vine Vale are two small villages located about 2 km south east of Tanunda. Bethany was one of the first townships and areas established in the Barossa Valley area. Prussian immigrants settled in the area in 1842 and leased land from local land owner, George Fife Angas. Some of the local attractions in the district include: # Bethany Reserve # The Pioneer Cemetery # The Lutheran Church dating from 1883 it has always been a major feature of the town. # Landhaus is a mud and stone building dating from the 1840s, which is now a restaurant. # Heysen Trail runs from Hahndorf right through to the Flinders Ranges passes through the Bethany Common.

The Barossa Valley Wine Region includes sixteen districts : Marananga ; West Nuriootpa ; East Nuriootpa ; Dorrien ; Tanunda ; Vine Vale ; Bethany ; Rowland ; Lyndoch North ; Lyndoch South ; Williamstown ; Gawler ; Koonunga ; Truro ; Angaston ; Light Pass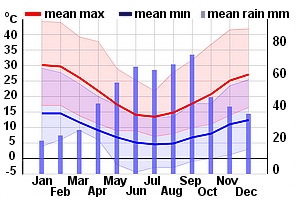 Wineries
Winery Tour Map
Arno Wine Co., SA 246 Vine Vale Rd, Tanunda, Barossa, SA 5352
Arno Wine Co. is a small batch, boutique wine producer of dangerously drinkable wines in the famous Barossa Valley. The rambunctious vinous child of husband and wife team Ruby Stobart and Craig Viney, we make wines that are delicious and speak clearly of both the region and the season. We source from growers who farm in a thoughtful, sustainable way and gently coax them into the bottle without a heavy winemaking thumbprint on the finished wine.
Calabria Family Wines, SA Corner Light pass and Magnolia Road, Vine Vale, Barossa, SA 5352
Located on one of the Family's vineyards in the Barossa Valley, Calabria Family Wines is all about award-winning wines, regional foods and magnificent vineyard views. Join us at our Barossa Valley tasting room, while you sample our premium wine portfolio and discover the Calabria Family history and winemaking philosophy. Located in the outskirts of Tanunda, the estate comprises of a modern tasting room, award winning restaurant 'Harvest Kitchen' and the family vineyard of Shiraz and Cabernet Sauvignon vines. The warm hospitality, regional focused restaurant and knowledgeable hosts will have you feeling a part of our extended family in no time.
Hart of the Barossa, SA 931 Light Pass Road, Vine Vale, Barossa, SA 5352
Hart of the Barossa is a family owned artisan wine brand, created by vintners Alisa and Michael Hart. Planted in 1902, the Hart block is the oldest certified organic vineyard in the Barossa Valley. Our passion is to create bold and authentic wine from the purest grapes nature can offer; reflecting the seasons, our sustainable farming and natural winemaking philosophy.
Seabrook Wines, SA 1122 Light Pass Road, Vine Vale, Barossa, SA 5352
We invite you to visit the home of Seabrook, an original settler's cottage nestled in the base of the Barossa's eastern foothills. Discover our story while you taste through our collection of hand-crafted wines, or simply enjoy a regional platter and glass on the deck. You'll fall in love with the spectacular views of our 'Home Block' and the famous Barossa Valley floor. A young wine brand with a lot of history, the Seabrook family have been part of the Australian Wine industry for generations, either blending, importing or making wine, beginning with WJ Seabrook & Son Merchants in 1878. The philosophy of Seabrook Wines today is still true to its roots – it's about hand-sourcing premium grapes from select vineyards across the best regions of Australia.
Steinborner & Reynolds, SA 249 Siegersdorf Road, Corner of Light Pass and Siegersdorf Roads, Angaston, Barossa, SA 5353
Steinborner & Reynolds are a vineyard and wine partnership located in Vine Vale, Barossa Valley. Visitors have the opportunity to meet the producer, walk through the vines, enjoy spectacular views and have a private shed tasting of our estate grown and produced wines. Our Vine Vale Shed is open for open tasting, tours and sales by appointment. Please call to make a time!