Jump to Winery List
Lyndoch South Wine District
The Lyndoch South Wine District includes wineries in the Lyndoch Valley, south of Lyndoch township, in the Barossa Valley Wine Region. The region has many iconic wineries that typify the outstanding attention to detail in the Barossa Valley. The Kies family arrived in the Baroassa from Silesia in 1857 and has been growing grapes in Lyndoch area ever since. In the 1980s the Kies family built and opened their cellar door facility and store at the gateway to the Barossa, just north of Lyndoch, and has become a place that abounds in European traditional hospitality, friendliness and laughter. Enclosed in a private valley amongst the stunning vineyards, Chateau Yaldara is proudly arrayed on a hillside with stunning views of the North Para River. The wonderful Chateau is home to McGuigan Wines. They also have a delightful cafe and a larder stocked with a delicious range of South Australian produce including a wonderful selection of wines, cheeses, olives and chutneys and much more. Rose Estate a relative newcomer developed from humble beginnings in 1999. It has quickly established a great reputation with its handcrafted wines that have won many awards from across the world. The vineyards at Schild Estate vineyards include some of first vineyards ever planted in Australia. It includes the renowned Moorooroo vineyard situated close to Jacobs Creek, which was planted in the 1850s. It is located in the southern part of the Barossa Valley close to Lyndoch, which is cooler and generally provides for a slower and longer ripening period than in the other areas of the Barossa Valley. The slow ripening is just perfect for the development of rich, premium grape flavours which add to the local terroir of the wines.

The Barossa Valley Wine Region includes sixteen districts : Marananga ; West Nuriootpa ; East Nuriootpa ; Dorrien ; Tanunda ; Vine Vale ; Bethany ; Rowland ; Lyndoch North ; Lyndoch South ; Williamstown ; Gawler ; Koonunga ; Truro ; Angaston ; Light Pass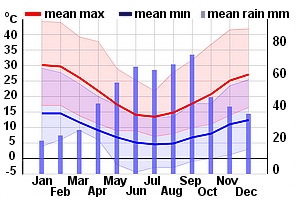 Winery Tour Map
Wineries
Dutschke Wines, SA PO Box 107, Lyndoch Valley Road, Lyndoch SA 5351
We have been blessed by having our ancestors firstly choose to settle in the Barossa Valley and secondly to plant vineyard on this wonderful patch of real estate. The production started out under the brand `WillowBend` in 1990 producing both a Chardonnay and a red blend of Shiraz, Merlot and Cabernet from the family block. In 1995, just for fun, I produced a 100% Shiraz instead of the usual Willow...
Schild Estate, SA Cnr Barossa Valley Way and Lyndoch Valley Rd, Lyndoch SA 5351
In 1866 the Schild Family emigrated to Australia from the European nation of Poland as part of the exodus from religious persecution. Ben Schild, owner Ed Schild`s father heeded the work of his ancestors thus ensuring that the Schild family would have an impact in this new country. Ben established a small mixed farm including vineyard in the Barossa Village of Rowland Flat in the early 1950`s afte...