Jump to Winery List
Marananga Wine District
The Marananga District includes wineries near Marananga, Greenock and Seppeltsfield in the Barossa Valley. The small town of Marananga, located between Tanunda and Seppeltsfield has a distinctly German and European character, that has been preserved and enhanced by the local community. Visitors will enjoy seeing and learning about the Australian and German heritage and history of the town and region. The annual Marananga Wine Show is held in the historic Seppeltsfield Distillery, in the grounds of the iconic Seppeltsfield Winery. A public tasting evening provides an opportunity for the general public to taste all the wines entered in the show and experience the wonderful range of wines produced in the Western Barossa region around Marananga and Greenock. There are generally about 100 wines in the show. The Marananga village has several wineries, a motel, charming bed and breakfasts, a restaurant and a historic metal art forge that showcases the rich history of the Barossa Valley.

The Barossa Valley Wine Region includes sixteen districts : Marananga ; West Nuriootpa ; East Nuriootpa ; Dorrien ; Tanunda ; Vine Vale ; Bethany ; Rowland ; Lyndoch North ; Lyndoch South ; Williamstown ; Gawler ; Koonunga ; Truro ; Angaston ; Light Pass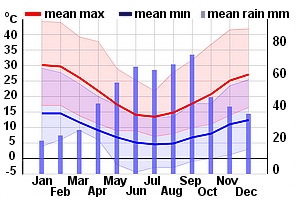 Winery Tour Map
Wineries
BarossaValleyEstate, SA 9 Kraehe Road, Marananga, Barossa, South Australia, 5355
Set in Australia's largest perennial gardens on Seppeltsfield Road, overlooking one of the world's greatest wine regions, Barossa Valley Estate is the home of the legendary E&E Black Pepper Shiraz. The cellar door provides the perfect setting to experience the very wines that made the region great - Shiraz, Cabernet Sauvignon and Grenache Shiraz Mourvèdre, as well as other exclusive cellar door releases.
Greenock Creek Wines, SA 450 Seppeltsfield Road, Marananga, Barossa, SA 5355
Greenock Creek Wines is situated at Marananga near Seppeltsfield in the rolling hills near Greenock, on the western edge of the Barossa Valley. The winery's first release in 1988 comprised a 1986 Shiraz and a 1988 Chardonnay, sold from the tiny cellar door situated beneath the Waugh's 150 year old stone cottage. The winery has since expanded its plantings, and now specialises in premium red wines. Only grapes grown on the property are used, making it truly an estate winery. The range of wines includes Shiraz, Cabernet Sauvignon, Mataro and Grenache.
Hayes Family Wines, SA 102 Mattiske Road, Stone Well, Barossa, SA 5352
Hayes Family Wines is a small family owned and run boutique Barossa vineyard and winery in Stone Well on the Western Ridge of the Barossa Valley. We produce classic Barossa wines utilising old vines that reflect the best possible terroirs of the Barossa Valley. Hayes Family Wines offers a unique experience, from our estate vineyard, to the winery and the cellar door, surrounded by many of the most famous names of the Barossa Valley.
Heritage Wines, SA 399 Seppeltsfield Road, Marananga, Barossa, South Australia, 5355
Heritage Wines was established in 1984 and is located at Marananga, in the Barossa Valley, South Australia surrounded by 20 acres of estate grown vines, carefully nurtured by owner/winemaker Steve Hoff. A true advocate of the Barossa, Steve is committed to producing exceptional quality varietal wines with emphasis on regional fruit characteristics and unique big-hearted Barossa styles. Come and speak to the winemaker himself! Steve is at the cellar door most days and welcomes you to taste their range of wines while taking in the fantastic views across the Barossa Valley.
Izway Wines, SA Seppeltsfield Road, 923, Seppeltsfield, Barossa, SA 5355
At Izway Wines, our task is to gently guide our wines to bottle so they are an accurate reflection of both the site on which they were grown and the prevailing conditions throughout the growing season. We utilise the abundant sunshine to generate power. Our winery is the only one in the Barossa Valley this is completely off-grid and our own vineyards are organically grown. Visit our cellar door and taste wines of purity, energy and vitality that speak clearly of the region we call home. Soak up the vineyard views, chat to us the winemakers, enjoy a glass of wine by the fire and experience wine making first hand during harvest months.
Kalleske Wines, SA 6 Murray Street, Greenock, Barossa, South Australia, 5360
In South Australia's Barossa Valley, the Kalleske family have been farming and growing grapes since 1853. They are one of the region's leading grape-growing families consistently growing some of the Barossa's best quality grapes. After six generations of growing grapes, winemaker and seventh generation family member, Troy Kalleske, together with his brother Tony, established Kalleske Wines.
Laughing Jack Wines, SA 194 Stonewell Road, Marananga, Barossa, SA 5355
Laughing Jack Wines is a small family owned and operated winery, established in 1999 by Winemaker Shawn Kalleske. Producing low volume and high quality premium wines from estate grown fruit. The Kalleske's have long been part of the Barossa Valley landscape dating back to 1855. The family vineyards stretch from Moppa and Greenock to Marananga on Seppeltsfield Road. Laughing Jack Wines are made using traditional methods such as open top fermentation and the basket press. They are not fined or filtered deeming them vegan friendly.
Rolf Binder Winery, SA 185 Stelzer Road (Corner Seppeltsfield and Stelzer Roads), Tanunda, Barossa, SA 5352
Rolf Binder was first established as Veritas Winery in 1955 by Rolf Heinrich Binder and his wife, Franziska, after immigrating from Europe. This family owned winery is now run by renowned second generation winemakers – Rolf and Christa. Rolf is responsible for red wines while sister, Christa, having had years of experience with one of the larger Australian wines companies and several vintages overseas, focuses on white winemaking.
Schubert Estate, SA Roennfeldt Rd, Marananga SA 5355
Schubert Estate wine and vineyards specialise in the growing and making of fine Shiraz wines. "Good wine begins in the vineyard" and our vineyards are situated in a prime Shiraz growing area in Marananga, Barossa Valley, South Australia. We also have a Cellar Door open 10-5 weekdays at 26 Kensington Road Rose Park South Australia. The Schubert family began growing grapes in the early 1900s and during the 1980s Steve Schubert took over the property. Steve handcrafted his first commercial wine, Goose-yard Block Shiraz, in the year 2000.
Seize the Day Wines, SA 27 Gerald Roberts Road, Seppeltsfield, Barossa, South Australia
Seize the Day Wines is a small boutique producer of premium Barossa wine. For every big Barossa winery there are lots of little guys like us, following a passion, producing high quality, honest Barossa wines with one intent – for people to enjoy and then take home the world renowned flavours of the Barossa in a bottle. We put all our energy into growing the best grapes possible from our 10 acre home vineyard in historic and beautiful Seppeltsfield on the Barossa's western ridge, and then work in collaboration with our winemakers to guarantee a premium wine that tells the story. We also source fruit from other Barossa single vineyard sites to create exciting project wines to add to our portfolio.
Seppeltsfield Barossa, SA 730 Seppeltsfield Road, Seppeltsfield, Barossa, SA 5355
Seppeltsfield was established in the Barossa Valley by Joseph and Johanna Seppelt just 15 years after the European settlement of South Australia. Steeped in rich Barossan heritage, the estate is considered a true national treasure which helped shape the history of the Australian wine industry. Seppeltsfield is most famed for the Centennial Collection - an irreplaceable and unbroken lineage of Tawny of every vintage from 1878 to current year. The estate remains the only winery in the world to release a 100 year old, single vintage wine each year. The estate also boasts a remarkable collection of Apera (Australian Sherry), crossing Fino to Oloroso styles, all held in vast Solero nursery cellars.
Tart & Tawny, SA 730 Seppeltsfield Road, Seppeltsfield, Barossa, SA 5355
Portugal and Australia share rich histories with fortified wines - the term 'Port' itself an abbreviated reference to Portugal and having strong influence, along with Spain, over Australia's founding wine styles. In Australia, the 'Port' wine style (barrel aged fortified wines of red grape varieties) is now known as Tawny, with Seppeltsfield retaining a proud lineage of stocks dating back to 1878. Our Tart and Tawny pairing pays homage to Australia's connections to Portugal in two ways; the significance of 'Port' styles (now Tawny) in influencing the origins of our wine industry, and one of the Western Europe's most celebrated sweet delicacies, Pasteis de nata.
Torbreck, SA Lot 51 Roennfeldt Road, Marananga SA 5355
Formed in 1994 in the historical hamlet of Marananga, Torbreck has quickly become one of the Barossa Valley`s leading wine producers. Since those first wines were released, they have attracted universal acclaim and are now highly prized by wine connoisseurs from around the world. Yet, Torbreck is still a privately owned and operated company, following the philosophy, direction and the passionate b...
Torbreck Vintners, SA 348 Roennfeldt Road, Marananga, Barossa, SA 5355
Torbreck produces world-class wine from small quantities of dry grown, old vines situated within the north western fringe of the Barossa Valley. Located in Australia's most famous wine region, Torbreck has been declared one of the world's Top 100 wine estates by Robert Parker. Enjoy our warm hospitality and taste award winning wines with our highly knowledgeable staff. The cellar door is open 10am to 5pm seven days a week, except Good Friday, Christmas Day, Boxing Day and New Year's Day.
Two Hands Wines, SA 273 Neldner Road, Marananga SA 5355
Two Hands Wines was founded in early 1999 with the aim to make the best possible Shiraz-based wines from prized growing regions throughout Australia. Headed up by Founder and Managing Director, Michael Twelftree, Two Hands' intention was, and still is, to showcase the diversity of Australian Shiraz by highlighting regional characteristics and allowing the fruit to be the primary feature of the wines. Michael personally guides the wines through the viticulture and winemaking process and refers to the very intimate approach taken with each small parcel of grapes.
Viking Wines, SA RSD 108 Seppeltsfield Rd, Marananga SA 5355
In 1993, Tord Soderstrom and his wife Charmaine began looking for a property in the Barossa Valley. They were searching for a place where they could relax and escape from the pressures of working and living in the city. One day after hearing than an eighty-acre property in Marananga, which included twenty acres of old dry-grown vines, was up for sale, Tord immediately put in an offer. The offer wa...
Whistler Wines, SA Seppeltsfield Rd, Marananga SA 5355
A small boutique winery with picture postcard native surroundings and the drive to the cellar door is lined with red and white roses and the building itself nestles under ancient gum trees. Built of modern materials in the tradition of an old german cottage the cellar door has proven a popular photographic spot for wedding couples and tourists alike. At Whistler Wines, we produce premium wines fro...