Jump to Winery List
Rowland Flat Wine District
The Rowland Flat District includes wineries in the Rowland Flat area between the neighbouring towns of Tanunda and Lyndoch. Rowlands Flat is home to the renowned Jacob's Creek wine which has built and international reputation for Barossa Valley wine. The famous Jacob's Creek itself is close to the town centre. Visitors can discover more details about this classic winery at the Jacob's Creek Visitor Centre, which offers wine tastings, fascinating interactive displays of winemaking. Visitors can enjoy a wonderful dining experience at the Jacob's Restaurant which showcases its wines. The area exhibits the iconic contrast between historical buildings and farmhouses and modern winery facilities that characterises the Barossa Valley. Rowlands Flat is home to the large Orlando Wyndham Winery and the stunning Novotal Barossa Valley Resort. Wine making in Rowland Flat began in the 1840s.

The Barossa Valley Wine Region includes sixteen districts : Marananga ; West Nuriootpa ; East Nuriootpa ; Dorrien ; Tanunda ; Vine Vale ; Bethany ; Rowland ; Lyndoch North ; Lyndoch South ; Williamstown ; Gawler ; Koonunga ; Truro ; Angaston ; Light Pass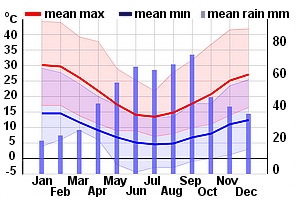 Winery Tour Map
Wineries
Elysian Springs, SA 2920 Eden Valley Road, Mount Pleasant, Barossa, SA 5235
Elysian Springs is a 200-acre estate vineyard located in the pristine northern-most end of the Adelaide Hills region bordering the Eden Valley. The property is planted to Syrah (nee Shiraz), Sauvignon Blanc, Pinot Noir, Pinot Meunier and Chardonnay grape varieties. Our cellar door offers wine tastings and sales our award winning range of Elysian Springs wines from our picturesque location.
God's Hill Wines, SA Morphett Road, Lyndoch, Barossa, SA 5351
God's Hill described by many is the hidden gem of Barossa Valley.!! As you enter the suburb road off Gilbert St and enter through Morphett Rd gate , you are smacked by a breathtaking view that you can't believe your eyes! After that pleasant shock, you realise you need to drive further to the tasting area, where Charlie himself welcomes you.
Grant Burge Wines, SA 279 Krondorf Road, Krondorf, Barossa, South Australia, 5352
Grant Burge Wines is a proud Barossa winery dedicated to crafting premium wines that are consistent and generously flavoured; and showcase the difference that dedication, time and meticulous winemaking can achieve. We combine our finest vineyards and hands-on techniques with modern winemaking to express the iconic Barossa Valley region. Nestled in the heart of the Barossa Valley, the region's diversity of terroir and fruit expression, together with the Mediterranean climate, provide us with the perfect environment to create premium wines full of rich and generous flavours.
Hemera Estate, SA Barossa Valley Way, 1516, Lyndoch, Barossa, SA 5351
At Hemera Estate our passion is for producing award winning wines that speak of our land here in the Barossa Valley. We pride ourselves on wines such as our 2010 JDR Shiraz, winner of the Best Barossa Shiraz Trophy at the 2015 International Wine Challenge in London. You can enjoy an experience at Hemera Estate in our Cellar Door with our knowledgeable staff, delight in a private tasting or be captivated in one of our daily winery tours.
Jacobs Creek, SA 2129 Barossa Valley Way, Rowland Flat, Barossa, South Australia, 5352
Experience the best of the Barossa at Jacob's Creek! Enjoy fresh local produce, great tasting wines and a rich history, all while taking in breathtaking vineyard views of the Barossa ranges. Enjoy lunch at Our Table, featuring seasonal food grown locally or picked fresh from our kitchen garden. Wine lovers will find something to delight them at our cellar door, enjoying one of our interactive food and wine experiences.
Jenke, SA Barossa Valley Way, Rowland Flat SA 5352
Jenke Vineyard is one of the oldest established vineyards is Australia, with the original vines planted 150 years ago by Johann and Magdalena Jenke. Today great-great grandson, Kym Jenke, runs the vineyard. Until 1989 the Jenke`s had always been purely contract growers but at this time Kym decided to expand the business, producing his own label of wines. The vineyard is situated in Rowland Flat on...
Liebichwein, SA 151 Steingarten Road, Rowland Flat, Barossa, South Australia, 5352
Liebichwein is a small family owned winery tucked in the southern ranges of South Australia's famed Barossa Valley. A quintessential Barossa wine experience to surprise and delight visitors. The Liebich family have been grape growers and winemakers in the Barossa since 1919. Janet and Ron Liebich established their own winery in 1992. Great pride is taken in every aspect of production from choosing which grapes are planted to bottling aged fortified blends that Ron has expertly blended.
Lou Miranda Estate, SA 1876 Barossa Valley Way, Rowland Flat, Barossa, SA 5352
Taste the heart of Italy in the Barossa. Bring your family and friends to relax and enjoy a day at Lou Miranda Estate. The family owned boutique winery and restaurant is run by Lou's three daughters Lisa, Angela and Victoria. Offering premium quality wines under the Leone and Lou Miranda Estate name using fruit from their Estate owned Barossa Valley vineyards located in the southern end of the Barossa. At Lou Miranda Estate we are dedicated to producing wines from the soil to the bottle, the wines available in the cellar door, we believe give a holistic view of the different style of wines we produce.
St Hugo, SA 2141 Barossa Valley Way, Rowland Flat, Barossa, SA 5352
At St Hugo, guests can indulge in our outstanding collection of St Hugo red wines in the beautifully restored building that reflects the rich history of Hugo Gramp and his lifelong connection to the region. St Hugo wines can be enjoyed in the luxurious wine lounge or as part of the fine dining experience in our restaurant. St Hugo Past, Present & Future Tour & Tasting: Immerse yourself in the St Hugo story including a tour of the vineyards, unique cork tree plantings and a tutored tasting in our private tasting room (daily 11am and 3pm). Enjoy a four course lunch with matched wines to complete the perfect package ($160 per person with lunch / $50 per person tour and tasting only)