Jump to Winery List
Nuriootpa West Wine District
The West Nuriootpa Wine District includes wineries in the Barossa Valley Region located west of the Barossa Valley Highway between Nuriootpa, Marananga and Dorrien. The major commercial centre of Nuriootpa is located about 80 km from Adelaide at the north end of the Barossa Valley, near the Sturt Highway. Nuriootpa is a picture postcard town that simply exudes grapes, wines and everything about wine making. There are even grape vines growing on some of the buildings in the main street. The surrounding lands are dotted with vineyards that are everywhere you look. Some very famous wineries, with fabulous cellar doors and tasting facilities including Kaesler Wines, Elderton and Wolf Blass. The Nuriootpa district is also home to some of the boutique specialist wineries that exemplify the character of the 'Barossa'.

The Barossa Valley Wine Region includes sixteen districts : Marananga ; West Nuriootpa ; East Nuriootpa ; Dorrien ; Tanunda ; Vine Vale ; Bethany ; Rowland ; Lyndoch North ; Lyndoch South ; Williamstown ; Gawler ; Koonunga ; Truro ; Angaston ; Light Pass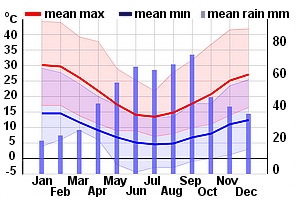 Winery Tour Map
Wineries
Ballycroft Vineyard and Cellars, SA Adelaide Road, Greenock, Barossa, SA 5360
Enjoy an intimate and unique cellar door experience at Ballycroft Vineyard and Cellars. Join Joe Evans for a personal, guided wine session available everyday between 11am to 4pm. Joe is the owner, winemaker, viticulturist and everything inbetween, carefully tending his grapes from vine to bottle. The Tasting Room which sits at the bottom of Ballycroft's 15 acre sloping vineyard on the outskirts of Greenock was once the cheesery of the same name. While the cheese has now gone the distinctive logo still graces the Small Berry Wine bottles. Ballycroft's wine is made as a reflection of their sustainable vineyard, the terroir and the individual vintage. They let the fruit tell the story.
Beer Brothers Wines, SA Pheasant Farm Rd, Nuriootpa SA 5355
Colin and Maggie became grape-growers when they purchased their property in 1973 on moving to the Barossa. Colin, with no experience of grapes became a first class vigneron purely by listening to his neighbours and then keeping his ear to modern agricultural practises as well to take the best out of both worlds. The majority of the vineyard of this original property are on fertile river flats acro...