Jump to Winery List
Williamstown Wine District
The Williamstown Wine District includes wineries near Williamstown at the southern end of the Barossa Valley Wine Region.. The small town of Williamstown is located about 51 km from Adelaide close to the boundaries of both the Adelaide Hills and Barossa Valley Wine Regions. Williamstown is renowned for its timber as well as it wines. Local attrctions include: # The Williamstown Hotel built in 1848 # The Barossa Whispering Wall and Water Reservoir - the 140m long curved retaining wall of the Barossa Reservoir, acts as a sound amplifier and you can speak in a normal voice at one end and be heard clearly by people at the other end. # Parra Wirra Recreation Park # Hoffnungstahl. One of the interesting wineries in the area is Twin Valley Estate that was established in 1969 and specialises in Red and White table wines derived from Shiraz, Cabernet Sauvignon and Chardonnay grapes.

The Barossa Valley Wine Region includes sixteen districts : Marananga ; West Nuriootpa ; East Nuriootpa ; Dorrien ; Tanunda ; Vine Vale ; Bethany ; Rowland ; Lyndoch North ; Lyndoch South ; Williamstown ; Gawler ; Koonunga ; Truro ; Angaston ; Light Pass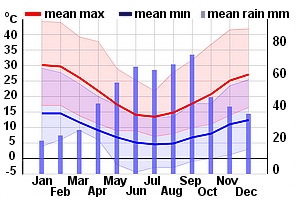 Winery Tour Map
Wineries
Linfield Road, SA 65 Victoria Terrace, PO Box 6, Williamstown SA 5351
Annandale Vineyards is a family owned business located in Williamstown, which lies in the Southern Barossa Valley. The Barossa Valley is world renowned as one of Australia`s premium wine growing regions. In 2002 a new wine label was launched under the Annandale Vineyards name, Linfield Road Wines. We hope that you enjoy our award winning wines. Annandale Vineyards is a family owned business locate...
Te-aro Estate, SA Fromm Square Rd, Williamstown SA 5351
Carl Hermann Fromm had a vision for his land and his family. 1919 was the year his crowbar first parted the rich red brown earth and a precious new vine was carefully embedded into the virgin soil. It had been a long journey for the Fromm Family, migrating from East Prussia (Germany) in 1850. Carl was the 3rd generation and the youngest of 10 children. He married Elizabeth Minnie Kappler in 1919. ...