Jump to Winery List
Lyndoch North Wine District
The Lyndoch North Wine District includes wineries to the north of Lyndoch, and west of Rowlands Flat, in the Barossa Valley Wine Region. The district is located about 58 km from Adelaide. Lyndoch is a great base to stay when planning extensive wine tours in the Barossa Valley. There is a wide range of quality accommodation to choose from and there are a large number of wineries with cellar door outlets within close proximity. The Lyndoch area is renowned as the place the Barossa Valley where the first grapes were planted. In 1847 a local resident, Mr Gilbert had established an acre of grapes at Pewsey Vale. At about the same time Johann Gramp had planted the first grapes at Jacob's Creek and had produced his first wine by around 1850. Today Lyndoch is regarded as the heart of the Barossa and there are a large number of large commercial wineries and smaller boutique wineries in the area.

The Barossa Valley Wine Region includes sixteen districts : Marananga ; West Nuriootpa ; East Nuriootpa ; Dorrien ; Tanunda ; Vine Vale ; Bethany ; Rowland ; Lyndoch North ; Lyndoch South ; Williamstown ; Gawler ; Koonunga ; Truro ; Angaston ; Light Pass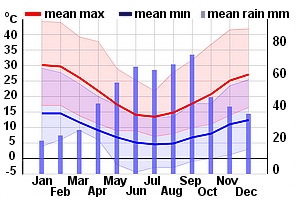 Winery Tour Map
Wineries
Burge Family, SA 1312 Barossa Valley Way, Lyndoch, Barossa, South Australia, 5351
Burge Family Winemakers is a small wine business established in 1928 making estate grown wines from a 10 hectare vineyard. Focussing on low yielding, high quality crops, the resulting wines continue to receive critical acclaim within Australia and overseas, with demand constantly outstripping supply. All grapes are estate-grown, with Shiraz, Grenache, and Mourvedre (and blends containing these varieties ) and Semillon producing stand-out wines.
Charles Cimicky, SA Hermann Thumm Drive, Lyndoch SA 5351
Cimicky wines are renowned for their quality. This is due to their high quality grapes, their lavish use of French and American oak, and their state-of-the-art winemaking equipment. The winery was established in 1973, and was originally called Karlsburg Wines. The most immediately noticeable feature of the estate is the `fantasy` building created by Czech-born Karl Cimicky. The building sits withi...
Kellermeister, SA 1561 Barossa Valley Way, Lyndoch, Barossa, South Australia, 5351
Kellermeister is a boutique family-owned winery rated in the top seven per cent of wine producers in Australia. The beautifully located cellar door was recently awarded the Barossa Trust Mark Seal of quality and enjoys one of the best views in the Barossa. We invite you to visit and discover the magic of Kellermeister at our famous mud brick cellar door. Enjoy tastings of a variety of award-winning wines, apple cider and fortifieds accompanied by a local produce platter whilst soaking up our stunning views over the Barossa Valley or by the open fire.
Kies Family, SA PO Box 4 (Barossa Valley Hwy), Lyndoch SA 5351
The Kies family is now of fifth generation with their children being the sixth. Some of the vines, which are 100 years old have been lovingly cared for in order to keep producing hearty yields. Kies wines are produced totally from their own vineyards. The Kies family first came to Australia in 1857 from Germany. Upon arrival at Port Adelaide in South Australia, the family searched for land suitabl...
Ross Estate, SA Barossa Valley Way, Lyndoch SA 5351
Ross Estate Wines, situated in the small town of Lyndoch, is a relatively young winery in the Barossa Valley region of South Australia. Set amongst manicured lawns and surrounded by beautiful red and white standard roses, it is easy to lose oneself in the tranquillity of the surrounding countryside, as you stroll toward the front door. Our aim - to produce wines of consistent quality, from the soi...
Tait Wines, SA Yaldara Drive, Lyndoch SA 5351
The inspiration behind Tait Wines was Giovanni Tait (1927-1997). Giovanni Tait migrated to Australia from Italy in 1957 to take up work as a cooper in the Barossa. His high skill and craftsmanship in his chosen trade led him to B Seppelts and Sons where he took an active role in the production and maturation of wine in oak casks. He learnt cooperage from his father and grandfather before migrating...
Yaldara Wines, SA PO Box 62 (Gomersal Road), Lyndoch SA 5351
Yaldara Winery has been producing wines since 1947. The Cellar Door offers tasting and sales with an emphasis on quality and premium wines. The Garden Bistro provides patrons with beautiful views of the North Para River and natural eucalypts. Conducted Tours of the Wine Cellars are available to visitors interested in the storage areas, underground bottle tunnels and premium wine barrels. The Chate...