Jump to Winery List
Nuriootpa East Wine District
The East Nuriootpa Wine District includes wineries in the Barossa Valley Wine Region located to the east of the Barossa Valley Highway between the townships of Nuriootpa, Light Pass and Angaston, These towns are located on a generally flat area with an elevation of about 270 m above sea level and about 75 km (one hour`s drive) from Adelaide. Nuriootpa showcases grapes, vineyards wines and wineries - they are everywhere you look. Some of the major attractions in the district include: # Coulthard House # Luhrs Pioneer German Cottage # Penfolds Wines # Elderton Wines # Wolf Blass Wines, Chateau Dorrien # Tarac Australia (Distillery) # Kaesler Wines and Restaurant # Barossa Cottage Wines. There are some delightful bed and breakfast in the district including: Kaesler Cottages Bed & Breakfast, Karawatha Guesthouse, Treetops Bed and Breakfast, Whirlwind Farm Bed and Breakfast, Fuller's Barn Residence. The village of Light Pass is enclosed by bountiful vineyards on the flat expanses east of Nuriootpa. It has some of the best heritage buildings remaining in the region. Even the straw and mud schoolhouse, built more than 150 years ago, in 1846 still stands, along with a collection of thatched-roofed barns and `wattle and daub` farm buildings, dating from the 1860s. Luhrs Cottage, an original German settler's home built in 1848 has been restored as a local museum and is open to the public seven days a week. A regular and popular event is 'Sunday Funday' at Gibson Wines, a short drive from the main street on Willows Road, that includes music, games of petanque, food and wine.

The Barossa Valley Wine Region includes sixteen districts : Marananga ; West Nuriootpa ; East Nuriootpa ; Dorrien ; Tanunda ; Vine Vale ; Bethany ; Rowland ; Lyndoch North ; Lyndoch South ; Williamstown ; Gawler ; Koonunga ; Truro ; Angaston ; Light Pass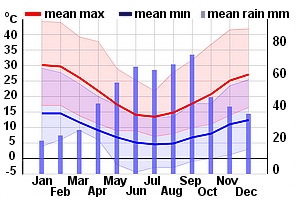 Winery Tour Map
Wineries
Atze's Corner Wines, SA 451 Research Road, Nuriootpa, Barossa, SA 5355
Discover the Barossa with Atze's Corner Wines; you'll be delighted. Six generations of vine growing and wine-making. Century-old Shiraz vines. The richness and essence of the Barossa Valley. This is Atze's Corner Wines. Atze's Corner vigneron Andy Kalleske is the sixth successive generation of his family to be involved in grape-growing and winemaking in Australia's iconic Barossa Valley. The vineyards which are tended by Andy's parents Barb and John Kalleske feature Shiraz vines planted in 1912 and 1951.
Elderton Wines, SA 3-5 Tanunda Rd, Nuriootpa SA 5355
Elderton is family owned and operated from the heart of the Barossa Valley. Specialising in reds, they shot to prominence in 93 - winning the illustrious and contentious Jimmy Watson Trophy. The wines are heralded world wide for being big, soft and full of flavour and character. Based in the heart of Australia`s Barossa Valley and benefiting from 100 year old vineyards, Elderton Wines is a world-c...
Hamilton`s Ewell, SA Barossa Valley Way(Cnr Siegersdorf Road), Nuriootpa, SA 5355
In 1837 Richard Hamilton arrived in South Australia from England with his family. In winter 1838 he planted South Australia`s first commercial vineyard producing the Colony`s first commercial wine in 1841.Five generations of the Hamilton wine family contributed to the growth of the original Hamilton`s Ewell Vineyards between 1837 and 1979 when it was sold. At the time of the sale it was Australia`...
Kaesler Wines, SA Barossa Valley Way, Nuriootpa SA 5355
The Kaesler Vineyards were established in 1893. The family, sprung from Silesian pioneers who came to the Barossa Valley in the 1840s, took up 96 acres in 1891. They cleared the scrub and in 1893 planted out the entire holding with Shiraz, Grenache, Mataro (Mourvedre) and White Hermitage vines. Some of the gnarled dry-grown Shiraz still remains and provides the backbone of the intense wines produc...
Rosenvale Wines, SA 467 Research Road, Nuriootpa, Barossa, South Australia, 5355
Great wines start in the vineyard and with our own selection of vineyards spanning over 200 acres through the Barossa, we are able to select the best parcels of grapes to produce outstanding wines for tasting in our cellar door. Our modern cellar door opened in July 2018 and is a feast for the senses. With grazing boards utilising local seasonal produce served until 4pm, 180 views of the Barossa ranges and vineyards, conference facilities and a floor to ceiling viewing area of the working winery, Rosenvale offers guests a fun and informative Barossa experience.
Ubertas Wines, SA 790 Research Road, Nuriootpa, Barossa, SA 5355
Join us for a tasting at Ubertas Wines in our new modern cellar door, with large picture windows overlooking our vineyards. In the summer, bring your picnic rug and local produce filled picnic and sit out on the lawns to enjoy. The kids can run around and play while you sit back and relax. In the winter you can snuggle up on one of our leather couches in front of our big stone fireplace and warm your heart with a glass of Ubertas wine. Run by two brothers, Kevin and Phil, you will most likely find them behind the tasting bench when you pop in and their warm smiles will make you feel right at home.