Jump to Winery List
Bethany Wine District
The Bethany Wine District includes wineries and vineyards in the Barossa Valley south of the historic township of Bethany, and east of the major service and tourist town of Tanunda. Bethany is renowned as the first townships established in the Barossa Valley in 1842. Prussian immigrants leased land from local land owner, George Fife Angas, and established a community. The German influence is still showcased by the magnificent set of historic buildings in the town including: The Lutheran Church which daties from 1883 and the mud and stone building `Landhaus` , dating from the 1840s, which has been renovated and is now used as a restaurant. A good way of seeing the area is by following the Heysen Trail that runs from Hahndorf in the Barossa Valley through to the Flinders Ranges. The trail passes through Bethany.

The Barossa Valley Wine Region includes sixteen districts : Marananga ; West Nuriootpa ; East Nuriootpa ; Dorrien ; Tanunda ; Vine Vale ; Bethany ; Rowland ; Lyndoch North ; Lyndoch South ; Williamstown ; Gawler ; Koonunga ; Truro ; Angaston ; Light Pass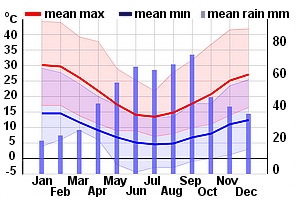 Winery Tour Map
Wineries
Bethany Wines, SA 378 Bethany Road, Tanunda, Barossa, SA 5352
Bethany Wines has built a reputation as one of Australia's finest wine producers, underpinned by a strong sense of family tradition since the mid-1800s. The winery is owned and run by the Schrapel family, who first planted vines in 1852 soon after arriving from Silesia. Like many of their fellow Germanic migrants, they established a home in Bethany and cleared the land to grow winegrapes and graze animals. More than a century later, fifth generation descendants, brothers Geoff and Robert Schrapel, established Bethany Wines as a wine company.
Charles Melton Wine, SA 194 Krondorf Road, Krondorf, Barossa, SA 5352
Charles Melton has specialised in the production of limited release, premium red wines made from Barossa grapes since 1984. This small Barossa Valley winery located on the famous Krondorf Road, has since gained worldwide recognition for its premium red table wines. The wine portfolio now ranges from an iconic full bodied Rosé, the 'Rose of Virginia', to premium single vineyard Shiraz and Cabernet wines, through to Australia's premier Rhone-style blend, the 'Nine Popes' GSM. Great emphasis is placed on fruit quality, with all grapes dry grown and harvested from the winery's own 80 acres of prime Barossa vineyards, as well as from a select group of grape growers.
Rockford Wines, SA 131 Krondorf Road, Krondorf, Barossa, SA 5352
Rockford Wines feature high quality traditional wines made from some of the best old Barossa vineyards. The winery and cellar door sales are part of a paved courtyard surrounded by stone buildings dating back to the early settlement of Krondorf. We're committed to keeping the best of traditional winemaking alive and sharing that joy with our customers.
Turkey Flat, SA Bethany Road, Tanunda SA 5352
Turkey Flat is more than just a vineyard and home of the best Barossa wines; it is a family business that forms a vital part of the region`s rich cultural history and heritage. Located in the Barossa Valley in South Australia. The Range includes: Shiraz, Cabernet Sauvignon, Grenache Noir, Rose and Semillon. The Turkey Flat Vineyard boasts some of the oldest Shiraz vines in the world. Planted in 18...