Jump to Winery List
Angaston Wine District
The Angaston Wine District includes wineries in the vicinity of the town of Angaston and Light Pass in the Barossa Valley Wine Region. Angaston is located about 77 km north east of Adelaide. It has an elevation of 347 m, and is one of the highest areas in the Barossa valley, and has an average rainfall of about 561 mm. Due to the local wineries Angaston has become a major tourist centre and is regarded as a great place to stay and enjoy wine tours in the Barossa Valley. The town and the surrounding area also has a large number of attractions, which include: # Collingrove Homestead # Angas Park Fruit Co. # Yalumba Winery # Saltram Winery, Angaston.# Barossa Cottage Wines # The historic Salem Lutheran Church in Penice which dates from 1854. # Mengler's Hill Lookout, Mengler's Hill Road.

The Barossa Valley Wine Region includes sixteen districts : Marananga ; West Nuriootpa ; East Nuriootpa ; Dorrien ; Tanunda ; Vine Vale ; Bethany ; Rowland ; Lyndoch North ; Lyndoch South ; Williamstown ; Gawler ; Koonunga ; Truro ; Angaston ; Light Pass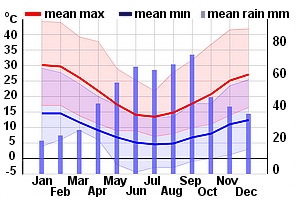 Winery Tour Map
Wineries
Heathvale Wines, SA 300 Sawpit Gully Road, Keyneton, Barossa, SA 5353
Heathvale Wines is located in Barossa's beautiful high country of Eden Valley. Rolling hills, huge gum trees, wonderful bird life and the odd kangaroo or echidna awaits. Luscious cool climate Shiraz, Cabernet, Sagrantino and stunning Riesling make up the portfolio of wines. Small batch winemaking from cane pruned vines control every aspect of production in these high quality wines - a winemaker's dream.
Henschke Cellars, SA 1428 Keyneton Road, Keyneton, Barossa, SA 5353
The Henschke family has been making wine since 1868. Continuity has been a key to their success, but this is matched by a passionate commitment to embracing the benefits of new techniques in the vineyard and the winery. Today Henschke is recognised around the world for their innovative methods, their dedication to environmentally sustainable practices, and their production of exceptional wines from outstanding vineyards.
Hutton Vale, SA PO Box 130, Angaston SA 5353
Hutton Vale is home to fifth, sixth and seventh generations of the Angas family. Together we run a mixed farm. Our produce includes the Farm Follies range of artisan chutneys and pickles, as well as the estate grown range of Hutton Vale Vineyard premium table wines. Prime lambs, merino wool and cereal crops complete our farming activities. John Howard Angas and Samuel Smith were instrumental in es...
Lambert Estate Wines, SA 55 Long Gully Road, Angaston, Barossa, SA 5353
Nestled in the hills just outside of Angaston, this family owned and operated winery produces premium single vineyard wines. The pristine, unspoiled location, fine soils and climatic conditions produce intense complex wines enjoyed in Australia and across the globe. Designed to be in harmony with the beautiful environment the Lambert Estate Tasting Room and Restaurant provide stunning elevated views of the Barossa.
Murray Street Vineyard, SA Murray Street, Greenock, Barossa, SA 5360
Our Tasting Room is Trip Advisor's Number 1 destination in the Barossa Valley and a 5 red star rated winery by James Halliday's Australian wine Companion, making Murray Street Vineyards proud to be among the region's most celebrated addresses. Against the backdrop of Australia's most famous winemaking landscape and amongst beautiful gardens and old stone winery buildings, Tasting Room guests experience a personalised sit-down wine tasting accompanied by locally-sourced artisan platters. Conveniently located 2km from the Sturt Highway's Greenock exit, ensure that Murray Street Vineyards is a scheduled stop on your next visit to Barossa to share some of the best of wine, food, conversation and experiences that the region has to offer.
Paisley Wine, SA 158 Hurns Road, Angaston, Barossa, SA 5353
Derek Fitzgerald and Kirsten Harvey are a husband and wife team who started up Paisley Wines in 2017. We are situated in Angaston on a stunning 12-acre Shiraz Vineyard with views from every vantage point. We started with the three red grape varieties Derek believes the Barossa does best – Grenache, Shiraz and Mataro. Our range has now been extended to include a Grenache Rose and an Adelaide Hills Fiano from the 2018 vintage. The wines are all about elegance and finesse, with bright fruit and textural influences. The aim is to let the attributes of the vineyard and the fruit shine by using minimal intervention in the winery. Our company is named after the town of Paisley, just outside Glasgow Scotland which is where Kirsten's great, great, great, great grandfather hailed from before settling in Adelaide in 1839.
Redheads Wine, SA 258 Angaston Road, Angaston, Barossa, SA 5353
It started with some Aussie winemakers heading to France in the 1970s and 1980s because el patrón, Tony Laithwaite, wanted to show the old dogs some new tricks. From there the RedHeads seed was sown. We constantly search out the latest parcel to liberate from the "big guys"; the premium brands. Our growers can't afford to drink the fruits of their labour! No mistake, it's a great honour to be selected by them, but now they can. We bring the fruit back, give it the special treatment it deserves and form wines of true individuality and character. It's all about creating wines with personality, that are made to be enjoyed.
Salter and Son, SA Salters Gully, Angaston SA 5353
William Salter arrived in South Australia from Exeter, England aboard the Caroline in December 1839. When the Barossa surveys were opened for selection, he purchased a piece of land in the new district and in 1844 moved his family to the property in the heart of the Barossa Valley. The 80km journey from Adelaide by bullock wagon took four days. William Salter was a deeply religious man and he name...
Saltram Wine Estate, SA Nuriootpa Road, Angaston SA 5353
Saltram sits at the entrance to the Barossa township of Angaston in South Australia. Inviting, warm and full of experiences awaiting your enjoyment, Saltram makes you feel right at home with comfortable, contemporary styling of the original winery. At Saltram, you will collect experiences to last a lifetime, with the legendary Mamre Brook House on the premises, the opportunity to enjoy modern regional cuisine from Salter's Restaurant, a casual drink, or a tasting of some of the most proclaimed wines made in Australia from the Tasting Bar.
Thorn Vineyards, SA Clifton Rd, Angaston SA 5353
No Data...
Thorn-Clarke Wines, SA 266 Gawler Park Road, Angaston, Barossa, SA 5353
Thorn-Clarke Wines is one hundred per cent family owned and is located within the picturesque Eden Valley region. We have been growing grapes in the world renowned Barossa region for 130 years and six successive generations. Our wines are highly acclaimed throughout the world with over 20 trophies received at the International and Domestic level. What better way to experience Thorn-Clarke Wines than to visit our Cellar Door. Our tasting room and direct sales facility is located at our Milton Park Vineyard in the beautiful rolling hills of the Barossa ranges, three kilometres to the east of Angaston. With a view over the Little Para River to our vineyards, we offer a fantastic range of whites and reds that will suit all wine drinkers.
Yalumba, SA 40 Eden Valley Rd, Angaston SA 5353
Established in 1849, fiercely independent and family owned, Yalumba is a place where you will discover an atmosphere as inviting as the wines themselves. The Yalumba Wine Room was once Yalumba's brandy bond store and captures the spirit and heritage of our winery. Our Wine Room ambassadors will guide you through our wines and introduce you to our story. During the week you may even be able to see the cooperage in action and experience the fragrant sweet spice of our handmade barrels. The landscaped grounds framed by the Wine Room and the historic clock tower are the perfect spot to explore before throwing a picnic rug down and enjoying the Barossa's warm afternoon sun.