Jump to Winery List
Tanunda Wine District
The Tanunda Wine District includes wineries and vineyards in the vicinity of the township of Tanunda in the Barossa Valley Wine Region, about 80 km north of Adelaide. Tanunda lies in the heart of the Barossa Valley and showcases the German origins of the local communities. There are some remarkable Lutheran churches in Tanunda, a winery keg factory and a fascinating museum where you can learn about the history and heritage of the Barossa Valley and the development of the wine industry which is now renowned throughout the world. Tanunda has a vibrant, interesting and engaging community and is home to some of Austrralia`s best-known and most-loved wines. There are several excellent cafes and restaurants in the town and many hotels in the area offering food and entertainment. Visitors can explore the faithfully restored Chateau Tanunda, which now houses a modern function centre, as well as a showcasing the regions boutique wineries and wines. The Barossa Visitor Information Centre located in the centre of Tanunda has lots of information about wine tours, accommodation and tourist attractions as well as a wonderful range of information about wine and the wine making history of the Barossa. Some of the wineries in the area are: Barossa Vintners, Basedow Wines, Chateau Tanunda, Glaetzer Wines, Gordon Sunter Wines, Langmeil Winery, Lanzerac Country Estate, Marolla Creek Vineyards, Old Barn Wines, Seabrook Wines - Merchants, Stanley Brothers Wines.

The Barossa Valley Wine Region includes sixteen districts : Marananga ; West Nuriootpa ; East Nuriootpa ; Dorrien ; Tanunda ; Vine Vale ; Bethany ; Rowland ; Lyndoch North ; Lyndoch South ; Williamstown ; Gawler ; Koonunga ; Truro ; Angaston ; Light Pass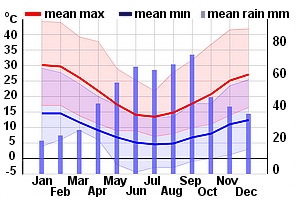 Winery Tour Map
Wineries
Artisans of Barossa, SA 64 Murray Street, Tanunda, Barossa, SA 5352
Formed in 2005, Artisans of Barossa is a group of wineries who share a like-minded approach to winemaking and wine enjoying. The collaboration of Hobbs of Barossa, Schwarz Wine Company, John Duval, Sons of Eden and Spinifex represents a determined and heartfelt commitment to work together to encourage and promote the art of small batch, sub-regional Barossa winemaking. Building upon their collective winemaking skill and experience, knowledge of the vineyard landscape and connections throughout the local wine community, this partnership of great winemakers is a considerable force.
Barossa Boy Wines, SA 161 Murray Street, Tanunda, Barossa, SA 5352
A sixth generation Barossa winemaker, our founder Trent Burge grew up in and on Barossa soil. Riding trail bikes around the vineyards, playing local cricket and footy, he had dirt under his nails and Barossa blood in his veins. The boy has grown to craft new stories in wine. Barossa Boy is his passion project; his heart worn proudly on his sleeve. Tales of generational wisdom and legendary old vines are blended with fresh perspective and a worldly, modern palate. Barossa Boy wines are devoted to the ultimate expression of the Barossa region's signature varieties and distinctive characters. Each vintage brings the anticipation of a new chapter, and the opportunity to bottle the season's tale from bud to harvest. Six generations in the making, Barossa Boy crafts today's enduring stories.
Chateau Tanunda, SA 9 Basedow Road, Tanunda SA 5352
Château Tanunda, built in 1890 from blue stone quarried at nearby Bethany, is steeped in history. It's an awe-inspiring place to visit, combining historic winery buildings and a stunning cellar door offering internationally acclaimed wines. The building is surrounded by vineyards and beautifully landscaped gardens, a great place to stop and relax while in the valley. The cellar door offers the chance to try the full Château Tanunda wine range while surrounded by a thousand oak barrels of maturing wine. You can also enjoy a platter while you sit outside or by the open fire.
Domain Barossa, SA 25 Murray Street, Tanunda, Barossa, SA 5352
In the heart of Tanunda sits Domain Barossa, a family owned business which commenced production in 2002. Our focus has always been in producing high quality wines that draw attention to the unique flavours and profile which only Barossa Valley wines have. We source our fruit from one vineyard, Tanunda Hill on the western ridge of the Barossa Valley to ensure consistency of quality and style. The wines are then handcrafted using small parcels of premium fruit that represent the individual characters of the single vineyard and the variety itself.
Glaetzer Wines, SA 34 Barossa Valley Way, Tanunda SA 5352
Winemaker Colin Glaetzer has been referred to as the maker of some of the finest Barossa Valley wines for more than a decade and has gained recognition and commendation world wide. This was highlighted in 1995 when Colin won the prestigious Intervin Black Diamond award, an accolade gained only by Colin and three overseas wineries. Glaetzer Wines, a venture destined to cement the Glaetzer name as a...
Gomersal Wines, SA 203 Lyndoch Road, Gomersal, Barossa, SA 5352
Gomersal Wines Cellar Door is pure Australiana. Views of eucalypts, rolling pastures, vineyards and the reedy line of Gomersal Creek can be seen from the huge veranda that wraps around the tasting room. Inside, magnificent red gum tables compliment the room, while the walls are spectacularly hung with vibrant portraits of Flinders Ranges characters by local artist George Aldridge. We offer our full range of Gomersal and G2 wines for tasting in cellar door. Spoil your palate whilst learning more about our vineyard and winemaking philosophy, and some history of what is now known as Gomersal Wines.
John Duval Wines, SA 64 Murray Street, Tanunda, Barossa, SA 5352
John Duval Wines is a premium family owned wine producer located in the Barossa Valley. For many years as Chief Winemaker at Penfolds, John was responsible for making Penfolds Grange. During this time John oversaw a dynamic period of development and the many awards and accolades for its wines helped establish Penfolds as one of the world's great wine brands. In 2003 John launched his own family wine brand. The family now make six wines - a white; Plexus (Marsanne, Roussanne, Viognier), and five reds; Plexus (Shiraz, Grenache, Mourvedre), Annexus (Grenache and Mataro) Entity (Shiraz) and Eligo (Shiraz).
Krondorf, SA Krondorf Road, Tanunda SA 5352
see Beringer Blass: There are certain names that are powerfully evocative of the Barossa Valley and its time-honoured traditions. Krondorf is one of those names. Its heritage stretches back 140 years, when the Falkenberg family settled in the Barossa foothills and established one of the first wine cellars in the region. They soon developed a winery, which in 1934 became known as `Glenview`. In the...
Langmeil Winery, SA Corner Langmeil and Para Roads, Tanunda SA 5352
Family owned and operated, Langmeil is believed to be home to the oldest Shiraz vineyard in the world, planted in 1843 where the iconic Langmeil Freedom 1843 Shiraz hails. The winery was one of the Barossa's original settlements called Langmeil, with many of the 1840s buildings still standing today. The abandoned winery was re-established in 1996 and has been awarded the Five Star rating in the James Halliday Australian Wine Competition since 2005. The Freedom 1843 Shiraz joined the prestigious Langton's Classification VI Honour Roll in the category of Excellent in 2014.
Lanzerac, SA Menge Road, Tanunda SA 5352
Lanzerac Country Estate is a quality bed and breakfast, nestled among vineyards with a spectacular outlook to the rolling hills and local wineries. Once a farmhouse with mixed farming and vineyard, the concept of a hosted bed and breakfast has been carefully developed while keeping the old warm charm and the farm character. The 60 year old vineyard produces Shiraz, Grenache and Pedro varieties. Se...
Mad Dog Wines, SA Research Rd (PO Box 166), Tanunda SA 5352
Fruit for Mad Dog comes from the Munzberg`s vineyards located on Vine Vale Rd right in the heart of the Valley floor. The best parcels of Shiraz are selected from 30+ year old vineyards. A Mad Dog is only released in better years since 1999 and no 2000 was ever made. The 2001 and 2002 were both outstanding, and great successes for auswine, the 2003 lives up to the tradition. A very warm vintage pr...
Michael Hall Wines, SA 103 Langmeil Road, The Tasting Room, Tanunda, Barossa, SA 5352
Thoughtfully-produced wines, which provoke thought" Michael Hall Wines express the unique character of ten extraordinary small-acre vineyards in the Barossa and Adelaide Hills. Taste through our current portfolio of wines sourced from the Adelaide Hills, across the Barossa and up to the Eden Valley heights of the Naimanya Vineyard. Situated in Tanunda on the corner of Langmeil and Para road, the Old Barn built in 1861 forms part of the original Langmeil Pioneer Settlement.
Moorooroo Park Vineyards, SA 200 Nitschke Road, Tanunda, Barossa, SA 5352
The 160 year old Silentium Cellar, once the winery and wheat shed of the Nitschke family is now the home of wine tasting at Moorooroo Park Vineyards. With its old stone craftsmanship, exposed wooden beams, and low ceilings, it's an intimate space to unwind and enjoy a taste of our artisan range of handcrafted Barossa wines.
Rieslingfreak, SA 103 Langmeil Road, Tanunda, Barossa, SA 5352
Rieslingfreak is the inspiration of John Hughes. The first vintage of Rieslingfreak was in 2009, with a single vineyard Clare Valley Riesling. Since then, the label has expanded to Eden Valley and Polish Hill River regions. Together with traditional dry Rieslings, Rieslingfreak also showcases this versatile grape in off dry, Kabinett, sparkling and fortified styles.
Rojomoma, SA 16 Sturt Road, Nuriootpa, Barossa, SA 5355
Rojomoma is a tiny family run winery and the home of Red Art single vineyard wine. Our five hectare vineyard is a fantastic site for red grape growing. Our vines ranging in age to over 130 years old are a testament to that. We make Grenache (dry grown old vine), Shiraz, Tempranillo, Petit Verdot and Cabernet Sauvignon. Bernie and Sam (and young son Raj) hand craft the wines from the vineyard management through to the winemaking and even label design. We have a rustic wine tasting facility in our winery, amongst the barrels, tanks and basket press. The experience provides a great insight into winemaking on a very small scale.
Rusden Wines, SA 221 Magnolia Road, Tanunda SA 5352
Small winery in the Barossa foothills, concentrating on full bodied, fruit-driven wines using traditional techniques-hand pruning, hand picking, open fermenting, basket pressing, storage in new and old French and American barriques. In 1979 Christine and Dennis Canute purchased 40 acres of run-down vineyard in Vine Vale; white sand over red clay country in the heart of the Barossa. Grapes were not...
Schwarz Wine Co., SA Biscay Road, Tanunda, Barossa, SA 5352
The aim of Schwarz Wine Co. is simple - to produce hand-crafted wines from Barossa Valley old vines in an artisanal, considered fashion that allows the finished product to speak of the ground and vintage from which it comes. Small-batch, boutique wines produced by Jason Schwarz, give great pleasure to the drinker and express the characters of their variety and the Barossa and its sub-regions in the glass.
St Hallett Wines, SA St Hallett`s Road, Tanunda SA 5352
As one of the founding wineries of the region and in the strength, warmth and honesty of its wines, St Hallett epitomizes the Barossa. St Hallett has achieved iconic status and a worldwide reputation for Shiraz not only through the prestigious Old Block Shiraz but through Blackwell Shiraz and Faith Shiraz, which together reflect the spectrum and potential of Shiraz in this region. Winemaker Stuart...