Jump to Winery List
O`Connors Road - Pokolbin Wine District
The O`Connors Road Wine District is located in the Pokolbin Wine Region which is part of the larger Hunter Valley Winery Zone, north-west of Newcastle, situated on the Central Coast of New South Wales. The O`Connors Road Wine District includes vineyards and wineries, many with cellar doors, located along O`Connors Road that connects O`Connors Road with the small town of Nulkaba that lies between Cessnock and Rothbury on the Wine Country Drive. The O`Connors Road Wine district includes many wonderful wineries: Ablington Vineyard Estate, Hanging Tree Wines, Keith Tulloch Wines, Kelman Vineyard, Racecourse Lane Wines, Van De Scheur Wines.

The Pokolbin Wine Region is home to 19 districts: Belford ; Wine Country Drive ; Branxton ; Hermitage Road-North ; Hermitage Road-Central ; Old North Road ; Deasys Road ; Palmers Lane ; Gillards Road ; Broke Road-West ; Broke Road-Central ; Broke Road-East ; De Beyers Road ; McDonalds Road-South ; Oakey Creek Road ; Marrowbone Road ; O`Connors Road ; Mistletoe-Hermitage.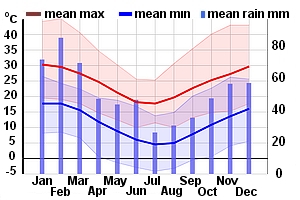 Winery Tour Map
Wineries
Ernest Hill Wines, NSW 307 Wine Country Drive, Nulkaba NSW 2325
The Vineyard was originally planted in the 1970`s by Harry Tulloch for Seppelts Wines. It was renamed the Pokolbin Creek Vineyard when it was purchased from Seppelts by John Davis in the late 80`s. The Wilson Family purchased part of the vineyard in 1990 and renamed it Ernest Hill Vineyard with the first release in 2002 under the Ernest Hill label. The vineyard is 15 acres (6 hectares) and has fou...
Keith Tulloch, NSW Lilywood Farm, O`Connors Road, Pokolbin NSW
Keith Tulloch is, of course, a member of the Tulloch family, which has played such a lead role in the Hunter Valley for over a century. In 1997 Keith began his own company, and produces wines under his own label focussing only on the traditional Hunter Valley varieties - Semillon, Chardonnay, Merlot, Shiraz, and more recently Cabernet Sauvignon - sourcing grapes from only the best Hunter Valley vi...
Kelman Vineyard, NSW 2 Oakey Creek Road, Pokolbin NSW 2320
The Kelman Estate is a California-type development on the outskirts of Cessnock. A 40-hectare property has been subdivided into 80 residential development lots, but with eight hectares of vines wending between the lots under common ownership. In a sign of the times, part of the chardonnay has already been grafted across to shiraz before coming into full production, and the vineyard has the potenti...
Racecourse, NSW Cnr O`Connors Rd and Racecourse Lane, Pokolbin NSW
Racecourse Lane Wines was initiated by its owners, Mike and Helen McGorman to fulfil their ambition to grow, produce and enjoy quality wines. Mike had fond memories as a child growing up in Adelaide and working on a 32 acre vineyard owned by his father in Morphett Vale, close to the now famous Southern Vales area of South Australia. Unfortunately the vineyard has long since gone, taken over by hou...
Scarborough on Hermitage, NSW 972 Hermitage Road, Pokolbin NSW 2325
Scarborough on Hermitage is another home for Scarborough Wine Co. This bright, modern space is one of the Hunter Valley's most exciting venues and offers a unique and exceptional tasting experience. If you want a definative Hunter Valley experience and to feel like you are part of the extended family, make sure that you stop by.