Jump to Winery List
Central Hermitage Road - Pokilbin Wine District
The Central Hermitage Road Wine District is situated in the Pokolbin Wine Region in the Hunter Valley, New South Wales, north-west of Newcastle. The district includes wineries located along the central part of Hermitage Road for about 10 km north of its junction with Mistletoe Lane. The North Hermitage Road District lies to the north and the southern section of the Road lies in the Mistletoe Lane-Hermitage District. The district includes a number of excellent wineries: Serenella Estate and Hardy`s Hunter Ridge Wines.

The Pokolbin Wine Region is home to 19 districts: Belford ; Wine Country Drive ; Branxton ; Hermitage Road-North ; Hermitage Road-Central ; Old North Road ; Deasys Road ; Palmers Lane ; Gillards Road ; Broke Road-West ; Broke Road-Central ; Broke Road-East ; De Beyers Road ; McDonalds Road-South ; Oakey Creek Road ; Marrowbone Road ; O`Connors Road ; Mistletoe-Hermitage.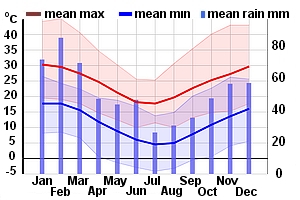 Winery Tour Map
Wineries
Hunter Ridge, NSW Hermitage Road, Pokolbin NSW 2230
Hunter Ridge is effectively a joint venture between BRL Hardy and McGuigan Wines Limited. The grapes come from the vineyards surrounding the Hunter Ridge cellar door and which are owned by McGuigan Wines. The wines are fermented and partially matured in the Hunter Valley but are finally blended, finished and bottled by BRL Hardy in South Australia. The winery is also home to Keith Tulloch Wines an...