Jump to Winery List
Deasys Road - Pokilbin Wine District
The Deasys Road Wine District is located in the north-west of Newcastle in the Pokolbin Wine Region in the Hunter Valley, New South Wales, The district includes wineries located along Deasys Road which connects Wine Country Road with McDonalds Road, west of Rothbury. The Deasys Road district includes a number of fabulous wineries: Blueberry Hill Vineyard, Duck Hollow, Gabriel`s Paddocks Vineyard, Latara Wines, Marsh Estate, Misty Glen (Wright Family Wines), Rothvale Vineyard and Winery, Terrace Vale Wines, Windsors Edge Vineyard.

The Pokolbin Wine Region is home to 19 districts: Belford ; Wine Country Drive ; Branxton ; Hermitage Road-North ; Hermitage Road-Central ; Old North Road ; Deasys Road ; Palmers Lane ; Gillards Road ; Broke Road-West ; Broke Road-Central ; Broke Road-East ; De Beyers Road ; McDonalds Road-South ; Oakey Creek Road ; Marrowbone Road ; O`Connors Road ; Mistletoe-Hermitage.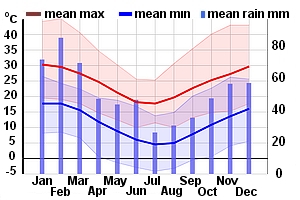 Winery Tour Map
Wineries
Degen Wines, NSW 365 Deasys Rd, Pokolbin NSW 2320
Visit the DEGEN's Cellar Door - a must for anyone visiting the Hunter. Taste 100% single vineyard Semillon, Chardonnay and Shiraz wines and experience true Hunter hospitality at the Degen's tasting table while enjoying the views from this beautiful light-filled cellar door. Savour delicious premium wines made from the Hunter Valley's smallest commercial vineyard and be surprised to taste some carefully aged wines.
Duck Hollow, NSW 103 Deasys Road, Pokolbin NSW 2320
Duck Hollow is a boutique vineyard in the heart of the Hunter Valley`s wine producing district Pokolbin. It has a 5 Bedroom homestead situated amongst the 6 acre dry vineyard, on a 50 acre property. The homestead is available for letting. Offering, self catering accommodation, which is able to accommodate up to ten adults, in five bed rooms and is the perfect home away from home. Situated amongst ...
Gabriel`s Paddocks, NSW Deasys Road, Pokolbin NSW 2320
Formerly Sutherlands Wines, Gabriel`s Paddocks is as much about general tourism and small conference accommodation as it is about wine production, with two separate buildings able to accommodate more than 20 people. The vineyards are planted to Chardonnay, Chenin blanc, Pinot noir, Merlot, Shiraz and Cabernet Sauvignon; the wines from these varieties are all contract-made. Product Range: Chenin Bl...
Hart and Hunter Wines, NSW 463 Deasys Road Pokolbin NSW 2325
Winemaking couple Damien Stevens & Jodie Belleville, along with partners Daniel & Elle Hart are the hands behind Phat Wine Company's Hart & Hunter brand.Their passion to find a great patch of dirt producing classic Hunter Semillon and Shiraz, created the trophy winning first release of their wine. Determined to start with an impact and waiting for the right vineyard sites to show themselves, the partners secured their first Shiraz in 2009, following with Semillon in 2010. The wait was worth it, with the first release of the Oakey Creek Semillon, taking two trohpies in the 2010 Hunter Valley Wine Show before it was even released. The aim of this hard working duo is to continually source the best vineyards producing the best fruit, allowing their wines to showcase the individual sites and 'terroir' along with a sense of place.Damien & Jodie now manage the business in Australia after the opening of their Cellar Door in the middle of 2014 and together manage the winemaking, cellar door and direct sales for the business.
Hunters Dream, NSW 149 Deasys Rd, Pokolbin NSW 2320
An estate like no other in the Hunter region. Enjoy the serenity and elegance of beautiful lavender fields, explore the ever evolving Japanese display garden and discover the natural secrets of many of the Nature's Care health supplements. With award winning estate wines by master wine maker Kees van de Scheur, Hunter's Dream is the place to leave the everyday behind and do some dreaming of your own.
Marsh Estate, NSW Deasys Road, Pokolbin NSW 2320
Through sheer consistency, value-for-money and unrelenting hard work, the Marsh family (who purchased the former Quentin Estate in 1978) has built up a sufficiently loyal cellar-door and mailing list clientele to allow all of the considerable production to be sold direct. Wine style is always direct, with oak playing a minimal role, and prolonged cellaring paying handsome dividends. No recent tast...
Misty Glen Wines, NSW 293 Deasys Road, POKOLBIN NSW 2320
Come and meet Eric & Vicci at Misty Glen and try some of our fabulous wines in a relaxed atmosphere amongst the vines. We have a great range of wines made to be enjoyed with family and friends whilst indulging in a sumptuous meal or simply when relaxing on the verandah. Our wines are made from grapes grown on the property, we have a wide range from traditional Semillon to the unusual Sparkling Chambourcin. Taste, Play, Stay at Misty Glen in the heart of the Hunter Valley! This boutique vineyard produces Semillon, Chardonnay, Chambourcin, Cabernet Sauvignon and Shiraz which are created into both traditional and unusual wine styles every vintage.
Rothvale, NSW 223 Deasys Road, Pokolbin NSW 2320
Rothvale is small boutique winery operating in the heart of Pokolbin NSW. Rothvale produces only premium wine from the grapes grown on the Rothvale Vineyard. Rothvale makes 12 different wines a year from Shiraz, Cabernet Sauvignon, Semillon and Chardonnay, including a dessert wine and 2 blended wines. Visitors to the cellar door walk past the wine production area receiving a full view of vintage a...
Windsors Edge, NSW McDonalds Road, Pokolbin NSW 2320
Windsor`s Edge is a small family operated resort at the northern end of McDonalds Road in Pokolbin in the centre of the Hunter Valley vineyards. In 1995 Tim (a Charles Sturt graduate in winemaking) and wife Jessie (an industrial chemist) purchased the old Black Creek picnic racetrack at the northern end of McDonalds Road in Pokolbin. The first vines were planted in 1996, and planting has continued...