Jump to Winery List
Branxton - Pokilbin Wine District
The Branxton Wine District is located 60 km north-west of Newcastle, between the townships of North Rothbury and Branxton in the Pokolbin Region, in the Hunter Valley. The charming township of Branxton is located on the busy New England Highway between Greta and Bedford, and to the north of the famous township of Rothbury. The wineries are dotted along Elderslie Road to the north and Wine Country Drive to the south. Local wineries include Fairview Wines, Belbourie, David Hook and The Gorge. There are a wide range of accommodation options in the district and many other attractions and activities for visitors. Local attractions include: # The Hunter Valley Arthouse which is hosted at the Branxton Inn # Two licenced clubs - the Miller Park Recreational Club and the Branxton Golf Club # The refurbished Royal Federal Hotel. Branxton is a great place to use as abase when visiting the Pokolbin wineries.

The Pokolbin Wine Region is home to 19 districts: Belford ; Wine Country Drive ; Branxton ; Hermitage Road-North ; Hermitage Road-Central ; Old North Road ; Deasys Road ; Palmers Lane ; Gillards Road ; Broke Road-West ; Broke Road-Central ; Broke Road-East ; De Beyers Road ; McDonalds Road-South ; Oakey Creek Road ; Marrowbone Road ; O`Connors Road ; Mistletoe-Hermitage.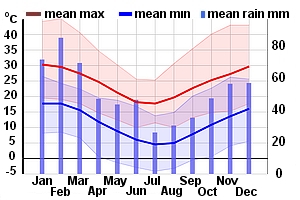 Winery Tour Map
Wineries
Pierres Wines, NSW 82 Elderslie Rd, Branxton NSW
At Pierre`s Wines we produce quality wines from fruit we grow ourselves and small quantities of fruit we purchase locally. We aim to produce wines which display true varietal flavour and regionality. Anne`s family come from the Burgundy region of France. In France most of the family have been involved in grape growing and winemaking for many generations. Anne`s father, Jean-Charles Renaud, came to...
Tranquil Vale, NSW 325 Pywells Road, Luskintyre, NSW 2321
Winemaker: Andrew Margan, David Hook; Established: 1998. Phil and Lucy Griffiths purchased the property site-unseen from a description in an old copy of the Australian Weekend found in the High Commission Office in London. The vineyard they established is situated on the banks of the Hunter River, opposite Wyndham Estate, on relatively fertile, sandy, clay loam. Irrigation has been installed, and ...
Wyndham, NSW Dalwood Rd (Via Branxton,Dalwood, NSW 2335
Wyndham Estate holds a special place in Australian winemaking history because it is the nation`s oldest operating winery. It is the only winery in the Hunter Valley that is located on the Hunter River - this provides picturesque views of the wandering river and the changing scenery it creates. For more than 170 years Wyndham Estate has set the benchmark for quality Australian wines, proudly wearin...