Jump to Winery List
Old North Road - Pokilbin Wine District
The Old North Road Wine District is located in the Pokolbin Wine Region in the Hunter Valley, New South Wales, north-west of Newcastle. The district includes wineries located along Old North Road which connects Wine Country Road with Hermitage Road, between Rothbury and Bedford. The Old North Road Wine district includes a number of excellent wineries: Bellona Estate Vineyards and Winery, Macquariedale Estate, Murray Robson Wines, Pendarves Estate, RidgeView Wines, Sweetwater Wines, Taliondal.

The Pokolbin Wine Region is home to 19 districts: Belford ; Wine Country Drive ; Branxton ; Hermitage Road-North ; Hermitage Road-Central ; Old North Road ; Deasys Road ; Palmers Lane ; Gillards Road ; Broke Road-West ; Broke Road-Central ; Broke Road-East ; De Beyers Road ; McDonalds Road-South ; Oakey Creek Road ; Marrowbone Road ; O`Connors Road ; Mistletoe-Hermitage.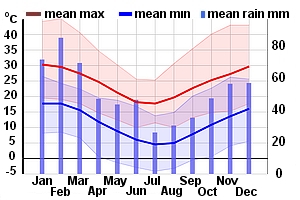 Winery Tour Map
Wineries
Macquariedale Organic Wine, NSW 170 Sweetwater Rd, Rothbury NSW 2335
Macquariedale is an acorn to oak story, beginning with a small hobby vineyard in Branxton many years ago, and now extending to three vineyards around the Lower Hunter with a total 15 hectares of semillon, chardonnay, shiraz, merlot and cabernet sauvignon. This has led to Ross McDonald and his family leaving a busy Sydney life for that of a full-time grape grower and winemaker. The wines, which hav...
Pendarves Estate, NSW 10 Old North Road, Belford NSW 2335
The perpetual-motion general practitioner and founder of the Australian Medical Friends of Wine, Dr Philip Norrie, is a born communicator and marketer as well as a wine historian of note. He also happens to be a passionate advocate of the virtues of Verdelho, inspired in part by the high regard held for that variety by vignerons around the turn of the century. His ambassadorship for the cause of w...
Sweetwater Wines, NSW Sweetwater Road, Rothbury NSW 2320
Sweetwater Wines forms the cornerstone of the exclusive Sweetwater Ridge subdivision that was developed in the late 1990`s by Hardie Holdings Pty Limited. The property sits on the site of some of the oldest plantings in the Hunter Valley, dating back to 1829 when Richard Jones was granted 10,000 acres in the Parish of Belford, where he managed his property and established one of his finest vineyar...