Jump to Winery List
De Beyers Road - Pokilbin Wine District
The De Beyers Road Wine District is located in the Pokolbin Wine Region which is part of the Hunter Valley Winery Zone, north-west of Newcastle, on the Central Coast of New South Wales. The De Beyers Road Wine district includes vineyards and wineries with cellar doors located along De Beyers Road which extends east and west from McDonalds Road south of Pokolbin. The De Beyers Road Wine district includes many wonderful wineries: Belgenny Vineyard, Cockfighter`s Ghost, McLeish Estate, Poole`s Rock Wines, Thalgara Estate, Tulloch.

The Pokolbin Wine Region is home to 19 districts: Belford ; Wine Country Drive ; Branxton ; Hermitage Road-North ; Hermitage Road-Central ; Old North Road ; Deasys Road ; Palmers Lane ; Gillards Road ; Broke Road-West ; Broke Road-Central ; Broke Road-East ; De Beyers Road ; McDonalds Road-South ; Oakey Creek Road ; Marrowbone Road ; O`Connors Road ; Mistletoe-Hermitage.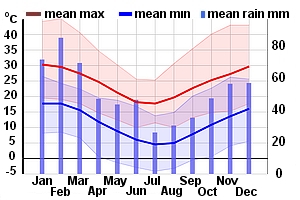 Winery Tour Map
Wineries
Audrey Wilkinson Vineyard, NSW 750 Debeyers Rd, Pokolbin
Recently rated by Gourmet Traveller Wine as one of the Top 10 Cellar Doors in the country, and the only one in NSW, our Cellar Door is perched atop a foot hill of the Brokenback Mountain Ranges, and is a true must see site of the Hunter Valley. Our cellar door staff have a true passion to make each visitor feel welcome and leave with unforgettable memories.
McLeish Estate, NSW Lot 3 De Beyers Road, Pokolbin NSW 2320
You will find McLeish Estate nestled in the heart of the Lower Hunter of Pokolbin. Surrounded by 9 Hectares of vineyard which is responsible for producing many Gold and Trophy Award winning wines, available to you from our small privately owned boutique Cellar Door. Since 1985 Bob and Maryanne McLeish have ventured into Viticulture on their estate in Pokolbin, which has now culminated with the ope...
Poole`s Rock, NSW DeBeyers Road, Pokolbin NSW 2320
Poole`s Rock Vineyard was founded in 1988 in the Broke Fordwich district of the Hunter Valley by businessman David Clarke. Located thirty kilometres west of the main Hunter vineyard region, the original 32 hectare property is named after the monolith on its southern boundary, which in turn takes its name from a prominent local character who lived in the area over 100 years ago. Four prime hectares...
Tulloch Wines, NSW Cnr McDonalds and De Beyers Road, Pokolbin, NSW 2321
The Tulloch family have been producing outstanding quality wines from the fertile soils of the Hunter Valley since 1895. Now in its 111th year the Tulloch name lives on as a founding wine producer of the Hunter region, continuing to strive for excellence in the production of premium Hunter varietals and styles. At Tulloch we have the experience and knowledge to deliver quality Hunter Valley wines ...