Jump to Winery List
Palmers Lane - Pokilbin Wine District
The Palmers Lane Wine District is located in the Hunter Valley, north-west of Newcastle, in the Pokolbin Wine Region, on the Central Coast of New South Wales. The district includes wineries located along Palmers Lane which connects Wine Country Road with McDonalds Road, near Pokolbin and Lovedale. The Palmers Lane Wine district includes a number of excellent wineries: Bimbadgen, Calais Estates, Carindale Wines, Little`s Winery, Maling Family (Waverley Estate), Meerea Park, Moorebank Estate, Peacock Hill Vineyard.

The Pokolbin Wine Region is home to 19 districts: Belford ; Wine Country Drive ; Branxton ; Hermitage Road-North ; Hermitage Road-Central ; Old North Road ; Deasys Road ; Palmers Lane ; Gillards Road ; Broke Road-West ; Broke Road-Central ; Broke Road-East ; De Beyers Road ; McDonalds Road-South ; Oakey Creek Road ; Marrowbone Road ; O`Connors Road ; Mistletoe-Hermitage.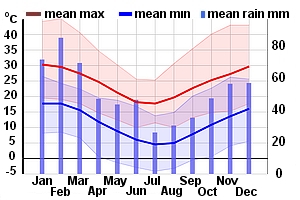 Winery Tour Map
Wineries
Bimbadgen Winery, NSW Lot 21 McDonalds Road, Pokolbin NSW 2321
The Hunter Valley`s soils are naturally suited to the growing of high quality grapes; grapes which are characteristically full of flavour, depth and intensity. Bimbadgen Estate vineyards have been producing such grapes for over thirty years. The collaboration of the soils with the sun, wind, rain and thirty-year-old vines enable the crafting some of the Hunter`s most complex award winning wines. T...
Calais Estates, NSW Palmers Lane, Pokolbin NSW 2320
Calais Estate Winery, which is located in Pokolbin in the heart of the Valley, began its early life as a dairy and cattle farm, which produced top quality beef, milk and butter for the local region. In 1971, the agricultural focus of the property turned to wine, and the first vines were planted. The Winery was established in 1975, and the Cellar Door, with its convict hewn sandstone blocks and tim...
Carindale Wines, NSW Palmers Lane, Rothbury NSW 2320
Brian and Judy Walsh have always been interested in good quality wine. Moving to the Hunter Valley in the early 1970`s gave an opportunity to purchase a parcel of prime grape land in the heart of the Pokolbin Wine District, Australia`s oldest wine producing area. A small block of Chardonnay vines was planted in the early 1980`s. Fruit produced from these vines was quickly found to produce a superb...
Gemelli Estate Wines, NSW 168 Palmers Lane, Pokolbin NSW 2325
We have an award winning Methode Traditionelle, Moscato, Chardonnay, Riesling, Sauvignon Blanc, Merlot, Cabernet Merlot and our very popular Muscat. Gemelli Estate is situated on picturesque Palmers Lane. This is not only our work place, it's our passion and our home. This is a small, boutique family owned and operated business, so you will be bound to see one of us at the Cellar Door, in the kitchen or out in the vines. This is where we spend our days, so you will find seating in the Art Gallery or the Garden where you can relax and catch up with friends, enjoying a glass of wine and a cheese platter.
Maling Family, NSW Palmers Lane, Rothbury NSW 2320
The Maling Family established `Waverley Estate Aged Wines,` in 1989. When purchased the Estate had an existing vineyard dating back to 1971, with extra plantings over the ensuing years the vineyard has expanded and currently boasts 40 acres. The main varieties planted are Semillon, Chardonnay, Shiraz, and Cabernet Sauvignon. Since 1989 winemaker, Gary Reed who has a deep passion for excellence has...
Meerea Park, NSW Lot 3 Palmers Lane, Rothbury NSW 2320
Meerea Park is a family owned winery making handcrafted wines using cutting edge winemaking techniques and philosophy from some of the Hunter Valley`s oldest and best vineyard sites. They are Hunter Valley `Terroirists`; specializing in individual vineyard Semillon and Shiraz, sourced from unique vineyard sites, each being quite different, the wines expressing clearly where they are from. Winemake...
Peacock Hill, NSW Palmers Lane, Pokolbin NSW 2320
The owners aim is to produce 100% estate grown, flavoursome wines of consistent high quality that are sold exclusively through their Cellar Door and can be enjoyed with fine food on both formal and informal occasions. John Jenkins Peacock received a land grant of approximately 100acres of land c.1840-hence the name Peacock Hill. The property was used for farming, sold and gradually became smaller....
Pokolbin Brothers, NSW Palmers Lane, Pokolbin NSW 2320
Pokolbin Brothers Wine is located on the Pokolbin Brothers Vineyard in the heart of the famous wine growing area of Pokolbin. We are on the corner of McDonalds Road and Palmers Lane, with the entrance to the vineyard on Palmers Lane. We are open for wine tasting and bicycle hire 7 days a week. The phone and fax at Cellar door is 02 4998 7660. The mobile number is 0418 404039....