Jump to Winery List
Broke Road-East - Pokilbin Wine District
The Broke Road-East Wine District is located in the Pokolbin Wine Region which is part of the Hunter Valley Winery Zone, north-west of Newcastle, on the Central Coast of New South Wales. The Broke Road-East Wine district includes wineries and vineyards with cellar doors located along the eastern section of Broke Road close to the Cessnock airport and the small township of Nulkaba. Broke Road which connects the townships of Broke and Pokolbin and has a large number of wineries dotted along its length. The Broke Road-East Wine district includes many fabulous wineries: Blaxlands Inn, De Bortoli Wines Hunter Valley, Evans Family Wines, Hungerford Hill, Kevin Sobels Wines, Lake`s Folly Vineyards, Pepper Tree Wines, Peterson`s Champagne House, Tower Estate.

The Pokolbin Wine Region is home to 19 districts: Belford ; Wine Country Drive ; Branxton ; Hermitage Road-North ; Hermitage Road-Central ; Old North Road ; Deasys Road ; Palmers Lane ; Gillards Road ; Broke Road-West ; Broke Road-Central ; Broke Road-East ; De Beyers Road ; McDonalds Road-South ; Oakey Creek Road ; Marrowbone Road ; O`Connors Road ; Mistletoe-Hermitage.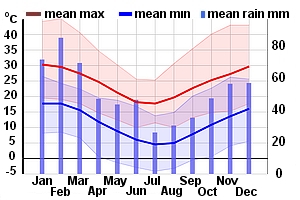 Winery Tour Map
Wineries
Champagne House, NSW Cnr Broke and Wine Country Roads, Pokolbin NSW 2320
Once upon a time there was a winemaker named Ian Peterson who lived in the Hunter Valley. To celebrate the birth of each of his Grandsons he would create and name a Port in their honour. For the birth of his first Granddaughter, however, he thought it would be more fitting to create a Champagne. He found there was no producer nearby and had to send his base wine interstate to be made into Champagn...
De Bortoli, NSW Branxton Road, Pokolbin NSW 2320
De Bortoli extended its wine empire in 2002 with the purchase of the former Wilderness Estate, giving it an immediate and substantial presence in the Hunter Valley courtesy of the 19 hectares of established vineyards, to be expanded significantly by the subsequent purchase of an adjoining 40-hectare property. The wines will be released in three price ranges: at the top the Hunter Valley Semillon a...
Hungerford Hill, NSW 2450 Broke Road, Pokolbin NSW 2320
Hungerford Hill has always pushed the boundaries. Since it`s founding in the 1970`s Hungerford Hill has been at the forefront of multi-regional winemaking, producing award winning wines from Australia`s best regions. Designed for the future, Hungerford Hill has a new winery and cellar door that pushes the boundaries of architecture and style. Eye-catching labels and a range of regionally sourced w...
Kevin Sobels, NSW Corner Broke and Halls Roads, Pokolbin NSW 2321
After learning the art of wine making in both Champagne and Germany, Carl Sobels migrated to South Australia with his family in 1847. There he assisted the early pioneers of the Barossa with their winemaking before establishing his own business in 1850. His son, also named Carl, moved to the Clare district - eventually buying the winery he built. For over y, 100 years, generations of the Sobels fa...
Lake`s Folly, NSW 2416 Broke Road Pokolbin NSW 2320
Lake`s Folly was the first new vineyard in the Hunter Valley last century, established by Max Lake and his family in 1963. The tradition continues, with the first boutique winery in Australia making only two wines, a red (Cabernet blend) and a white (100% Chardonnay), using all estate grown fruit. The property changed hands in early 2000 to Peter Fogarty and his family who, along with local Hunter...
Pepper Tree, NSW Halls Road, Pokolbin NSW 2330
Pepper Tree`s Hunter Valley vineyard is in the Mount View area of the Lower Hunter Valley in the sheltered foothills of the Brokenback Range and covers 38.5 Ha of plantings made up of 16.5 Ha Chardonnay, 2.5 ha Verdelho, 3.7 Ha Semillon, 7.5 Ha Shiraz, 1 Ha Viognier, 1 Ha Sauvignon blanc, 3 Ha Merlot, 2.4 Ha Cabernet, 0.5 Ha Grenache and 0.5 Ha Pinot Noir. The Mount View area contains 3 small prot...
Tourist Centre, NSW 455 Wine Country Drive, Pokolbin NSW 2320
Hunter Valley Wine Country Tourism Inc. is the official Tourism and Visitors Information Centre located just outside of Cessnock in the Hunter Valley. They are a group of passionate and devoted people with a mission to provide the very best Visitor Information Services, Marketing and Promotional Services, Business Tourism Support and Membership Services. Hunter Valley Wine Country Tourism is a Loc...
Tower Estate, NSW Corner Broke and Halls Road, Pokolbin NSW 2320
The Philosophy of Tower Estate winery is to produce outstanding wines of classic style. Premium fruit is sourced from regions that best suit a particular variety, reflecting the true regional characteristics in the wine. The owners believe that limiting production allows an uncompromising approach to making our wines. Tower Estate is a joint venture headed by Len Evans, featuring a luxury conferen...