Jump to Winery List
Oakey Creek Road - Pokolbin Wine District
The Oakey Creek Road Wine District is located in the Pokolbin Wine Region which is part of the larger Hunter Valley Winery Zone, north-west of Newcastle, situated on the Central Coast of New South Wales. The Oakey Creek Road Wine district includes vineyards and wineries, many with cellar doors located along Oakey Creek Road that connects Mount View Road with McDonnalds Road west of Cessnock. The Oakey Creek Road Wine district includes many boutiques wineries: Echo Ridge Wines, Golden Grape Estate Vineyard, Iron Gate Estate.

The Pokolbin Wine Region is home to 19 districts: Belford ; Wine Country Drive ; Branxton ; Hermitage Road-North ; Hermitage Road-Central ; Old North Road ; Deasys Road ; Palmers Lane ; Gillards Road ; Broke Road-West ; Broke Road-Central ; Broke Road-East ; De Beyers Road ; McDonalds Road-South ; Oakey Creek Road ; Marrowbone Road ; O`Connors Road ; Mistletoe-Hermitage.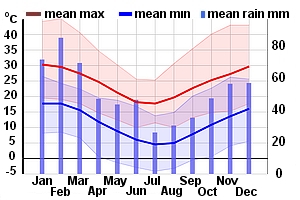 Winery Tour Map
Wineries
Echo Ridge Wines, NSW Lot 1 Oakey Creek Rd, Pokolbin NSW 2320
Echo Ridge is a family owned limited release vineyard estate specialising in premium quality wines that capture the pure, distinctive flavours of the prestigious Hunter Valley region. In a short time, Echo Ridge has developed a reputation for producing fine quality award winning wines from the classic Hunter varieties of Shiraz, Semillon, Verdelho and Chardonnay. Our picturesque vineyard and cellar door are nestled between the scenic fields and striking ranges of the lower Hunter Valley - a historically important and world leading wine region known for its full bodied Semillon and complex Shiraz. Hot, humid summers and cool winters combine with a rich mix of soils to create the perfect conditions for fruit that produce exquisite and quintessentially Hunter region varietal flavours. At the winery, we use boutique winemaking methods throughout harvest, press and fermentation to craft our wines by hand. Each vineyard lot is kept separate, so we can really capture the essence of each vineyard site.
Iron Gate Estate, NSW Oakey Creek Road, Pokolbin NSW 2320
Iron Gate Estate is one of the newest boutique wineries in the Hunter Valley. The Estate offers true Hunter Wines, produced from grapes grown in its own vineyard and picked by hand. Be sure to check out their sweet shiraz. Iron Gate Estate boutique Winery and Cellar door is situated at the corner of Oakey Creek Road and Ingles Lane in Pokolbin. The Mediterranean inspired building sits on the top of a hill overlooking the Estates vineyards.