Jump to Winery List
Gillards Road - Pokilbin Wine District
The Gillards Road Wine District is located in the Hunter Valley, north-west of Newcastle, in the Pokolbin Wine Region, on the Central Coast of New South Wales. The Gillards Road Wine district includes wineries and vineyards located along Gillards Road which extends west from McDonalds Road, north of Pokolbin and west of Lovedale. The Palmers Lane Wine district includes a number of excellent wineries: Constable and Hershon Vineyards, Constable Estate Vineyards, First Creek Wines, Honeytree Estate Wines, Scarborough Wine Co., Vinden Estate Wines.

The Pokolbin Wine Region is home to 19 districts: Belford ; Wine Country Drive ; Branxton ; Hermitage Road-North ; Hermitage Road-Central ; Old North Road ; Deasys Road ; Palmers Lane ; Gillards Road ; Broke Road-West ; Broke Road-Central ; Broke Road-East ; De Beyers Road ; McDonalds Road-South ; Oakey Creek Road ; Marrowbone Road ; O`Connors Road ; Mistletoe-Hermitage.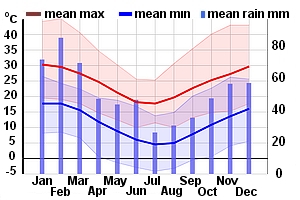 Winery Tour Map
Wineries
Constable Estate, NSW 205 Gillards Rd, Pokolbin NSW 2320
Constable Estate Vineyards warmly welcomes you to come and enjoy a day of fine wines, sculpture art and gardens. Cellar Door sales only. Constable Estate Vineyards is a family owned boutique vineyard of approximately 15 hectares, cradled against the magnificent Brokenback Ranges. Established over 25 years, our premium wines have won many trophies and gold medals at National and State Wine Shows. O...
First Creek, NSW Cnr McDonalds and Gillards Roads, Pokolbin NSW 2320
First Creek Wines are located in the Hunter Valley, Australia`s oldest wine producing region. A parcel of land in the heart of Pokolbin with `First Creek` as its northern border was chosen as the site most suited for the establishment of a large, modern winemaking and bottling facility to produce quality fruit into premium table wine. With over 60 years of experience making premium wines their mos...
Honeytree, NSW 130 Gillards Road, Pokolbin NSW 2320
Honeytree Estate Vineyard is a small boutique vineyard owned by Robyn and Henk Strengers, first planted in 1970, in the heart of the Hunter. The vineyard name comes from a majestic Honeytree once grown on the property, which stood as a landmark for many years. Robyn and Henks aim is to produce the best wine the Hunter Valley can offer. The vineyard has 23 acres planted with Shiraz, Cabernet Sauvig...
Scarborough Wine, NSW 179 Gillards Road, Pokolbin NSW 2320
The Scarborough Wine Co. has been producing its unique style of wines since 1987. Specialising in Chardonnay, Scarborough has established itself as one of the leading premium wine producers in the Hunter Valley. Chardonnay is of course the most famous full bodied white wine of the world and remains unchallenged in its popularity. Scarborough Wine Co. is a family owned company, operated by Ian and ...
Vinden Estate, NSW 17 Gillards Road, Pokolbin NSW 2320
Vinden Estate produces small quantities of premium wine on-site from hand-picked grapes using traditional methods; open fermenters, hand plunging and basket press. Their wines (Chardonnay and Shiraz). are aged in oak. Their wines have been critically acclaimed from the first vintage in 1998. In the NSW Small Winemakers Show the 1998 Chardonnay was placed second from a range of 61 chardonnays, and ...