Jump to Winery List
Broke Road-Central - Pokilbin Wine District
The Broke Road-Central Wine District is located in the Pokolbin Wine Region which is part of the Hunter Valley Winery Zone, north-west of Newcastle, on the Central Coast of New South Wales. The Broke Road-Central Wine district includes wineries and vineyards with cellar doors located along the central section of Broke Road, which connects the townships of Broke and Pokolbin and west of Cessnock. The Broke Road-Central Wine district includes several fabulous boutique wineries: Brokenwood Wines, Chateau Pato, Colvin Wines (De Beyers Vineyard ), Lowe Family Wine Company - Hunter, McGuigan Brothers Wines (Hunter), Peppers Creek Winery, Roche Wines, Small Winemakers Centre, Tamburlaine Vineyard, Tempus Two Wines, Thomas Wines, Verona Vineyard.

The Pokolbin Wine Region is home to 19 districts: Belford ; Wine Country Drive ; Branxton ; Hermitage Road-North ; Hermitage Road-Central ; Old North Road ; Deasys Road ; Palmers Lane ; Gillards Road ; Broke Road-West ; Broke Road-Central ; Broke Road-East ; De Beyers Road ; McDonalds Road-South ; Oakey Creek Road ; Marrowbone Road ; O`Connors Road ; Mistletoe-Hermitage.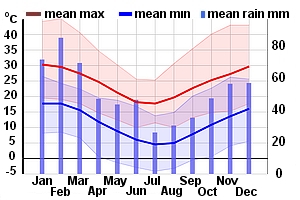 Winery Tour Map
Wineries
Brokenwood Wines, NSW 401 McDonalds Road, Pokolbin NSW 2320
Established in 1970, Brokenwood Wines has evolved from a weekend venture for self-professed hobby winemakers into one of Australia`s most reputable wine labels. Brokenwood was founded by a trio of Sydney-based solicitors -- Tony Albert, John Beeston and James Halliday -- who paid a then record price of $970 per acre for a 10-acre block in the foothills of the Brokenback Ranges. The original block,...
Glandore Estate, NSW 1595 Broke Rd, Pokolbin NSW 2320
First settled in 1865 Glandore Estate sits at the base of the Brokenback Range in the famed Hunter Valley region of New South Wales. Blessed by a unique terroir and some of the Hunter`s most distinguished `old vine` vineyards Glandore Estate wines are fastidiously made and distinguished by their remarkable character and intensity of flavor. Under the stewardship of gifted winemaker Duane Roy, Glan...
Lowe Family, NSW Cnr Broke Rd and Ekerts St, Pokolbin NSW 2320
Lowe Family Wine Company is a leading boutique wine company with a down to earth attitude to fine wine. Located in the up and coming region of Mudgee in New South Wales, and also at Peppers Creek in Pokolbin in the Hunter Valley. Their innovative approach extends to the vineyard with plantings of unirrigated bush vines producing low yielding, intensely flavoured red wines. Sangiovese, barbera and ...
McGuigan Wines, NSW Corner Broke and McDonalds Roads, Pokolbin, NSW 2320
McGuigan Wines is the culmination of the McGuigan family`s involvement in the Australian wine industry for more than fifty years. Their commitment to best viticultural practice and winemaking expertise linked to a dedicated team of professionals will see their business grow and develop well into the 21st century. The policy at McGuigan`s is to establish and maintain world class vineyards throughou...
Peppers Creek, NSW Corner Broke and Ekerts Road, Pokolbin NSW 2320
This is one of the district`s most outstanding boutique wineries with its charming sandstone cellar door open daily for wine tastings and sales. Winemaker David Hook specialises in unique grape varieties such as Viognier, Barbera and Merlot as well as the traditional Hunter varieties of Semillon, Chardonnay and Shiraz to mention but a few. He established his original vineyard at Belford over 20 ye...
Pokolbin Estate, NSW McDonalds Road, Pokolbin, NSW 2320
This is one of the smallest producers of fine, hand-made boutique wines in the Hunter, with a total production of under 3,000 cases of wine a year, all grown on their own vineyards. Due to the small quantities produced, their wines are not available in shops, restaurants or overseas. Pay a visit to their 114-year-old sandstone tasting rooms that are open 7 days a week. The vineyard was planted in ...
Roche Estate, NSW Corner of Broke & McDonalds Road, Pokolbin NSW 2325
Architecturally-designed, Roche Estate is a stunning venue that offers visitors much more than an exceptional concert experience. Find time to try award winning wines at Tempus Two Cellar Door, experience the taste sensations at Hunter Valley Smelly Cheese Shop, stop at Oishii for exceptional Japanese and Thai dining, sample the finest local wine at Meerea Park's Cellar Door, sip cocktails after hours at Goldfish, or consider The Barrel Room for your next event. Welcome to Roche Estate (formerly Tempus Two) Located in the heart of Hunter Valley wine country, Roche Estate is the premier concert venue attracting international and national artists alike. Experience the exceptional fine dining, award winning wines, signature cocktails and spirits, local gourmet produce and a sophisticated function room all located in one exclusive venue.
Small Winemakers, NSW McDonalds Road, Pokolbin, NSW 2320
The Small Winemakers Centre showcases and promotes wines by the smaller producers from the various regions in the Hunter Valley. Located in the heart of the wine growing district of Pokolbin, they offer one of the most extensive ranges of small and emerging wineries in the Hunter Valley. Open 7 days a week and also home to the Australian Regional Food Store and Cafe, they are located right in the ...
Tempus Two, NSW Corner Broke and Mcdonalds Roads, Pokolbin NSW 2320
From a standing start of 6,000 cases in 1997, Tempus Two now produces in excess of 100,000 cases of wine and service markets in the UK, Philippines, New Zealand, and growing. Tempus Two produces wines from premium vineyards in South Australia, Western Australia and New South Wales. There are classic varietals such as Barossa Valley Shiraz and Hunter Valley Semillon, and regional blends that exhibi...
The Wine House Hunter Valley, NSW 426 McDonalds Road, Pokolbin NSW 2320
The Small Winemakers Centre is home to the finest selection of boutique wines in the Hunter Valley. From traditional varieties to new and emerging, we always have an outstanding line up of wines on tasting. What is the Wine House Hunter Valley all about? With a range of premium winemakers under one roof we have always offered a truly unique tasting experience and after celebrating our 30th Anniversary we felt it was an opportune time to build on what we do. Our expanded tasting room now encompasses a wine lounge where we continue to build and expand on our collaborations with the best Hunter Valley winemakers. Well-known local Chef Ros Baldwin has also joined the team to develop an all-day share plate menu to complement our extensive wine offering.
Thomas Wines, NSW C/- The Small Winemakers Centre, McDonalds Road, Pokolbin, NSW 2320
Andrew Thomas came to the Hunter Valley from McLaren Vale, to join the winemaking team at Tyrrell`s. After 13 years with Tyrrell`s, he left to continue the development of his own winery label, a family affair run by himself and his wife Jo. The Semillon is sourced from a single vineyard owned by local grower Ken Bray, renowned for its quality, while the Shiraz is a blend of 60 per cent Hunter Vall...
Verona Vineyard, NSW Small Winemakers Centre, McDonalds Road, Pokolbin, NSW 2320
See Small Winemakers Centre - Verona has had a chequered history, and is still a significant business acting, as it does, as a sales point for a number of other Hunter Valley winemakers from its premises in McDonalds Road, directly opposite Brokenwood. The Verona wines come from 22 hectares at Muswellbrook, and 5 hectares surrounding the winery. Product Range: Produces two ranges, under the Verona...