Jump to Winery List
Belford - Pokilbin Wine District
The Bedford Wine District is located in the northern part of the Pokolbin Region, in the Hunter Valley located about 150 km north of Sydney and about 60 km north-west of Newcastle. Vineyards were first planted in the Pokolbin area in the mid-1800s, and there was a major expansion of plantings in the 1970s after Hunter wines began to in many awards and an international reputation. The wineries in this district and the surrounding area include Margan Family Winegrowers, Bramblewood Fruit Wines, David Hook Wines and The Gorge wines. There is a wide range of accommodation in the area and in the nearby towns of Branxton.

The Pokolbin Wine Region is home to 19 districts: Belford ; Wine Country Drive ; Branxton ; Hermitage Road-North ; Hermitage Road-Central ; Old North Road ; Deasys Road ; Palmers Lane ; Gillards Road ; Broke Road-West ; Broke Road-Central ; Broke Road-East ; De Beyers Road ; McDonalds Road-South ; Oakey Creek Road ; Marrowbone Road ; O`Connors Road ; Mistletoe-Hermitage.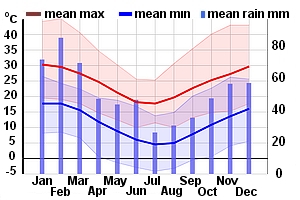 Winery Tour Map
Wineries
Ridgeview Wines, NSW 273 Sweetwater Road, POKOLBIN NSW 2325
Located in the Sweetwater Ridge area of the Hunter, our family owned and operated winery produces trophy winning, small batch wines handcrafted from estate grown fruit. The picturesque location of our vineyards is the perfect setting for sampling some of the Hunter's best wines. RidgeView Wines is family owned and operated, established in 2000. Over the past 12 years we have produced trophy winning wines reflecting the true terroir of the Hunter Valley. For the classic Hunter varieties of Shiraz & Semillon we have created our renowned "Generations"Reserve range, whilst our eclectic range of varieties extends to Merlot, Cabernet Sauvignon, Chambourcin, Verdelho, Chardonnay, Traminer, Viognier, Verdelho and Pinot Gris. We also produce sweet, sparkling & fortified wines.
Travertine Wines, NSW 110 Old North Road, Pokolbin NSW 2320
The Cellar Door overlooks the rolling hills and mountains in the distance. Why not come and enjoy tasting a variety of our beautiful wines whilst taking in the picturesque view. Travertine Vineyard is a 30 hectare property in the rolling hills around Old North Road in the North of Pokolbin. With 14 hectares planted to vines, we grow Chardonnay, Verdelho, Sauvignon Blanc, Shiraz, Chambourcin, Merlot, Tannat, Pinot Noir. The vineyard was planted in 1988 as Pendarves Estate by the well known wine author, Dr Phil Norrie. The undulating hillside site sits on the Belford Dome, a limestone formation that gives wonderful flavour to the wines. Located about six kilometres from the Hunter's first vineyard, James Busby's Kirkton, the area has a strong wine history.