Jump to Winery List
Noarlunga Wine District
The Noarlunga Wine District includes wineries near the townshiups of Old Noarlunga, Port Noarlunga, Christies Beach, O'Sullivans Beach, Happy Valley, Reynella, and on the southern side of Onkaparinga River. Old Noarlunga is a small town located about 40 km south of Adelaide, that has many historic buildings dating from 1840 when the area was first settled. The town retains its charming and friendly village atmosphere. The name, Noarlunga, is thought to be derived from an aboriginal word meaning 'fishing place'. The surrounding country was originally developed for cereal crops and a flour mill was built. Port Noarlunga was built to ship the flour to Adelaide. In recent years the town has become very popular as a stopping point for tourists headed for the coast and the beaches and as a tourist destination. There are many fabulous wineries in the area, many of which has cellar doors that offer tastings and meals at their cafes and restaurants.

The McLaren Vale Wine Region includes 15 districts : McLaren Vale North ; McLaren Vale East ; Chalk Hill ; Froggo ; McLaren Flat South ; Willunga NE ; Ingoldby ; McLaren Vale West ; Aldinga ; Willunga South ; Blewitt Springs ; Noarlunga ; Reynella East ; Happy Valley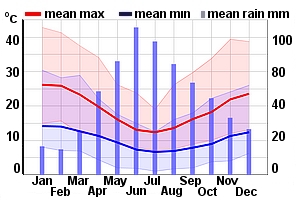 Winery Tour Map
Wineries
Braydun Hill, SA 32-40 Hepenstal Rd, Hackham SA 5163
Braydun Hill is a small family-owned and operated vineyard producing fine quality full bodied red Shiraz wine. In a world of specialisation, we have our niche - one superb wine: a fine hand-picked Shiraz from our small acre vineyard in the McLaren Vale region of South Australia. Situated in the wine heartland of McLaren Vale region in South Australia, the family-owned Braydun Hill vineyard is idea...
Classic McLaren, SA Lot B, Coppermine Rd, McLaren Vale SA 5171
South of Adelaide, on the Fleurieu Peninsula, is the unique and irresistible McLaren Vale wine region, world famous for its Shiraz and gutsy red blends, it is here you will discover Classic McLaren Wines nestled amongst some of the most prestigious vineyards in McLaren Vale. With spectacular views to the nearby township, rolling hills and the sea, it is fitting that this magnificent sight should b...
Coriole Vineyards, SA Chaffeys Rd (PO Box 9), McLaren Vale SA 5171
Coriole Vineyards was established by the Lloyd family in 1967, in hills overlooking the McLaren Vale wine region and Gulf St Vincent. The area is one of Australia`s oldest and best-known wine districts. The original vineyard at Coriole was planted in 1920. Further plantings were added in the late 1960`s and 1990`s. Winemakers are Grant Harrison and Mark Lloyd. Grant, who has been winemaker since 1...
Grancari Estate, SA PO Box 256 Morphett Vale SA 5162 vineyard: McLaren Vale SA 5171
The origins of this small vineyard date back to the early 1940`s, when George Cox decided to plant vines. The Grenache vines originally grown as bush vines are still thriving today and are one of the few remaining Grenache plantings in the McLaren Vale region. The old wood enhances the flavour of the lovely red wines being created by the present owners Rino and Greta Ozzella. During the early year...
Kays Amery, SA Kays Road, McLaren Vale SA 5171
The comprehensive range of varietal wines made by Colin Kay includes Block 6 Shiraz (vines planted in 1892), Hillside Shiraz, Amery Shiraz, Amery Merlot, Amery Cabernet Sauvignon, Amery Shiraz-Mourvedre-Grenache, Founders Tawny Solera and Founders Liqueur Muscat. The relatively small, strictly regional estate of Kay Brothers and their Amery vineyards has an enviable record in wine shows in Austral...
Rosemount Estate, SA Ingoldby Road, McLaren Vale 5171
Scenic McLaren Vale is one of Australia`s most renowned wine growing regions. Here, a mixture of gentle slopes, steep hills and valleys with rich alluvial flats combine with a temperate climate to produce near perfect grape growing conditions. The Rosemount winery is situated 7km north of the McLaren Vale township and 8km from the coast. A visit to the Cellar Door will give you the opportunity to ...
Samuel's Gorge, SA 193 Chaffeys Road, McLaren Vale, Fleurieu Peninsula, South Australia,
Samuel's Gorge is a premium McLaren Vale winery and cellar door offering relaxed wine tastings. Housed in an 1853 built farm shed, our charming and eclectic cellar door is yours to explore. Take in the sweeping views of the Onkaparinga Gorge as you unwind on our verandah with a glass of wine. Bring a picnic, grab a rug and make yourself at home under one of our umbrellas. Chat with our winemakers as they work in our open air winery attached to the cellar door. Winner of Gourmet Traveller's Best Small Cellar Door 2015 & 2016.
Seaview Wines, SA Chaffeys Road, McLaren Vale SA 5171
Seaview`s long-established traditions for producing wines of a consistently high quality and exceptional value-for-money, has won the winery a multitude of trophies and medals at major Australian wine shows, as well as numerous international accolades. Situated 7km north of the McLaren Vale Township and 8km from the coast, the picturesque Seaview Winery is still used for wine maturation more than ...
Starvedog Lane, SA Reynell Road, Reynella SA
Our wines are made with fruit purity and elegance foremost in mind. Each vintage we strive to produce intensely flavoured and finely structured wine - wine that profiles the best of the Adelaide Hills cool climate, great aspects and free draining soils. The name Starvedog Lane pays homage to the original German settlers of the Adelaide Hills. Upon arriving in Adelaide in 1888, they pitched a large...