Jump to Winery List
Chalk Hill Wine District
The Chalk Hill Wine District in the McLaren Vale Wine Region includes wineries to the North of the township McLaren Vale along Chalk Hill, Olivers, and Warners Roads. McLaren Vale is only a half hours drive South of Adelaide and is the heart of the Australia's oldest and renowned wine regions. The charming township of McLaren Vale is at the heart of this region, with Clarendon and Reynella to the North, Kangarilla to the East, Aldinga to the West on the coast, and in the South, Sellicks Hill and Mount Compass. The flat land surrounding McLaren Vale has a Mediterranean climate with warm sunny days and mild winters. There are significant maritime influences with frequent sea breezes from the nearby Gulf of St Vincent moderating the peak summer temperatures. The nearby Mount Lofty Ranges produce cool gully winds that descend down from the hills in the late evening and early morning. There are adequate winter rainfalls (580-700mm) and relatively low humidity in summer, and few frosts. The mean January temperature is 21.7 degrees C and 1920 heat degree days. F abulous food is the major focus of the region with the area producing a variety of fresh food crops such as almonds, organic vegetables, olives, venison, cheeses, various berries, beef, lamb, rainbow trout and marron crayfish, and olives. The Sea and Vines Festival held in June showcases the local produce with more than 50 wineries and a host of food producers offering their products for tasting in a friendly atmosphere with entertainment and displays.

The McLaren Vale Wine Region includes 15 districts : McLaren Vale North ; McLaren Vale East ; Chalk Hill ; Froggo ; McLaren Flat South ; Willunga NE ; Ingoldby ; McLaren Vale West ; Aldinga ; Willunga South ; Blewitt Springs ; Noarlunga ; Reynella East ; Happy Valley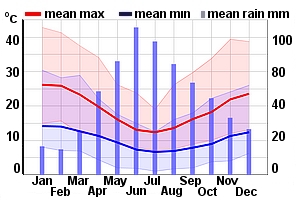 Winery Tour Map
Wineries
Alpha Box and Dice, SA 8 Olivers Road, McLaren Vale, Fleurieu Peninsula, South Australia, 5171
Alpha Box and Dice are a boutique McLaren Vale winery embarking on creating an 'alphabet of wine' – with a different wine style to reflect each letter of the alphabet. Each wine fulfils a different purpose and has its own story to tell. Our wines transcend style, region and varietal boundaries and are created using small batch, minimal intervention and vegan friendly methods. While completely distinct in flavour, appearance and orientation, each Alpha Box and Dice wine is linked through a strong sense of place. Our cellar door offers a unique experience to visitors, with a relaxed and casual approach to wine tasting for individuals and groups. Open every day of the week, enquiries can be made via email or phone.
Bekkers Wines, SA 212 Seaview Road, McLaren Vale, Fleurieu Peninsula, South Australia, 5171
A story of soil and soul... Located on Seaview Road, McLaren Vale, the Bekkers Wine Tasting Room is an intimate space to meet the makers and uncover what makes McLaren Vale special. Sweeping views and a rare northerly aspect compliment modern facilities and set the scene for tasting their range of superb wines. A boutique family wine company, Bekkers Wine aspire to stand proud amid the world's most coveted wines and their craftsmen and be an emblem for the region. Their wines are made by respected vineyard consultant Toby Bekkers and his French-born wife and winemaker Emmanuelle. Few can claim a more extensive understanding of McLaren Vale and their wines are for people who desire products with soul.
Brewery Hill Winery, SA Olivers Rd, McLaren Vale SA 5171
Originally based in McLaren Vale, South Australia, we have been providing great wines at cellar door prices to our loyal customers for over 10 years. Even our clean skin wines have won medals. Join our mailing list and find out why we have so many repeat customers. Be entertained by our cellar master Peter Huffam`s light-hearted approach to food and wine. Check out the latest wine offer at our cel...
D`Arenberg, SA PO Box 195 Osborn Road, Mclaren Vale SA 5171
d`Arenberg is one of the most significant wineries in McLaren Vale. In 1912 Joseph Osborn, a teetotaler and director of Thomas Hardy and Sons, purchased the well established Milton Vineyards in the hills just north of the townships of Gloucester and Bellevue, now just known as McLaren Vale. Joseph`s son Francis Ernest (`Frank`) Osborn left medical school, choosing to forsake the scalpel for prunin...
Kimber Wines, SA Chalk Hill Rd (PO Box 113), McLaren Vale SA 5171
Kimber Wines` vineyards are set in the beautiful McLaren Vale, a premium wine district only 30 mins south of Adelaide, South Australia. They also open our 2000+ tree orchard to the public during picking season. Allowing you to pick your own fresh apples, apricots, peaches, plums, prunes, nectarines and peacharines. Aside from being a perfect environment for viticulture, McLaren Vale is a wonderful...
Maxwell Wines, SA Olivers Rd, McLaren Vale SA 5171
In 1997 Maxwell Wines relocated from their original winery, established in 1979, into an impressive three level building incorporating sandstone and old solid timber, carved into a hill face limestone, which overseas a manicured landscape of vines and olives rolling across the Vale to the foothills of the Mount Lofty Ranges. The winery has been designed to take advantage of the gravitational flow ...
Mr Riggs, SA Main Road, McLaren Vale; PO Box 584 McLaren Vale SA 5171
After 14 years as winemaker at Wirra Wirra, and another six at various Australian wineries as well as northern hemisphere vintages in the Napa Valley, Bordeaux, Greece, Italy and the south of France, Ben Riggs has decided to establish his own business. His major activity is as consultant winemaker to Penny`s Hill, Pertaringa, Coriole and Geoff Hardy, while keeping his hand in consulting for Cazal ...
Oliver`s Taranga, SA Warner`s Rd, McLaren Vale SA 5171
In 1839 William and Elizabeth Oliver travelled to South Australia from Berwick in Roxburghshire, Scotland aboard the 360 ton sailing ship `Delhi` and eventually settled in 1841 on land at McLaren Vale. Whitehill and Taranga farms, the names given to the northern and southern sections of this land, are located 2 km north of McLaren Vale overlooking the township. Taranga is a corruption of the abori...
Oliverhill Winery, SA Seaview Rd, McLaren Vale SA 5171
Located on Seaview Road, north of McLaren Vale this family winery was established in 1973 and specialises in red and white table wines, fortified wines and sparkling wines derived from cabernet sauvignon, Grenache, chardonnay and shiraz grapes. It is open seven days for tastings and sales. For more details contact (08) 8323 8922. Oliverhill has changed hands but otherwise continues an operation ai...
Settlement Wines, SA Lot 101 Seaview Road, McLaren Vale SA 5171
The Settlement Wine Co (Berlingieri Wines ) was originally started in 1976 in McLaren Flat. Winemaker Vincenzo Berlingieri, with his daughter Annika and his son Jason, has re-opened the Cellar Door, introducing, once again, his range of Big Reds, Fortified wines. The Settlement Wine Co. has changed its name and location, but little else. These days, Settlement Wines is run by Vincenzo and his two ...
Stumphill Vineyard, SA Main Road, McLaren Vale SA 5171
Stump Hill Vineyard - In 1992 the winemakers of McLaren Vale embarked upon a project to create a world standard visitor facility to showcase the marvelous attributes of the McLaren Vale wine region and the surrounding Fleurieu Peninsula. The aim was to build a Visitor Centre that would not only provide excellent facilities for the many visitors to the region but would make an indelible mark on its...
Tapestry Wines, SA Olivers Road, Mclaren Vale SA 5171
See Merrivale Wines - The Starr family purchased well-established vineyards in 1969 and Merrivale Wines was founded in 1971. Throughout the 1970`s, the vineyards are gradually developed and improved while Jack Starr became renowned for big Shiraz-pressing red wines. Reds and fortified wines were sold with growing success. The renowned Krondorf Winery of the Barossa Valley purchased Merrivale Wines...