Jump to Winery List
McLaren Vale North Wine District
The McLaren Vale North District includes wineries and vineyards along Main Road in McLaren Vale at the heart of the McLaren Vale Wine Region in the Southern Fleurieu. McLaren Vale is the gateway to the Fleurieu's food culture as well as the local wines. The Willunga Farmers Markets of a wonderful range of local produce including: oranges, apples, zucchini, goat cheeses, lemons, smoked trout, mushrooms, grapefruit, potatoes, carrots, free range eggs, venison, freshly baked bread and much much more. The nearby Fleurieu Peninsula has a wide range of attractions and activities including fabulous accommodation, surf beaches, boating, fishing, national parks and nature reserves, scenic attractions and unique wildlife. You can enjoy eco-tours to many of the natural areas and whale, dolphin and seal cruises. Local wineries include: Andrew Garrett Vineyard Estates, Arakoon Wines (McLaren Vale), Gemtree Vineyard, Hardys Tintara Winery, Luong Rice Winery, Marienberg Estate, McLaren Vale Estate, McLaren Vale Premium Wines, McLaren Vale Visitors Centre, Shirvington, Tatachilla, The Fleurieu, Vales Wine Company.

The McLaren Vale Wine Region includes 15 districts : McLaren Vale North ; McLaren Vale East ; Chalk Hill ; Froggo ; McLaren Flat South ; Willunga NE ; Ingoldby ; McLaren Vale West ; Aldinga ; Willunga South ; Blewitt Springs ; Noarlunga ; Reynella East ; Happy Valley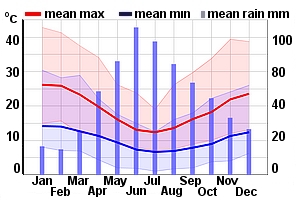 Winery Tour Map
Wineries
Hardys Tintara, SA Main Road, McLaren Vale SA 5171
Thomas Hardy established the company in 1853. The company was family owned until 1992, when it merged with Berri Renmano Limited, a successful South Australian Riverland wine co-operative to become BRL Hardy. BRL Hardy enjoyed outstanding success in growing the market for Australian wine in world markets. The company established a network of global sales and marketing offices in the key markets of...
Luong Rice Winery, SA Main Rd, McLaren Vale SA 5171
Luong Rice Winery Located on 220 Main South Road in McLaren Vale this unusual winery was established in 1989 and specialises in chinese rice wine . It is open seven days for sales. For more details contact (08) 8323 8156....
Marienberg Estate, SA 2 Chalk Hill Rd, McLaren Vale SA 5171
Ursula Pridham founded Marienberg Wines in 1966. As Australia`s first female winemaker, Ursula built a successful career, and an admirable reputation, producing quality wines from McLaren Vale. The Reserve range has gained a tremendous following amongst dedicated wine lovers. Each year the very best parcels of premium, select fruit are set aside to ensure the quality of the Marienberg Reserve rang...
Premium Wines, SA 130 High Street, McLaren Vale Vic 5171
McLaren Vale Premium Wine was established with one clear goal in mind to produce and present premium quality McLaren Vale wines which provide excellent value for money. This company was set up by three people who were involved in a previous wine company (Mary Greer, Chris Fox and Reg Wymond), who brings with them over ten years experience in the wine industry. The wines are produced from our own v...
Shirvington, SA PO Box 220, McLaren Vale SA 5171
The Shirvingtons planted their first vineyard in 1996 in McLaren Vale South Australia and currently have 30 hectares under vine. Production is almost totally red wine grapes - Shiraz and Cabernet Sauvignon. A small quantity of the best fruit is reserved for the Shirvington Label. Their aim is to grow grapes that make super-premium, honest wines with full fruit flavour and consistent quality from v...
Visitors Centre, SA Main Road, McLaren Vale SA 5171
The McLaren Vale and Fleurieu Visitor Information Centre is the gateway to the magnificent Fleurieu Peninsula and is a perfect starting point to begin your exploration of the internationally acclaimed McLaren Vale Wine Region. The McLaren Vale and Fleurieu Visitor Information Centre is strategically located on the Main Road at the entrance to McLaren Vale. Set on 12 hectares of extensive grounds t...