Jump to Winery List
Foggos Road Wine District
The Foggos Road Wine District includes wineries between McLaren Flat and McLaren Vale near Foggos Road. One of the typical wineries in this area is Foggo Wines that is a small family-owned winery making boutique wines from some of McLaren Vale's original and oldest vines, some more than 85 years old. The main vineyard at Foggo Wines was originally planted as early as 1915. Wines from the vineyard were originally marketed as Curtis Wines, but were recently renamed Foggo Wines by the current owners Sandie and Herb Van De Wiel. The Van De Wiels firmly believe that a hands-on role in all aspects from grape-growing to winemaking leads to consistent and high quality wine that suit their customers` needs. Their motto is `By managing the entire process we are able to maintain the integrity of the brand`. Most of the vines that produce the grapes are 40-85 years old.

The McLaren Vale Wine Region includes 15 districts : McLaren Vale North ; McLaren Vale East ; Chalk Hill ; Froggo ; McLaren Flat South ; Willunga NE ; Ingoldby ; McLaren Vale West ; Aldinga ; Willunga South ; Blewitt Springs ; Noarlunga ; Reynella East ; Happy Valley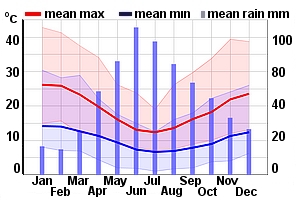 Winery Tour Map
Wineries
Foggo Wines, SA Lot 4 Foggos Rd, McLaren Vale SA 5171
Foggo Wines is a small family-owned winery and cellar door making extremely fine wine from some of McLaren Vale`s oldest vines. Despite the relatively new name, Foggo Wines has a long and interesting past. The main vineyard was originally planted by prominent regional growers, the Foggo family, in 1915. The winemaking brand was established in 1987 as Curtis Wines, but renamed Foggo Wines by its ne...
HaselgroveWines, SA PO Box 323, McLaren Vale SA 5172
Haselgrove Vignerons Pty Ltd was first established in 1981 and provides first class consulting for the wine industry, in winemaking and viticulture in Australia and Internationally. Haselgrove Vignerons offer consultant advice in areas including vineyards, wineries and Winemaking, Information Technology and oak use in winemaking. The initial wine products are produced under the Blackbilly brand. T...
Hastwell Lightfoot, SA Foggos Rd, McLaren Vale SA 5171
Hastwell and Lightfoot is a partnership of old friends Mark and Wendy Hastwell and Martin and Jill Lightfoot. Happily after 14 years in business together, we are still old friends. The vineyard started back in late 1987 with the observation, `there has got to be something better to do than work in an office for the rest of your life`. We found there was. In May `88 we bought our first property on ...
Hawkers Gate, SA Lot 31, Foggo Rd, McLaren Flat SA 5171
The name, Hawkers Gate, is borrowed from a gate along Australia`s great dog fence, about 250 km north of Broken Hill. Here the fence forms the border between South Australia and New South Wales. Great wine starts in the vineyard. It is here that the flavour, colour and tannins are produced. Although winemaking input can modify these characters the major influence is the season. Weather plays a hug...
Serafino Wines, SA Kangarilla Road, McLaren Vale, Fleurieu Peninsula, South Australia, 5171
Serafino Wines is set in the picturesque grounds of Serafino McLaren Vale Resort and Conference Complex, and Serafino Restaurant overlooking a lake. Serafino Wines pride themselves in producing an extensive range of premium, medal winning red and white wine across their product range which includes the flagship Sharktooth Shiraz, Wild Fermented Chardonnay, Serafino, Bellissimo and Goose Island. Fruit is sourced from the 300 acre family vineyard, comprising of varieties such as Shiraz, Cabernet, Merlot, Tempranillo, Chardonnay and Sangiovese.
Tinlins Winery, SA Kangarilla Road, McLaren Vale, SA 5171
Tinlin`s established: 1977, is a medium-sized wine producer that was founded by the Tinlin Family in 1976, specialising in cellar door sales of bottled and bulk wine. They will fill bulk containers from one litre upwards - bring your own or buy a 21-litre plastic container for $8, plus the cost of the wine. Five-litre casks of dry red and white are available for $12.00 filled. The wines include a ...
Twelve Staves, SA Kangarilla Road, McLaren Vale, SA 5171
Twelve Staves has a single vineyard block of five hectares of 70-year-old, bush-pruned Grenache vines. The highly experienced team of Peter Dennis and Brian Light (in a consulting role) produce an appealing wine in a lighter mode, which has an eclectic range of retail outlets on the east coast, and limited exports. Twelve Staves is a new wine company, which was established in 1996 by twelve invest...
Wines by Geoff Hardy, SA 327 Hunt Road, McLaren Vale, Fleurieu Peninsula, South Australia, 5171
Wines by Geoff Hardy is a South Australian family-owned and -operated business run by Geoff Hardy, a fifth generation member of one of Australia's most famous wine families, the Hardys. Today, Wines by Geoff Hardy produces around 1.2 million bottles of premium wines each year, all produced in South Australia, which is home to 50% of the total wine production in Australia, as well as 80% of all premium Australian wine. One of the company's two cellar doors - the Pertaringa cellar door - is located in McLaren Vale, and offers a beautiful natural setting amongst the gum trees with magnificent views and outdoor picnic facilities.