Jump to Winery List
Ingoldby Wine District
The Ingoldby Wine District includes wineries near Ingoldby Road, north-east of the township of McLaren Flat in the McLaren Vale Wine Region. The centrally located township of McLaren Flat is located in the McLaren Vale and Willunga basin south of Adelaide. Most of the land around McLaren Flat is flat and most of the agricultural land is planted to vineyards and there are several outstanding wineries in the area in the vicinity of Ingoldby Road. The McLaren Vale Region experiences a variety of climates due to the varying topographies and hence altitude has a major influence of climate. The climate is generally mild with winter temperatures rarely dropping below 15 degrees C. Summer temperatures can be hot reaching 40 degrees C on some days, but sea breezes generally even out the temperature peaks and troughs. Annual rainfall varies from 650-700mm, and most rain falls during winter. There are many microclimates throughout the region and soil types also vary considerably and so the region has a range of distinctive terroirs and distinctive wines. Site selection and vineyard management are paramount, and well drained; north-facing sites that are frost free and located in higher elevation areas away from the valley floor, tend to produce the best vines.

The McLaren Vale Wine Region includes 15 districts : McLaren Vale North ; McLaren Vale East ; Chalk Hill ; Froggo ; McLaren Flat South ; Willunga NE ; Ingoldby ; McLaren Vale West ; Aldinga ; Willunga South ; Blewitt Springs ; Noarlunga ; Reynella East ; Happy Valley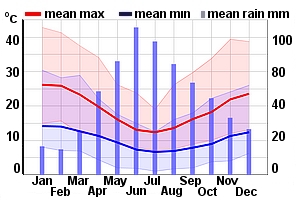 Winery Tour Map
Wineries
Bent Creek, SA Lot 10 Blewitt Springs Rd, McLaren Flat SA 5171
Bent Creek is recognized as one of the finest estate grown vineyards situated in the lush flood soils of McLaren Flat, south Australia. The fruit is derived from dry grown old vines, which meander along the banks of a very deep creek. These magnificent fruit driven wines are available on site at the cellar door. Only the very best vintages are chosen for this label. Very old dry grown vines on two...
DogRidge, SA Bagshaw Rd, McLaren Flat SA 5171
In the early 90`s, with the collective background of dentistry, tennis, art and a new C.S.U. Viticulture Degree, Jen and Dave Wright relocated from Adelaide to the foothills of McLaren Flat with the aim of growing the highest quality wine grapes possible. The oldest DogRidge vines were planted in the early 1940`s as a premium source of grapes for the Chateau Reynella fortified range. Now, these ol...
Fern Hill Estate, SA 2 Chalk Hill Road, McLaren Vale, SA 5171
Fern Hill Estate was founded in McLaren Flat, South Australia in the late 1970s by Wayne and Pat Thomas. In those days the winery was known as Thomas Fern Hill and it was under this name that the winery`s reputation for producing limited quantities of exceptional regional wines was forged. Being one of the first wineries in the McLaren Vale region to produce premium quality boutique wines, Thomas ...
Ingoldby Winery, SA Kangarilla Road, McLaren Vale SA 5171
The Ingoldby family was associated with McLaren Vale for more than a hundred years before Jim Ingoldby put the family name on the label of some traditional McLaren Vale wines. That was in 1973. From the outset Jim and his Ingoldby wines were unashamedly proud of their McLaren Vale heritage. The region is often referred to as `the middle palate` of the Australian wine industry, and Jim`s wines exhi...
Maglieri Winery, SA Douglas Gully Road, McLaren Vale SA 5171
Located on Douglas Gully Road at McLaren Flat this family winery was established in 1972 and specializes in Lambrusco and premium red and white table wines and derived from Cabernet Sauvignon, Riesling, Semillon, Grenache, Chardonnay, Merlot and Shiraz grapes. It is open seven days for tastings and sales. Planted carefully to the classic McLaren Vale varieties of Shiraz, Cabernet Sauvignon, Grenac...
Needham Estate, SA Maslin Beach SA 5171
Clive Needham has two vineyards; the first, of 4 hectares, is newly planted and will come into full production in 2001. The second has less than half a hectare of 100-year-old Shiraz vines, which go to produce the White House Shiraz, with an annual production of only 120 cases. Product range: Albertus Shiraz, White House Shiraz. Not open to the public....
Ryecroft, SA Ingoldby Rd, McLaren Flat SA 5171
This is a well-known McLaren Vale winery which was first established in 1888 in McLaren Flat township. It was purchased by Rosemount Estate in early 1992 and is now a substantial and high quality maker. There are three ranges of wine: The Flame Tree Red and White (these are a blend); the Flame Tree Shiraz and Chardonnay (100 per cent varietals); and Cabernet Sauvignon, Shiraz and Merlot. Each of t...
Shottesbrooke Vineyards, SA 101 Bagshaws Road, Mclaren Flat, Fleurieu Peninsula, South Australia,
From the ground up, Shottesbrooke has been built on a tradition of hard work, dedication and passion. The people, the place and the soul that have come together over many years, and which today see our wines being distributed around the world, continue on through everything we do at Shottesbrooke. You'll find it in every bottle.
Woodstock Wines, SA Douglas Gully Rd, McLaren Vale SA 5171
Woodstock Winery and Coterie is a small family business situated 40 kilometres South of Adelaide in South Australia`s famous McLaren Vale wine region. In 1973 Doug and Mary Collett acquired a 10ha derelict vineyard and old cottage named `Woodstock`. The Townsend family had settled there in 1859, from Woodstock in Oxfordshire, England, ... the origin of the `Woodstock` name. Some Woodstock vineyard...