Jump to Winery List
McLaren Vale West District
The McLaren Vale West District in the McLaren Vale Region includes wineries near the townships of Aldinga, Moana, Willung and Maslins Beach, west of McLaren Vale. Most of the vineyards and wineries lie inland from Maslin Beach and Aldinga. Maslins Beach is a coastal town in the local government area of the City of Onkaparinga, and adjoins the suburbs Moana, Port Willunga, and McLaren Vale. The southern half of Maslin Beach is well known as one of Australia's first officially declared nude beach (in 1975). The scenic cliff-lined beach is about 3km long , and so the area reserved for nude bathing is well away from other beach users. The delightful Gulf St Vincent beachfront at the coastal community of nearby Moana features sand dunes, low cliffs and hard compacted sand that is popular for fishing, swimming, canoeing and kayaking. The beach at Moana is unique as it is one of very few beaches in South Australia where visitors can drive their cars directly on the beach. Many visitors take advantage of the hard sand to take their 4WDs and normal passenger vehicles out onto the beach.

The McLaren Vale Wine Region includes 15 districts : McLaren Vale North ; McLaren Vale East ; Chalk Hill ; Froggo ; McLaren Flat South ; Willunga NE ; Ingoldby ; McLaren Vale West ; Aldinga ; Willunga South ; Blewitt Springs ; Noarlunga ; Reynella East ; Happy Valley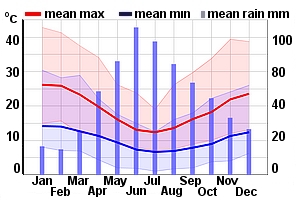 Winery Tour Map
Wineries
Boar`s Rock, SA Tatachilla Road, McLaren Vale SA 5171
Not far from Scotland`s famous Loch Lomond, rising above the church in Balquhidder, is a small hill called Creag an Tuirc. In ancient times, this hill was the natural rallying point for the war-like clan MacLaren. Quite naturally, the clan`s war cry therefore became `Creag an Tuirc` or, as it`s translated into English, `the Boar`s Rock`. It therefore seemed appropriate to give our business this ga...
Doc Adams Wines, SA 276 California Road, Tatachilla, Fleurieu Peninsula, South Australia, 5171
The home to Doc Adams Wines, an establishment to relax in wine country, taste all of Docs' finest wines, enjoy delicious local produce, and enjoy the tranquil scenery on our deck overlooking the vines. Coffee and a large grassed area provide a great setting for children & kids, plus plenty of treats for the adults! Tastings, wine tour groups, artisan coffee & create your own platters, events, functions facilities and wine sales. The true 'McLaren Vale experience!'.
Dowie Doole, SA Cnr of McMurtrie and Main Roads McLaren Vale SA 5171
A bottle of good wine can help solve many problems. At least that was the thinking of friends Norm Doole and Drew Dowie as they watched the sun rise after enduring a cold, all-night session harvesting some of their fruit during the difficult 1995 vintage. Seeing their grapes being trucked away to other wineries and frustrated at not being in control of their fruit from that point, the two opened a...
Dyson Wines, SA Sherriff Road, Maslin Beach SA 5170
This vineyard and winery is 2.5 km from the coast at Maslin Beach (famous as Australia`s first legal nude beach) on the Fleurieu Peninsula, 45 km south of Adelaide, 7 km west of McLaren Vale. Cooling breezes at night create a complex micro-climate in which the vines produce high quality fruit. These grapes are picked at night after careful selection bases on taste and sugar and acid balance. Crush...
Fox Creek Wines, SA Malpas Road, McLaren Vale SA 5171
Fox Creek`s Cellar Door is housed in a nineteenth century stone cottage set amongst large olive trees, cottage gardens and vineyard. In 1999, a barrel store was constructed about half a kilometre South West of the Cellar Door cottage on the Fox Creek vineyard property. In early 2000, a 1,500 tonne `state of the art` winery was completed adjacent to the barrel store. From the outset, the philosophy...
Inkwell Wines, SA 377 California Road, Tatachilla, Fleurieu Peninsula, South Australia, 5171
Intimate wine tasting experiences that can be in public or reserved spaces, indoor or outdoors in the midst of Inkwell's beautiful vineyards. Built from luxuriously appointed recycled shipping containers with three different outdoor decks including a spectacular rooftop viewing deck, this is a "must visit" cellar door in McLaren Vale. Inkwell is a certified organic and produces wine under the estate Inkwell label and the irreverent DubStyle label.
James Haselgrove Wines, SA 281 Tatachilla Road, Tatachilla, Fleurieu Peninsula, South Australia, 5171
Our aim is to produce wines that have richness, flavour and softness with drinkability without breaking the bank. Our grapes are sourced from McLaren Vale and surrounding areas including Willunga and other grape growing areas of the Fleurieu Peninsula in South Australia. We are continually evaluating other regions to add to our portfolio. Haselgrove Vignerons was established in 1981 and produces a range of premium wines, notably the "James Haselgrove", for sale in Australia. James Haselgrove Wines' first wine was made in 1979. The company markets its range of consumer tailored wines for corporate, home and business, not normally found in the traditional retail market. Open by prior arrangement.
Journeys End, SA McLaren Vale SA 5171
Journeys End Vineyards are located in South Australia, an internationally renowned region noted for producing `sunshine in a glass` - wines with superb, ripe fruit flavours that the world has fallen in love with. Whilst Journeys End Vineyards has a traditional Australian spread of wine styles, the wines do not come from the same vineyard site. There are of course good reasons for this, and they fo...
Nick Haselgrove Wines, SA 281 Tatachilla Road, Tatachilla, Fleurieu Peninsula, South Australia, 5171
The recent emergence of Nick Haselgrove Wines in his invigorated family company founded in 1981, marks a fresh beginning for a wine family with a long history and deep roots entwined in South Australia's wine industry. Winemaker Nick Haselgrove has the benefit of experience, hindsight and success after many years of working with the best in Australian wine companies, with Nick's status recognised by such prestigious awards as McLaren Vale Bushing King in 1993, top prize at the Sydney International Wine Show in 1998, and Winestate Magazine's Australian Winemaker of the Year 2010. Nick Haselgrove Wines has its home in McLaren Vale, where the Haselgrove family has long enjoyed significant vinous success and where Nick has deep knowledge of outstanding local vineyards. Still, the company's great benefit is that Nick sweeps his gaze across many South Australian grape growing districts, to source the best and most appropriate fruit for his suite of wine brands.
Paxton Wines, SA Lot 100 Wheaton Road, McLaren Vale SA 5171
David Paxton has been growing grapes in McLaren Vale for about twenty five years. In this time he has developed and managed vineyards in the Adelaide Hills, Coonawarra, Yarra Valley, regions of Western Australia and provided viticultural advice to growers across the country. Davids` company Paxton Vineyards owns approximately 200 acres of premium McLaren Vale vineyards and manages over 500 acres i...
Penny`s Hill, SA Pennys Hills Road, PO Box 584, McLaren Vale SA 5171
Penny`s Hill is a relatively new McLaren Vale brand, its first wines being produced from the 1995 vintage. Recognised by its distinctive `red dot` packaging, the Penny`s Hill range is made by winemaker Ben Riggs, who uses only estate-grown fruit from the company`s McLaren Vale vineyards (Penny`s Hill, Goss Corner and Malpas Road) which are managed by local viticulturist, David Paxton. Penny`s Hill...
Pirramimma, SA Johnston Road, McLaren Vale SA 5171
Pirramimma was founded by Alexander Campbell Johnston in 1892 and has been owned and operated by the Johnston family ever since. The Johnston family arrived in South Australia in 1839 and in 1892 Alexander, the tenth of thirteen children, purchased 97 hectares of rich farmland southeast of the then fledgling village of McLaren Vale. He named his land Pirramimma, an Aboriginal phrase meaning `the m...
Pizzateca, SA 319 Chalk Hill Road, McLaren Vale, Fleurieu Peninsula, South Australia, 5171
Pizzateca is an Italian family run restaurant in the South Australian wine region of McLaren Vale. Specialising in Abrussezze cuisine and Neapolitan Wood fired pizza. Vito and his son Anthony also produce wines with grapes sourced from the families vineyard as V.Mitolo and Son. The V.Mitolo and Son cellar door is apart of Pizzateca. Vera Pizza, Arrosticini cooked over charcoal and seasonal produce prepared from recipes past down from one generation to the next.
Tiers Wine Co, SA 28 Chalk Hill Rd, McLaren Vale SA 5171
The Tiers Wine Company was established just west of the township of McLaren Vale in 1990. Its vineyards have flourished and now its sought-after dry white and dry red table wines are available on the Australian and export markets. The story of the Tiers Wine Company is really the story of how everything old came new again...of how European immigrants came to Australia, struggled against the odds a...