Jump to Winery List
Willunga North East Wine District
The Willunga North East District in the McLaren Vale Wine Region includes wineries north-east of Willunga.and south-east of McLaren Vale. The town of Willunga is located about 45 km from the Adelaide and is close to the clean beaches, swimming boating and fishing areas at nearby Aldinga. Willunga is entertainment hub of the McLaren Vale Region hosting many festivals, including the finish and start a leg of the Tour Down Under bicycle race, the historic and much loved Almond Blossom Festival, and the Fleurieu Folk Festival. Local attractions include gourmet food, bushwalking, wine tours, fine wines at the local restaurants and many exciting local Markets that showcase the region`s fresh food produce. The district also inlcudes many Great Pubs and Cafe's and there are many fresh food outlets and stall. The proximity to the coast provides a unique range of activities and attractions.

The McLaren Vale Wine Region includes 15 districts : McLaren Vale North ; McLaren Vale East ; Chalk Hill ; Froggo ; McLaren Flat South ; Willunga NE ; Ingoldby ; McLaren Vale West ; Aldinga ; Willunga South ; Blewitt Springs ; Noarlunga ; Reynella East ; Happy Valley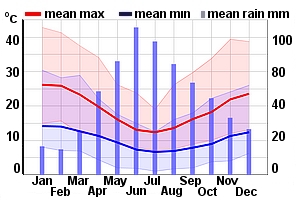 Winery Tour Map
Wineries
Battle of Bosworth, SA PO Box 11 McLaren Vale SA 5171
Battle of Bosworth produces single vineyard, organically grown wines with balance and flavour, which best express the unique characteristics of our McLaren Vale foothills site. Located in Willunga, to the south of the McLaren Vale township, Edgehill Vineyard was established in the early 1970`s by Peter and Anthea Bosworth. Edgehill Vineyard is planted over ancient stony loam soils, on the site of ...
Hugh Hamilton Wines, SA McMurtrie Road, McLaren Vale, Fleurieu Peninsula, South Australia, 5171
Celebrating 180 years of unbroken winemaking tradition in South Australia, it is an exciting time for Hugh Hamilton Wines. Hugh's great, great grandfather Richard came to South Australia in 1837 and planted some of the first vines in South Australia making the Hamilton's the "oldest surviving wine family" in Australia, growing grapes and producing wine for six generations. Located in the heart of McLaren Vale the Tasting Room is made with jarrah from the historic Hamilton's Ewell winery, the largest wooden vat ever built in the southern hemisphere and has stunning 270 degree views over their vineyards. Rated as one of McLaren Vale's best Cellar Doors, Hugh Hamilton Wines employs local staff and wine makers, and supports local community and industry initiatives.
Koltz, SA RSD 440 Adams Road, Blewitt Springs SA 5171
Koltz (formerly Day Wines) began as a small wine label in 1995 when winemaker Mark Day and Anna Koltunow made their first wine using grapes from the Bottin Vineyard in McLaren Vale. Since that time Koltz has evolved and now specialises in shiraz and shiraz blends from the McLaren Vale region, renowned for its shiraz wines worldwide. Mark Day has worked as a wine maker for Maxwell Wines and Wirra W...
Mitolo Wines, SA 141 McMurtrie Road, McLaren Vale
Mitolo Wines is a family-owned business, led by Frank Mitolo whose vision was to create a range of wines of individuality, integrity and utmost quality. Situated in the heart of McLaren Vale, the cellar door offers unique and personalised tastings of Jester and single vineyard wines. Sit back and relax as the team personally guide you through a range of Italian inspired wines. Mitolo Wines is co-located with The Producers and their restaurant is open for lunch Fridays to Sundays so you can relax and enjoy all the best the region has to offer. Mitolo Wines can be found at 141 McMurtrie Road, McLaren Vale and is a 50 minute drive from Adelaide.
Noon Winery, SA Rifle Range Road, McLaren Vale SA 5171
Noon Winery is a small family owned business making red wine only, concentrating on full-bodied styles with minimal processing. The reds are fermented in small open vats and pressed using traditional Basket Presses. They are matured in a blend of old and new American and French oak barrels, with the full-bodied reds receiving little or no fining or filtration. The fruit comes from vineyards rangin...
Pertaringa, SA Cnr Hunt and Rifle Range Rds, McLaren Vale SA 5171
The vineyards in the foothills behind McLaren Vale have always produced some of the regions finest wines, the soils enriched from the hills above and the cooler climate further tempered by the sea breezes off St Vincent`s Gulf, setting the scene for high quality wine grapes. In 1981 twenty four year old Geoff Hardy had recently graduated from Roseworthy Agricultural College and had seen how the Ca...
Primo Estate, SA McMurtrie Road, McLaren Vale, Fleurieu Peninsula, South Australia, 5171
Discover McLaren Vale's most stylish cellar door. At Primo Estate we celebrate our Italian heritage, living La Dolce Vita Australian-style. We are a family owned winery in South Australia's beautiful McLaren Vale making a unique range of wines that reflect our Italian heritage. Our family looks forward to welcoming you to our award winning McLaren Vale Winery for a Primo Estate tasting at the bar or a sit down JOSEPH Experience tasting of our premium wines.
Tyrell`s, SA Main Rd, Willunga SA 5172
The story of Tyrrell`s Wines is inextricably linked to the story of wine in Australia. It is a story about pioneers, men and women who transformed the Hunter Valley of NSW, planted grapes there and looked for better ways to make wine. English immigrant Edward Tyrrell planted his first vines in the Hunter Valley in 1858 establishing Tyrrell`s Wines after receiving a land grant in apparently poor pa...
Wirilda Creek, SA 91 McMurtrie Rd, McLaren Vale SA 5171
Wirilda Creek is one of the smallest wineries in McLaren Vale, yet it offers the most - lovely distinctive regional wines, fabulous food daily in the caf...
Wirra Wirra, SA McMurtrie Road, McLaren Vale
As its Aboriginal name infers, Wirra Wirra is nestled "among the gums" in McLaren Vale, South Australia - a picturesque ironstone winery with over 100 years of history. From the call of the towering Angelus bell atop the winery, to the massive timber fence known as "Woodhenge", Wirra Wirra offers a unique and memorable winery experience. Best known for its famous red Church Block blend, winemaker Paul Smith and his team deliver rich, textured McLaren Vale reds and stunning cool climate whites from the Adelaide Hills. Wirra Wirra is also home to Harry's Deli, a providore-style café mixing exceptional wine with a selection of delicious light meals. Wirra Wirra can be found at McMurtrie Road, McLaren Vale and is a 50 minute drive away from Adelaide.