Jump to Winery List
McLaren Flat South Wine District
The McLaren Flat South Wine District includes wineries just south of McLaren Flat in the McLaren Vale Region, north of Adelaide. Cockatoo Ridge Wines typifies the group of wineries in this district. The Cockatoo Ridge Labels are among the most recognizable in Australia. The strength of the brand and the reputation of the wines lies in dedication to quality winemaking from the grape to the bottle, consistency of product and dedication to promotion and marketing that only works with a quality product. All the grapes used in their wines are sourced from their own vineyard, and from reputable contract growers in the Barossa Valley. Cockatoo Ridge Wines operates on a philosophy of quality fruit makes quality wines. Long established expertise in viticultural practices and grape source choices make our wines so attractive, with consistent quality and terroir.

The McLaren Vale Wine Region includes 15 districts : McLaren Vale North ; McLaren Vale East ; Chalk Hill ; Froggo ; McLaren Flat South ; Willunga NE ; Ingoldby ; McLaren Vale West ; Aldinga ; Willunga South ; Blewitt Springs ; Noarlunga ; Reynella East ; Happy Valley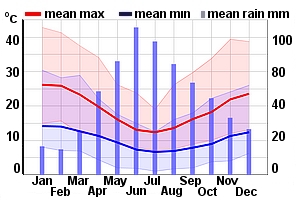 Winery Tour Map
Wineries
Cockatoo Ridge, SA 26 Kangarilla Rd, McLaren Vale SA 5171
Cockatoo Ridge Wines are among the most recognized labels in Australia. Their international popularity is also growing rapidly, with sales to the United States alone expected to increase from the current 2,000 cases to more than 50,000 over the next 12 months. The strength of the brand lies in dedication to quality winemaking, product consistency and intensive marketing. Our fruit is sourced from ...
Difabio Estate, SA Oakley Rd, McLaren Flat SA 5171
Di Fabio Estate Wines is a rapidly growing family business, incorporating 140 acres of premium vineyards in the McLaren Flat and Blewitt Springs area, together with a newly established winery at McLaren Flat. Our aim is to produce high quality premium wines to accompany fine dining. Wines are produced exclusively from our vineyards, which are nurtured to give low yields of 2 - 3 tonnes an acre, wh...
Kangarilla Road Winery, SA Kangarilla Rd, Kangarilla SA 5157
Kangarilla Road was established by Helen and Kevin O`Brien in 1997. Kangarilla Road is the main road running past the vineyard towards the small village of Kangarilla, the name a derivation of the Australian Aboriginal language and refers to the abundance of resources locally. Kevin O`Brien is an oenologist with 20 years experience in the wine industry. Helen O`Brien brings flair to Kangarilla Roa...
Scarpantoni, SA Scarpantoni Drive, McLaren Flat SA 5171
The Scarpantoni family originates from the Abruzzi region of central Italy on the Adriatic coast. Domenico Scarpantoni immigrated to Australia in 1952, traveling and working around the country before deciding to settle in the McLaren Vale region. Upon arriving in McLaren Vale he commenced work for Thomas Hardy and Sons at Tintara Winery. He soon discovered the region was ideal for viticulture and ...