Jump to Winery List
Blewitt Springs Wine District
The Blewitt Springs Wine District includes wineries near Blewitt Springs, Kangarilla and McLaren Flat in the McLaren Vale Wine Region. Blewitt Springs is a semi-rural area south of Adelaide. Sylvan Springs is a boutique winery in the district that has built its reputation on attention to detail using only premium quality fruit, (with 45 hectares of fruit to choose from, only the very best is retained for the Sylvan Springs label). The winery benefits from the exceptional talents of Brian Light, whose extensive knowledge, experience and success as a winemaker are renowned in the industry. These principles together with the latest winemaking equipment and techniques are all an integral part of the foundation on which Sylvan Springs is built.

The McLaren Vale Wine Region includes 15 districts : McLaren Vale North ; McLaren Vale East ; Chalk Hill ; Froggo ; McLaren Flat South ; Willunga NE ; Ingoldby ; McLaren Vale West ; Aldinga ; Willunga South ; Blewitt Springs ; Noarlunga ; Reynella East ; Happy Valley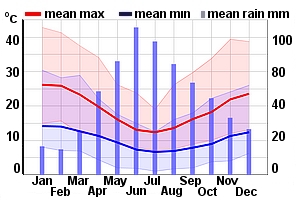 Winery Tour Map
Wineries
Chapel Hill, SA Chapel Hill Road, Mclaren Vale SA 5171
Chapel Hill Winery takes its name from the historic ironstone church built on the property in 1865. Originally the Christian Bible church then later used as the parish school, the church closed in its centenary year (1965) and fell into disrepair until its restoration in the 1970s. The church is today a tourist attraction and serves as the cellar door at Chapel Hill. In December 2000 Chapel Hill c...
Clarendon Hills, SA 484 Brookmans Road, Blewitt Springs SA 5171; 8 Stuart Rd, Dulwich, SA 5065
Clarendon Hills, 25 miles south of Adelaide, was established in 1989 by Roman Bratasiuk, the owner/winemaker. Since its establishment just over a decade ago Clarendon Hills has had amazing success. The quality of Clarendon`s wine success can be attributed to a number of things. Firstly the age of the vines, the town Clarendon was established in 1845. Today many of the vineyards surrounding the win...
Five Geese, SA 587 Chapel Hill Road, Blewitt Springs SA 5171
Sue Trott is one of Australia`s few long established women vignerons. After many years of growing grapes for some of Australia`s best known wineries, she decided it was time to select some of her best parcels of fruit in Blewitt Springs for her own label. In July 1999, she established Hillgrove Wines Pty Ltd. Hillgrove is committed to the production of premium McLaren Vale wines. five geese has be...
Geddes Winess, SA 283 Blewitt Springs Road, Blewitt Springs, Fleurieu Peninsula, South Australia, 5171
Winery and Cellar Door in Blewitt Springs offering private tastings and winery tours. Our wines are all locally produced from grape to glass in our local region. We have a very quiet native setting with lawned areas idea for families. The Cellar door is really focused on wine and has a light built into the tasting bench to expertly examine the quality. The range of wines include Grenache, Mataro, Shiraz and unique blends only made by Geddes Wines.
Hugo Winery, SA Elliott Road, McLaren Flat SA 5171
The small Hugo Winery and vineyards is ideally situated in the foothills of the Mount Lofty Ranges - a location offering wonderful advantages for winemaking. The Hugo vineyards are situated some 100 metres above the majority of the small holdings, which dot the region. As a result conditions are markedly cooler, and ideal for premium grape production - and hence for the production of fine, elegant...
Tintookie, SA Cnr of McMurtrie and Main Rds, McLaren Vale SA 5171
Tintookie Vineyards is one of two vineyards owned by Dowie Doole, (the other is California Road Vineyard 3km west of McLaren Vale). Dowie Doole has a cellar door at corner of Main and Malpas Road, McLaren Vale . The 41 acre Tintookie Vineyard is located 12 km north-east of McLaren Vale, close to the southern Mount Lofty Ranges, the property is medium to steeply sloping to both the east and west. A...
YangarraEstate, SA Kangarilla Road; PO Box 222 Clarendon SA 5157
Yangarra is an aboriginal word meaning `from the earth.` All of our wines are grown on our single-vineyard Estate in the Blewitt Springs sub region of McLaren Vale, South Australia, with 250 acres of vines in 35 individual blocks spread amongst 420 acres of creeks, native vegetation and nature corridors. The Estate sits at the north-eastern extreme of the Willunga Basin at the foot of the South Mo...