Jump to Winery List
Aldinga Wine District
The Aldinga Wine District in the McLaren Vale Wine Region includes wineries close to the coast and near the townships of Aldinga, Willunga, Maslins Beach, Sellicks Beach. The holiday town of Aldinga is just inland from the fabulous Aldinga Beach, which is one of the few beaches in Australia where you can drive your car onto the beach. This is also a fabulous spot for scuba diving and snorkelling, with an aquatic reserve, located just offshore of the beach, set up to protect a rare reef formation. You can follow the underwater trail and see the plants and animals and the spectacular underwater cliff. There is an excellent boat ramp that provides easy access to reef for divers. The surrounding Fleurieu Peninsula is a coastal playground renowned for its easy-going lifestyle, fabulous beach breaks for surfing. great swimming, magnificent boating and excellent fishing locations. You an also enjoy some of the best fresh farm produce, vineyards and wine tastings in Australia. Visitors can also enjoy the national parks, golf courses, top quality cuisine at local restaurants and magnificent seafood.

The McLaren Vale Wine Region includes 15 districts : McLaren Vale North ; McLaren Vale East ; Chalk Hill ; Froggo ; McLaren Flat South ; Willunga NE ; Ingoldby ; McLaren Vale West ; Aldinga ; Willunga South ; Blewitt Springs ; Noarlunga ; Reynella East ; Happy Valley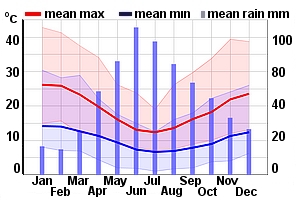 Winery Tour Map
Wineries
Cascabel Winery, SA Rogers Rd, Willunga SA 5172
`A Cascabel is a small bell used in Spanish celebrations and is synonymous with festivity, liveliness and charm.` Cascabel Winery is located on the slopes of the Sellicks Hill Range, near Willunga, at the southern end of the world renowned wine region of McLaren Vale in South Australia. Completely independent, small and functional, Cascabel is fully equipped and designed to handle every step of wi...
Leconfield Wines, SA Cnr Main and Johnston Roads, Willunga SA 5172
Leconfield is a remarkable family wine business owned by Dr Richard Hamilton and his wife Jette. It encompasses two of South Australia`s leading wine labels, both attributable to the Hamilton family:# Leconfield Wines at Coonawarra # Richard Hamilton Wines at McLaren Vale. With a strong wine industry heritage dating from 1837, the family has developed a distinguished international reputation for e...
Shingleback, SA Corner of Main and Stump Hill Roads; PO Box 811 McLaren Vale SA 5171
Shingleback Winery takes its name from one of South Australia`s most loveable lizards, the Shingleback, typically found in backyard gardens including those of Shingleback Winery owners John and Kym Davey. Shingleback was first introduced in Australia with the 1998 vintage and has won significant acclaim since. The wines are the pride of John Davey, a veteran Australian winemaker, who has worked th...
Zonte's Footstep, SA 55a Main Road, Mclaren Flat, Fleurieu Peninsula, South Australia, 5171
Zonte's Footstep is a proudly independent Australian wine producer established in 2003. We take our vineyards and our wine, but not ourselves, too seriously. Our grapes are sourced from our own, as well as our mates' vineyards, from regions that produce the desired expressive, varietal characteristics of the grapes grounded by the soil they are planted in. Located in the McLaren Vale, Langhorne Creek, Adelaide Hills, the Barossa and further afield. Hence the simple, but diligent pursuit of producing wines that reflect a sense of place, style and purpose.