Jump to Winery List
Willunga South Wine District
The Willunga South Wine District in the McLaren Vale Wine Region includes wineries to the south and south west of Willunga, close to the centre of town. Willunga is an interesting historic township located on the edge of the McLaren Vale Wine Region, about 50 km south of Adelaide Willunga has many wonderful examples of historic buildings and many ways to learn about the fascinating heritage of the area. Willunga is renowned for its wine and wineries but also for its almonds. Every July Willunga hosts the Almond Blossom Festival. Some of the many attractions in Willunga include: # Historic buildings such as the Old Courthouse and Police Station Museum, The Old Telegraph Station and Post Office, The Old Bush Inn # Mount Magnificent Conservation Park - that is located about 12 km south east of the town and links to the famous Heysen Trail that runs all the way to the Flinders Ranges. The conservation park is a fabulous place to see western grey kangaroos and other wildlife in their native habitat. There are wonderful bushwalking tracks in the area and great spots for camping. # Mount Compass is located 14 km south east of Willunga, is a tiny town that services an agricultural district that focuses on dairy farms, vineyards and wineries and market gardens.

The McLaren Vale Wine Region includes 15 districts : McLaren Vale North ; McLaren Vale East ; Chalk Hill ; Froggo ; McLaren Flat South ; Willunga NE ; Ingoldby ; McLaren Vale West ; Aldinga ; Willunga South ; Blewitt Springs ; Noarlunga ; Reynella East ; Happy Valley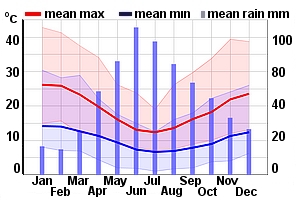 Winery Tour Map
Wineries
Hamilton Wines, SA Main Road, Willunga SA 5172
With a strong heritage and long family history in grape-growing and winemaking Richard and Jette established the family business in 1972. In that year they built a small winery in McLaren Vale and with grapes from his own and his father`s (Burton Hamilton 1904-1994) vineyards, produced the first of the Richard Hamilton wines. Wine quality starts in the vineyard and this has been the driving force ...
Magpie Springs, SA RSD 1790 Meadows Road, Hope Forest SA 5172
Magpie Springs` Vineyards are situated at the top of Willunga Hill in the southern Mount Lofty Ranges, above McLaren Vale. Plantings of vines were among the first in the area and produce premium fruit, the result of a combination of maritime influence, altitude and sandy loam soils. The Shiraz carries distinctive Adelaide Hills flavour that set Magpie Springs apart from the move traditional Shiraz...