Jump to Winery List
Millthorpe Wine District
The Lyndhurst and Carcoar Wine District, includes the farming area surrounding Carcoar, Mandurama, Lyndhurst, Junction Reefs and Neville, south west of Blayney on the Mid West Highway. Carcoar has a wonderful array of historic buildings and is located about 52 km south-west of Bathurst, 260 km west of Sydney, and is about 700 metres above sea-level. Carcoar lies in a lovely Belubula River valley. Some of the local attractions and activities include: # The historic Courthouse # Mount Macquarie # The small local villages of Mandurama, Junction Reefs, Barry, Lyndhurst, Neville # Carcoar Dam is popular with anglers, windsurfers, waterskiers, swimmers and sailors and has excellent camping, picnic and barbecue facilities.

The renowned Orange Wine Region is home to more than 35 vineyards in ten districts: Orange City ; Burrendong Way ; Borenore ; Cudal ; Cargo Road ; Pinnacle Road ; Emu Swamp ; Millthorpe ; Blayney ; Lyndhurst .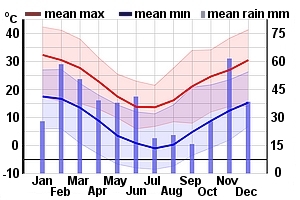 Winery Tour Map
Wineries
Falls Wines 674, NSW Belubula Way, Canowindra NSW 2804
Our current range of wines have been made under the careful tutelage of Chris Derrez and Lucy Maddox of Madrez Wines in Orange, New South Wales. Chris who learnt his trade in the Burgundy region in France and Lucy, an oenologist trained at Roseworthy College, have been responsible for many award winning wines. They are now making wines that are of a classic traditional heritage but crafted in a crisp clean style to meet current trends and requirements from serious wine lovers. Earlier vintages were made by other esteemed winemakers such as Simon Gilbert and John Reynolds. Browse through the tasting notes for our selection below and discover wines best suited to your palate.
Golden Gully Wines, NSW 5900 Midwestern Highway, Mandurama, NSW 2792
Kevin and Julie Bate have established over 5 hectares of vineyard (2 ha cabernet sauvignon, 1.6 shiraz, 0.5 merlot and 0.5 each of semillon and sauvignon blanc planted in 1999), and rose to fully commercial levels in 2001. Not open to the public....