Jump to Winery List
Burrendong Way and Molong District
The Burrendong Way and Molong District includes cellar doors, vineyards and wineries along the road between Orange and Molong. Located about 32 km north of Orange on the Mitchell Highway, the charming small town of Molong is an interesting rural town, featuring beautiful poplar trees and a hefty dose old world charm and heritage. The main street of Molong is listed by the National Trust and there are many fine examples of buildings dating from the 1800s and you can stay at one of the many charming bed ad breakfasts and other fine accommodation. Molong lies in the heart of the rich agricultural shire of Cabonne and is an ideal place to use as a base to explore surrounding district and enjoy a tour of local wineries. Molong is the heart of a rich and diverse agricultural district producing wheat, barley, sheep, wool and beef cattle, as a range of fruit and wine.

The renowned Orange Wine Region is home to more than 35 vineyards in ten districts: Orange City ; Burrendong Way ; Borenore ; Cudal ; Cargo Road ; Pinnacle Road ; Emu Swamp ; Millthorpe ; Blayney ; Lyndhurst .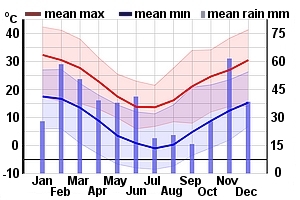 Winery Tour Map
Wineries
Bloodwood, NSW 4 Griffin Road, Orange NSW 2800
Bloodwood is synonymous with quality wine and food of the rapidly emerging Orange Region. We (that is Rhonda and Stephen Doyle) planted the pioneering wine grape vineyard of the area in the Spring of 1983. Although there had been no previous experience with commercial wine grapes in the district, these first Merlot Noir vines we planted thrived in the warm, free draining gravels of Bloodwood and t...
Bloodwood Wines 652, NSW 231 Griffin Rd, Orange NSW 2800
To fully understand the styles of wine we make at Bloodwood, you need to think of the symbiosis between wine and food. We believe good wine is really food, and that it should be explored and enjoyed in the context of a balanced meal in the company of people you honor. And as with balanced, wholesome food, good wine treated with the respect and restraint it deserves, can add enormously to your enjoyment of the best things in life.
Ferment the Orange Wine Centre & Store 652, NSW 87 Hill St, Orange NSW 2800
Housed in a carefully preserved heritage building, Ferment the Orange Wine Centre, has a sleek contemporary European interior emphatically announcing that the Orange wine scene has arrived. Traditionally a more boutique region than some of Australia's major wine-producing belts, Orange has retained its historic charm and interest while quietly benefiting from modern winemaking methods. Now Ferment's state-of-the-art Enomatic wine dispenser allows visitors to sample and purchase a range of exceptional local wines, either in-store or online, all carefully curated by The Wine Man himself, Peter Bourne.
Hoppers Hill, NSW Googodery Road, Cumnock NSW 2867
Hopper's Hill Winery planted their first cuttings in 1980. From small beginnings, the vineyard has since produced several award-winning table wines of excellent quality. A variety of red and white wines are produced and bottled on the premises. You have the opportunity to 'try before you buy' at therelaxed and inviting cellar door....
Mortimer`s, NSW 780 Burrendong Way, Orange NSW 2800
The Mortimer family name is synonymous with Rugby League and the Canterbury Bulldogs. Peter has now ventured into wine with his wife Julie and their five sons. Enjoy wine tasting and a cheese platter in the Garden Room, whilst taking in the beautiful four seasons Orange has to offer. Award winning wines include Chardonnay, Cabernet Sauvignon, Merlot and the Twin-Series Shiraz. Open: 11 am to 5 pm ...
Printhie Wines, NSW 489 Yuranigh Road, Molong NSW 2866
Printhie Wines are elegantly crafted to produce a range of quality affordable wines. Our new cellar door and winery complex has been acclaimed for excellence in both design and presentation - providing the perfect wine tasting experience for visitors. Cheese platters are provided. Printhie is a pleasant 30 minute drive from Orange and can be approached either from the Mitchell Highway (left turn b...
Windchime Wines, NSW 421 Strathmore Lane Molong NSW 2866
Windchime Wines is one of the Orange region`s newest cellar doors, operated by vignerons Margaret and Ian Bell. Our current releases include semillon, shiraz and rose...