Jump to Winery List
Blayney Wine District
The Blayney Wine District, in the Orange Wine Region, includes the area surrounding the farming town and thriving community of Blayney. It is located in the central western area of New South Wales located about 240 km west of Sydney. Blayney has a mild to cool climate with four distinct seasons and while originally a farming district, has also been an important mining area based on copper, gold and iron. Some of the location attractions and activities include: # Enjoy having a drink in the renowned Royal Hotel, that started life as a changing station for Cobb and Co Coaches. # Explore the wonderful range of historic buildings of Adelaide Street, with its classical churches and government buildings and the Viv Kable Memorial Museum. Enjoy the Blayney Agricultural Show held in March every year and features wonderful exhibits, rural displays, parades, and a variety of competitions. # Visit Blayney's Wind Farm.

The renowned Orange Wine Region is home to more than 35 vineyards in ten districts: Orange City ; Burrendong Way ; Borenore ; Cudal ; Cargo Road ; Pinnacle Road ; Emu Swamp ; Millthorpe ; Blayney ; Lyndhurst .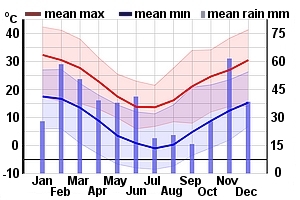 Winery Tour Map
Wineries
Bantry Grove, NSW 519 Three Brothers Road, Newbridge, NSW 2795
At 960 metres above sea level in the Orange region, Bantry Grove is a family-owned vineyard that produces some of the best cool climate wines in Australia. Our award winning vineyard offers a variety of complex and elegantly flavoured white and red wines carefully nurtured by grower Terrey Johnson, viticulturalist Tim Esson, and winemaker Richard Parker. Wine varieties include: Sauvignon Blanc, Ch...