Jump to Winery List
Forbes Road and Borenore Wine District
Forbes Road and Borenore Wine District includes wineries, vineyards and cellar doors along the Forbes Road that heads West from Orange to the small township of Borenore, which is famous for its caves. The Borenore Karst Conservation Reserve includes about 135 hectares of woodland communities and caves located about 17 km west of Orange on the Orange-Parkes Road. The Reserve contains many wonderful examples of distinctive karst landscapes including a the famous karst bridge, which is a small natural arch, and several spectacular caves. The main caves visited in the Borenore Karst Conservation Reserve are Arch Cave and Tunnel Cave, which is an important as a home and breeding site for the rare and vulnerable Common Bent-winged Bat. Borenore hosts the Australian National Field Days (ANFD) in October every year, which showcases farming equipment and local produce including local wines.

The renowned Orange Wine Region is home to more than 35 vineyards in ten districts: Orange City ; Burrendong Way ; Borenore ; Cudal ; Cargo Road ; Pinnacle Road ; Emu Swamp ; Millthorpe ; Blayney ; Lyndhurst .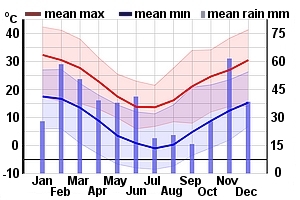 Winery Tour Map
Wineries
Faisan Estate Wines 468, NSW 150 Lemmons Rd, Borenore NSW 2800
Our vineyards at Borenore, a scenic 15 minute drive from Orange, perfectly match the growing conditions in the Burgundy region of France, one of the leading cabernet regions in the world. The high altitude and aspect provide a varying mesoclimate with a mean temperature in January of 20.7°C. Sitting at the northern foothills of Mount Canobolas our altitude of 780 metres above sea level combined with the naturally cool climate of the Orange region provides us with a steady growing season, giving the fruit high natural acid allowing for gradual ripening. The Pinot Noir and Chardonnay blocks are cooler, tending closer to 19°C.
Hedberg Hill, NSW 701 The Escort Way, Orange NSW
Peter and Lee Hedberg invite you to our hilltop vineyard which is only 4km west of Orange on the Forbes Road. This picturesque vineyard has stunning views of Mount Canobolas and the surrounding valleys. Come and talk viticulture, taste our medal winning wine and meet Oscar, the famous vineyard dog. Visits are welcome by appointment, wine sales by mail order. Vineyard:Hedberg Hill, Forbes Road (4km...
Heifer Station Wines, NSW 1034 The Escort Way Borenore
Wine tasting in a 100 year old shearing shed on the undulating slopes of Mt Canobolas. Cool climate, high altitude wines. With respect for the earth and a whole lot of altitude the fruit does the talking - that's the Heifer Station way. Enjoy cheese boards and the petting zoo or book a tour or private picnic.
Orange Mountain, NSW Cnr Forbes Rd and Radnedge Lane, Orange NSW 2800
Orange Mountain Wines is located in sight of the `Orange Mountain` - Mt Canobolas, just 10kms west of Orange on the Forbes Road. Our vineyards were first established at Manildra in 1997 and Orange in 2001. We invite you to come to our cellar door to taste the exciting new wine styles of Viognier and Shiraz/Viognier blend. Our range of Merlot, Sauvignon Blanc and Cabernet Sauvignon wines reflect th...
Panther's Patch, NSW 1827 The Escort Way, Borenore NSW 2800
The position is elevated; north facing and sunny with views of Mt. Canobolas to the south. The vineyard soil is volcanic – overlaying fossil bearing limestone – adjoining the Borenore limestone caves. The Sauvignon Blanc and Cabernet Sauvignon vines are pruned by hand, fruit is hand picked and the wine made by Chris Derrez and Lucy Maddox at Madrez Wine Services.
Philip Shaw, NSW Caldwell Lane Orange NSW
After 4 decades of making some of the most iconic wines in Australia, Philip Shaw is now making wines from his 18 year old vineyard, Koomooloo. No compromise is made in producing these wines that bear his name. From the hand pruning, shoot thinning, bunch thinning, to handpicking and then hand selecting, over a sorting table, each berry before pressing/fermenting. The wines are clearly defined var...
Prince of Orange, NSW 1814 The Escort Way, Borenore NSW 2800
Harald and Coral Brodersen established their vineyard in 1996 with Cabernet Sauvignon and Sauvignon Blanc. The proximity of the extinct Mt Canobolas assures rich weathered volcanic and basalt soils and the altitude allows a long ripening period to enhance the rich full fresh flavours of each variety. Since the first vintage, Sauvignon Blanc has proven its suitability to the region, winning many aw...
Small Acres Cyder, NSW 12 Akhurst Road, Borenore NSW 2800
Gail and James Kendell are passionate about making premium cider from true heritage cider apple varieties. They are the first and sole producers of locally grown, locally made cider in the Central West of NSW. Small Acres Cyder produces a range of ciders made with the fresh juice of cider apples and drawing on the traditional methods of authentic cider production. At Small Acres Cyder, enjoy the c...
Underwood Lane, NSW Underwood Road, Borenore NSW 2800
The Underwood Lane Winery - Visit a boutique, working winery and learn about the wine making process and our special cool fermentation techniques. Talk to our winemakers, taste a premium selection of vintages and many varieties of cool climate wines all made from locally grown fruit Underwood Lane Winery, where you`re always very welcome and where you`ll discover real cellar door quality and value...