Jump to Winery List
Cargo Road and Mt Canobolas Wine District
The Cargo Road and Mt Canobolas Wine District includes vineyards and cellar doors along the Cargo Road and the area surrounding Mt Canobolas. You can visit and enjoy fabulous bushwalking in the natural areas surrounding the spectacular Mt Canobolas, which is an ancient extinct volcano about 1,400m above sea level. In winter the top of Mt Canobolas is often covered in snow. There are magnificent panoramic views from its summit over the surrounding countryside in the vicinity of Orange. The area has a wonderful array of flora and fauna including rosellas, lorikeets, grey kangaroos,cockatoos, parrots, wallabies, wombats, koalas and possums. Below Mt Canobolas is the popular artificial lake Lake Canobolas, which offers wonderful barbecue and picnic facilities, as well as a wide range of water-based activities including canoeing, kayaking, Paddle boats, boating, swimming and fishing.

The renowned Orange Wine Region is home to more than 35 vineyards in ten districts: Orange City ; Burrendong Way ; Borenore ; Cudal ; Cargo Road ; Pinnacle Road ; Emu Swamp ; Millthorpe ; Blayney ; Lyndhurst .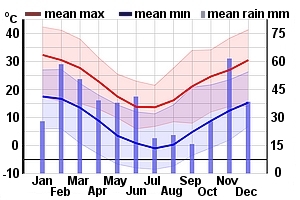 Winery Tour Map
Wineries
Boree Lane Wines, NSW 55 Boree Lane, Lidster, Orange NSW 2800
Visit our bright and intimate cellar door just off the Cargo Road in the lovely undulating terrain of the mid slopes of Mt Canobolas. Taste our award winning examples of Orange's signature wines: Sauvignon Blanc, Chardonnay Cabernet Sauvignon and Shiraz along with Cabernet Franc, Gewurztraminer , Rose and The Trifecta, an aromatic three grape blend. All wines made by local wine makers from our grapes.
Canobolas Smith, NSW Boree Lane (off Cargo Road)
Welcome to Canobolas-Smith Wines, a small family company making premium quality wines from our eight hectares of vineyard on the northern slopes of Mt. Canobolas near Orange, New South Wales. We have a relaxed and welcoming cellar door, which is open 11.00am - 5.00pm Saturdays, long weekends and most public holidays (eg not Christmas Day). The Cellar Door and Winery is located 12km west of Orange ...
Cargo Road Winery, NSW 1064 Cargo Road, Lidster NSW 2800
Est. 1983. Enjoy the beauty of the Orange region at Cargo Road Winery with views over rows of vines grown in the deep red basalt soil, the cafe and art by Tanya Loviz. Red wine varieties include Zinfandel, Merlot, Cabernet Sauvignon & Barbera. White wines include Sauvignon Blanc, Riesling & Gewurztraminer. New style Dessert Zinfandel, Methode Champenoise Red Zinfandel, Primitivo Rose Moscato. All wines produced from the premium grapes of the property.
De Salis Wines, NSW 125 Mt Lofty Road, Nashdale NSW 2800
Minimalist winemaker, wild yeast advocate and owner, Charlie Svenson established De Salis Wines in 1999. Charlies elegant wines reflect each unique vintage from his Lofty Vineyard at 1050m on the Northern slopes of Mt Canobolas. De Salis is recognised for its Sparkling, Fume Sauvignon Blanc, Chardonnay, Pinot Noir and the St Em blends of Cabernet Franc, Merlot and Cabernet Sauvignon.
Dindima Winery, NSW Lot 22 Cargo Rd, Orange NSW 2800
The Bell family invites you to share in the pleasures of Dindima, a boutique winery in the Orange region of NSW. At our cellar door we offer elegant cool climate wines made from small parcels of hand picked grapes that are matured in premium quality French and American oak. Dindima`s whites include Semillon and Chardonnay. Our reds include Shiraz, Cabernet Sauvignon Merlot blend and a unique forti...
Habitat Vineyard, NSW 329 Old Canobolas Road, Nashdale NSW 2800
Nestled high on Mt Canobolas, in the Nashdale area, Habitat Vineyard produces boutique wines of distinction. Established in 1989 the vineyard produces true cool climate wines from Pinot Noir, Sauvignon Blanc, Merlot and Pinot Gris. Your hosts Marko and Clare invite you to taste these fine handmade wines. We are a certified organic producer and open on Saturdays. Please call to confirm an appointment on other days.
Rowlee Wines, NSW 19 Lake Canobolas Road Nashdale
Rowlee Cellar Door is nestled amongst the vines on the verdant foothills of Mt Canobolas, 950 metres above sea level – exposed to the cool climate and unique topography of the Orange Wine Region. The picturesque location provides the ideal way to enjoy Rowlee's single vineyard, handcrafted wines. The family run, boutique vine, wine and cellar door operation offers many experiences to immerse yourself in the beautiful Orange region. Rowlee Wines are harvested by hand and crafted in small batches with the aim to make absolutely delicious wine under the philosophy of minimal intervention and sustainable methods. Varieties include Arneis, Chardonnay, Gewurtztraminer, Pinot Gris, Riesling, Sauvignon Blanc, Nebbiolo and Pinot Noir.
Stockmans Ridge Wines, NSW 21 Boree Lane, Lidster NSW 2800
A stunning tree lined driveway invites you through our new vineyard leading to a relaxed and intimate cellar door. Discover red wines; Shiraz, Cabernet Sauvignon, Merlot, Zinfandel and our Bordeaux Blend. Whites include Sauvignon Blanc, Pinot Gris and Sauvignon. Sweet tooths will enjoy our Sheila Range. Visitors are welcome to admire the view of Mt Canobolas, stroll the grounds and be amused by farm animals.