Jump to Winery List
Orange Central Wine District
The Orange Wine District includes the wineries and cellar doors close to the centre of the town, in the Orange Wine Region, which includes nine other districts. Orange is located about 300 km west of Sydney, and its fertile agricultural lands and mild climate produce a wonderful range of fresh local produce including wheat, barley, canola, olives, apples, berries, beef, lamb, fruits and fantastic grapes and wines. Orange has a rich local heritage, a thriving cultural scene, and a wonderful array of National Parks and natural areas in the surrounding areas. In 1851 there was a gold boom with discovery of gold at nearby Ophir. Some of the best local attractions and activities include: # Stroll along the City Heritage Trail, which is a self-guided walk showcasing more than 30 places of historical interest. Visit the gold mines at Ophir and have a go at panning for gold at Ophir Reserve. # Go bushwaking along one of the Mount Canobolas walking tracks. Climb to the summit of this ancient volcano. # Enjoy tasting local produce at the Food of Orange District Festival held in April each year, showcasing local food, arts, wine, entertainment and local culture. # Orange Wine Week, which is a spring celebration of food, wine and music held in October each year. # Australian National Field Days - an agricultural exhibition # Explore the limestone caves at famous Tunnel Cave at the Borenore Karst Conservation Reserve. Marvel at the outstanding Mary Turner Collection of paintings at Orange Regional Gallery # Walk through the Biblical Garden and Sensory Garden at Orange Botanical Gardens # Enjoy a local winery tour visiting the wide range of more than 20 cellar doors in the surrounding area, many of which have cafes and restaurants.

The renowned Orange Wine Region is home to more than 35 vineyards in ten districts: Orange City ; Burrendong Way ; Borenore ; Cudal ; Cargo Road ; Pinnacle Road ; Emu Swamp ; Millthorpe ; Blayney ; Lyndhurst .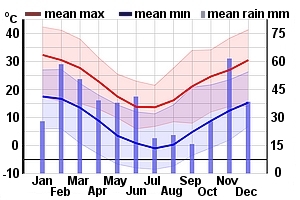 Winery Tour Map
Wineries
Bush Piper, NSW Molong Road, Orange NSW 2866
Bush piper is a boutique vineyard established in 1996, located 10km north of Orange. When Jo and Richard Cummins moved to Orange and purchased a small property 10 kilometres from town, it wasn`t long before they realised their land was perfect for growing high altitude premium grapes. The first block of cabernet sauvignon was planted in 1996. The following year additional blocks were planted to ca...
D`Aquino Wines, NSW 129-133 Bathurst Road, Orange, NSW 2800
D`Aquino Wines is located in Orange, Central Ranges, New South Wales Explorer Country. Their cellar door is located at Highland Heritage Estate in Orange. D`Aquino Group of Companies operates seven modern retail outlets (direct to the public) in Orange, Bathurst, Wellington located in country NSW, including a wine store in Muswellbrook, Upper Hunter Valley, NSW. The Highland Heritage Estate vineya...
Donnington, NSW 50 Pinnacle Road Orange NSW 2800
Donnington Wines is located in Orange, Central Ranges, New South Wales Explorer Country. It is now owned by Word of Mouth Wines, Orange....
Montoro Wines, NSW 432 Cargo Road, Orange NSW 2800
Our cellar door is an architect designed building that takes in the glorious vistas to the north and west, that is off the grid and very environmentally friendly - a purpose built facilities. Montoro grows Shiraz at 900 m absl and we specialise in Shiraz based styles. We have some 8 different wine styles from a white shiraz, vintage Shiraz, Sparkling Shiraz, Pepper Shiraz, Rosé etc Our grapes are hand picked and beautiful wines produced with minimal filtering and preservatives.
Pepper Tree, NSW Bone Lane area, Orange NSW 2800
Although Pepper Tree winery is sited in the Hunter valley and founded as a Hunter valley winery, we found that grapes grown in other areas exhibited characters that we felt should be explored. Over the years we acquired vineyards in the Orange, Wrattonbully and Coonawarra growing areas to enable our winemaker to produce varietal wines that either did not grow as well in the Hunter valley or are di...
Swinging Bridge, NSW 701 The Escort Way, Orange NSW 2800
Swinging Bridge strives to produce the best possible wines, from the best grapes in the region. Being the best means being involved; in the industry, in growing the grapes, in the winemaking process, in communicating about the industry, through education and attention to detail, in drawing from the past, heritage and history, through pursuing excellence and elegance with a measure of finesse and style, in not losing a sense of adventure and exploration and never forgetting where you come from, your family, friends and community and for all this, Swinging Bridge will continue striving to be the best.
Templer`s Mill, NSW 346 Leeds Parade, Orange NSW 2800
Templer`s Mill is the first official University of Sydney wine, made from grapes grown at the Orange Campus. A range of fine quality wines has been produced since 1997 following the development of a 20 hectare vineyard on the campus property. Templer`s Mill was an old flour mill on the adjacent property Narrambla that was also the birth place of AB (Banjo) Paterson in 1864. Templer`s Mill wines ar...