Jump to Winery List
Pinnacle Road Wine District
The Pinnacle Road Wine District includes vineyards and cellar doors along the Pinnacle Road that extends south from the centre of Orange, towards Lake Canobolas. This is a prime agriculture area and features a range of food produce outlets and several wineries. Use the maps to enjoy an interesting tour of the local wineries and taste the rage of cool-climate wines from their cellar doors.

The renowned Orange Wine Region is home to more than 35 vineyards in ten districts: Orange City ; Burrendong Way ; Borenore ; Cudal ; Cargo Road ; Pinnacle Road ; Emu Swamp ; Millthorpe ; Blayney ; Lyndhurst .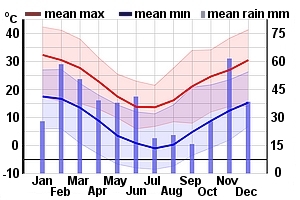 Winery Tour Map
Wineries
Borrodell Vineyard, NSW 298 Lake Canobolas Road, Canobolas NSW 2800
Borrodell Vineyard is situated high on the slopes of Mt Canobolas and has magnificent views across the vineyard. We offer a range of cool climate wines including Sauvignon Blanc, Gewurztraminer, Chardonnay and a range of fine Pinot Noir vintages plus a superb sparkling wine and apple cider. Visitors can also enjoy the range of wines with a meal at Sisters Rock restaurant on weekends. Borrodell can be accessed from either Pinnacle or Cargo Roads.
Brangayne, NSW 49 Pinnacle Road, Orange NSW 2800
The `Brangayne` and `Ynys Witrin` vineyards lie on the north eastern slopes of the extinct volcano Mount Canobolas, near Orange in New South Wales, one of the highest and coldest grape districts in Australia. Often under snow in winter and mild in summer. The climate is similar to the Champagne region in France, with grapes hanging on the vines often well into May, producing a subtle and highly co...
Colmar Estate, NSW 790 Pinnacle Road Canobolas
Colmar Estate is nestled in the highlands of Orange – one of the most picturesque parts of the region. At an elevation of 980 metres their vineyard enjoys a cool, continental climate that produces elegant Pinot Noir red wines and white wines with rare purity, elegance and flavour. Riesling, Chardonnay, Gewurztraminer, Pinot Gris and Sauvignon Blanc are all ideally suited to this special site. And sparkling wines are in the pipeline. Colmar Estate took the honours at the 2016 Orange Wine Show, winning five trophies including Best Wine of the Show. Taste their range of premium hand-picked, single vineyard wines at their elegant cellar door overlooking the vineyard.
Forest Edge, NSW Merindah, Old Canobolas Road, Orange NSW`2800
Brokenwood has recognized the special relationship between grapes and site and in a previous press release launched the concept of GUTS - grapes unique to site. Our mature vineyards, Graveyard and Rayner, are being joined by new plantings and new varieties, such as viognier and pinot noir from the Indigo Vineyard at Beechworth. At 1050 metres, this is one of the highest and coolest sites in Orange...
La Colline, NSW 42 Lake Canobolas Road, Orange NSW 2800
Aline and Philippe Prudhomme invite you to partake in an informal wine tasting. Enjoy the relaxed atmosphere and incredible views of the Towac Valley while tasting our Pinot Noir or award winning Riesling. Lunch or dine in the 60 seat licensed `Racine` restaurant, Restaurant and Caterings `Best New Restaurant`, and be tempted by regional cuisine prepared by award winning chef, Shaun Arantz. La Col...
Pinnacle Wines, NSW 50 Pinnacle Road, Orange, NSW 2800
Peter Gibson began the establishment of Pinnacle Wines with the planting of two hectares of pinot gris in 1999 on the slopes of Mount Canobolas at an elevation of around 1000 metres. The vineyard is close to Brangayne of Orange, and Peter Gibson says that Brangayne`s success played a considerable part in his decision to plant the vineyard. One hectare of viognier is yet to come into production, an...
Ross Hill Wines, NSW 134 Wallace Lane, Orange, NSW 2800
The Ross Hill Vineyard is situated on the gentle north facing slopes of Griffin Rd, Orange at an elevation ranging from 750 to 850 metres. Such elevation presents its self in our wines that are so distinctively high altitude and cool climate produce. Covering the hills with 12 hectares (ha) of established vine we are able to grow the majority of the grapes used in our wines. Ross Hill white wine v...
Word of Mouth, NSW 790 Pinnacle Road, Orange
Word of Mouth Wines established in 2003, is an exciting collaboration between two neighbours with existing vineyards on the slopes of Mt Canobolas at a cool 1000 metres above sea level over looking the township of Orange. The two vineyards share a common boundary, soil types, climate and rainfall. One was established in the early nineties with traditional varieties of Pinot noir, Cabernet Sauvigno...